The Daily Escape: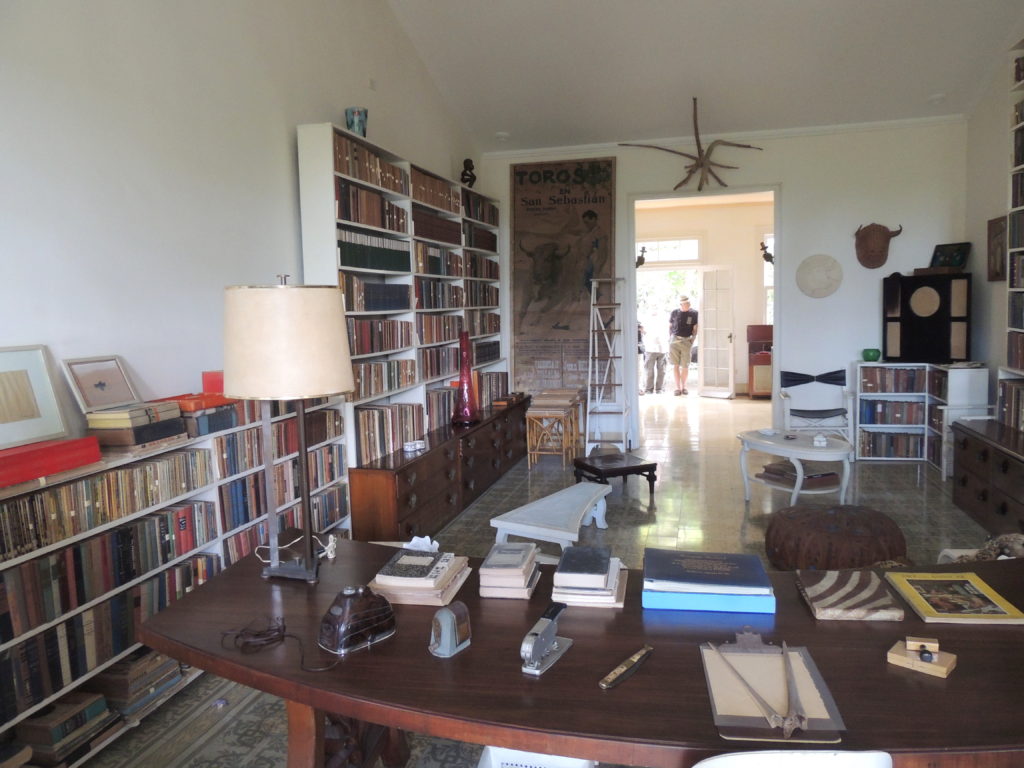 Hemingway's desk, Finca Vigía, Cuba – 2014 photo by Wrongo. Hemingway lived here for 15 years, and wrote most of "For Whom the Bell Tolls" and "The Old Man and the Sea" here.
Spring has sprung in the Litchfield Hills. Bluebirds are again nesting in the bluebird houses on the fields of Wrong. We have flowers on our plum, pear and cherry trees. Hopefully, you are enjoying early spring as well.
There are 555 days left until the next presidential election. We don't want to live through 2016 a second time, so Wrongo hopes that all of you will remember how energized you were during the 2018 mid-terms, and gear up again for 2020.
In retrospect, the Democratic Party handed Trump the gift of Russiagate. For two years, the Dems fought him primarily on the grounds of Russian influence on the 2016 election. However, the public was more concerned with health care and a square deal on jobs and wages. That Trump/Russia wasn't the key issue was proven by the Dems winning the House in the 2018 mid-terms when they primarily ran on health care. The Party has now lost that fight, since the Mueller Report found nothing actionable against Trump.
While investigations loom in the House, Trump is completely stonewalling. His decision to simply defy all attempts by Congress to investigate either Russian interference, or his possible obstruction, makes it clear that Congress is being deprived of its lawful investigative powers.
His defiance will tip the scales in favor of initiating impeachment proceedings against him. He will play the victim, and make the contest with House Democrats a major 2020 campaign issue. Will that energize anyone who is not in his base? Time will tell.
Turnout will again be the key factor in 2020 as it was in 2016 and 2018. A key question for turnout is where are rank and file Democrats on the issues compared to the positions of the 20 Democratic nominees? Larry Sabato says:
"National polling from the past several years finds that Democrats are less ideological than Republicans, are less likely to express a desire for their party to move further away from the political center, and are more likely to value experience in a presidential nominee."
Pew recently found that only 40% of Democrats wanted the party to move more to the left, while 53% said they wanted the party to move in a more moderate direction. Gallup's ongoing measure of ideological self-identification among Democrats shows that while liberal self-identification is growing, the party is still split about evenly between those who identify as liberal versus those who identify as moderate or conservative.
In contrast, Pew found that 58% of Republicans wanted the GOP to move more to the right, while just 38% wanted the party to move in a more moderate direction. Gallup found that about three-quarters of Republicans identify as conservative while just a quarter identify as moderate or liberal.
Wrongo isn't ready to accept the findings of Pew and Gallup, but most of the Democratic candidates are Obama-like: Joe Biden, Cory Booker, Beto O'Rourke, Pete Buttigieg, Kirsten Gillibrand, Kamala Harris, and Amy Klobuchar. Some of the (pardon the label) "no names" with no chance to win also fall into the centrist category.
There are only two real progressives, Sanders and Warren. Another question for the Party to answer through the primary process is whether the Dems can win without strong progressive positions.
Will the general election Democratic turnout be high enough to win with a centrist candidate? Or, will the Democrats just repeat 2016, winning the popular vote, while losing the Electoral College?
But enough navel-gazing, it's time to gaze at the daffodils and dandelions in your yard.
It's time for some Saturday Soothing. Start by brewing up a hot vente cup of Sumatra, Lintong – Medium Roast Single Origin coffee ($17/12 oz.) from Georgia's Peach Coffee Roasters. The brewer says it is citrusy and floral, tart in structure with a juicy mouthfeel.
Now take your cup to your most comfortable chair, and contemplate springtime while listening to "Spring Morning" by Frederick Delius. This melodic portrait of nature is a companion piece to his "Idlle de Prinetemps" composed a year earlier in 1887. It is performed here by the Royal Scottish National Orchestra conducted by David Lloyd Jones:
Those who read the Wrongologist in email can view the video here.