The Daily Escape: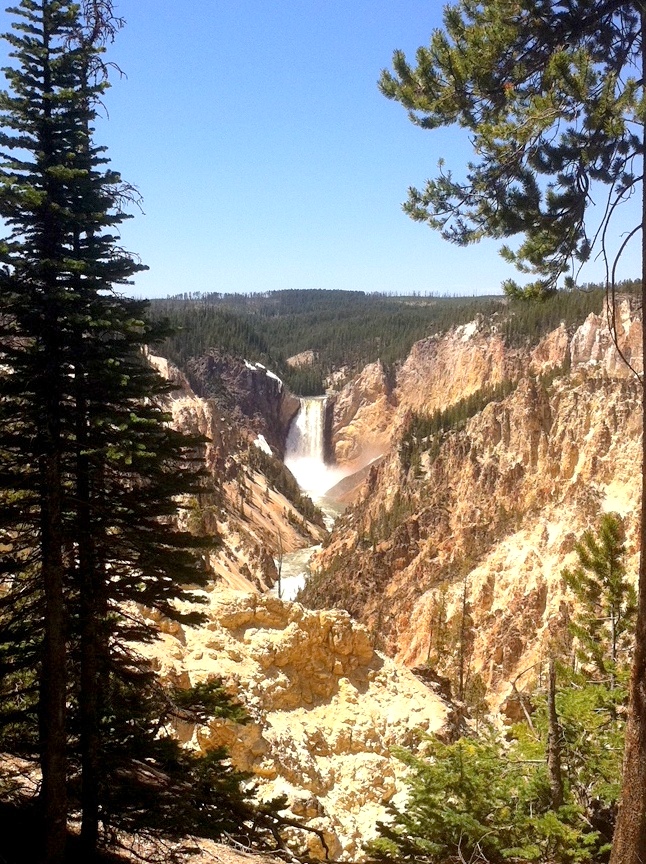 Yellowstone Falls – 2011 photo by Wrongo
With so many candidates, Axios reports that there is a real chance for a brokered Democratic convention. Letting the corrupt DNC's Super delegates choose the nominee sounds terrible to Wrongo. The main reason is that the Democratic Party's rules impose a 15% electoral threshold, which means that to win delegates in a state primary, a candidate has to win at least 15% of the vote.
This matters, because there are so many candidates, and most of them aren't polling very well. A Quinnipiac poll this week shows the difficult road ahead for the Democratic candidates. The chart below shows that only six of the candidates are known well enough that at least half of respondents have an opinion about them. For 17 of the candidates, at least half of respondents said they didn't know them well enough to say whether they viewed the contender favorably: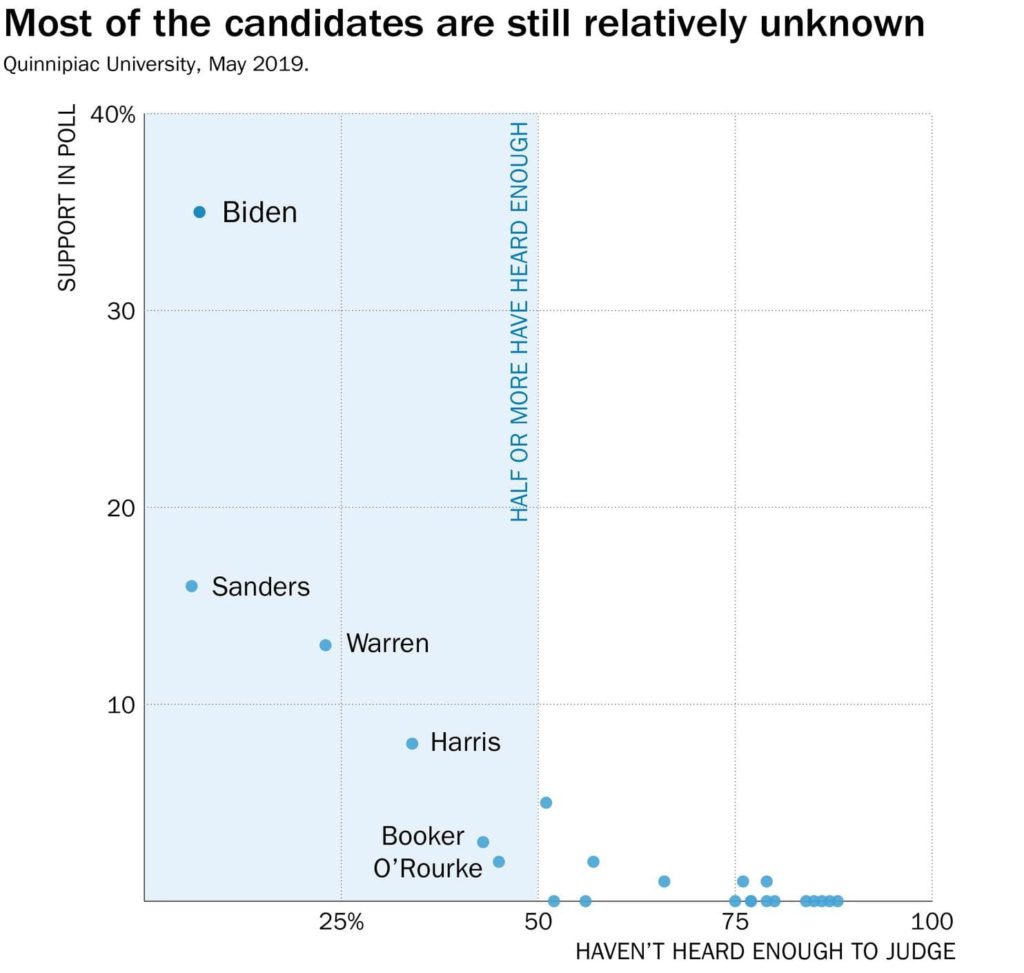 Buttigieg is just outside the six, polling at 5% while O'Rourke, who is better known, polls at just 2%. Quinnipiac also looked at the candidates' net unfavorability among Democrats. The net rating is determined by subtracting the favorable ratings from the unfavorable: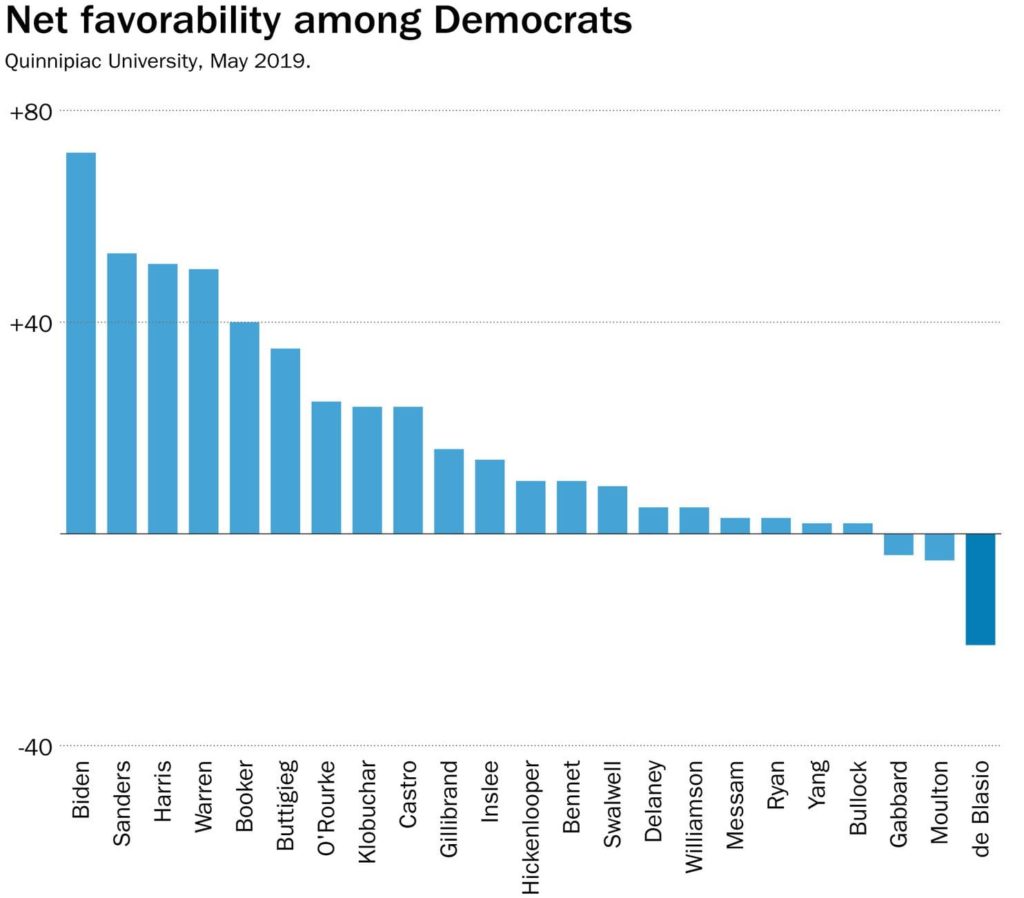 Just three candidates have net unfavorable ratings among Democrats: Tulsi Gabbard, Seth Moulton and Bill de Blasio. OTOH, only eight candidates have truly interesting favorability ratings: Biden, Sanders, Harris, Warren, Booker, Buttigieg, O'Rourke and Castro. Clearly, the bottom three have no hope at all in the 2020 Democratic nomination race, but the same most likely applies to the next eleven.
Finally, let's look at how Quinnipiac says the candidates have performed over the last few months: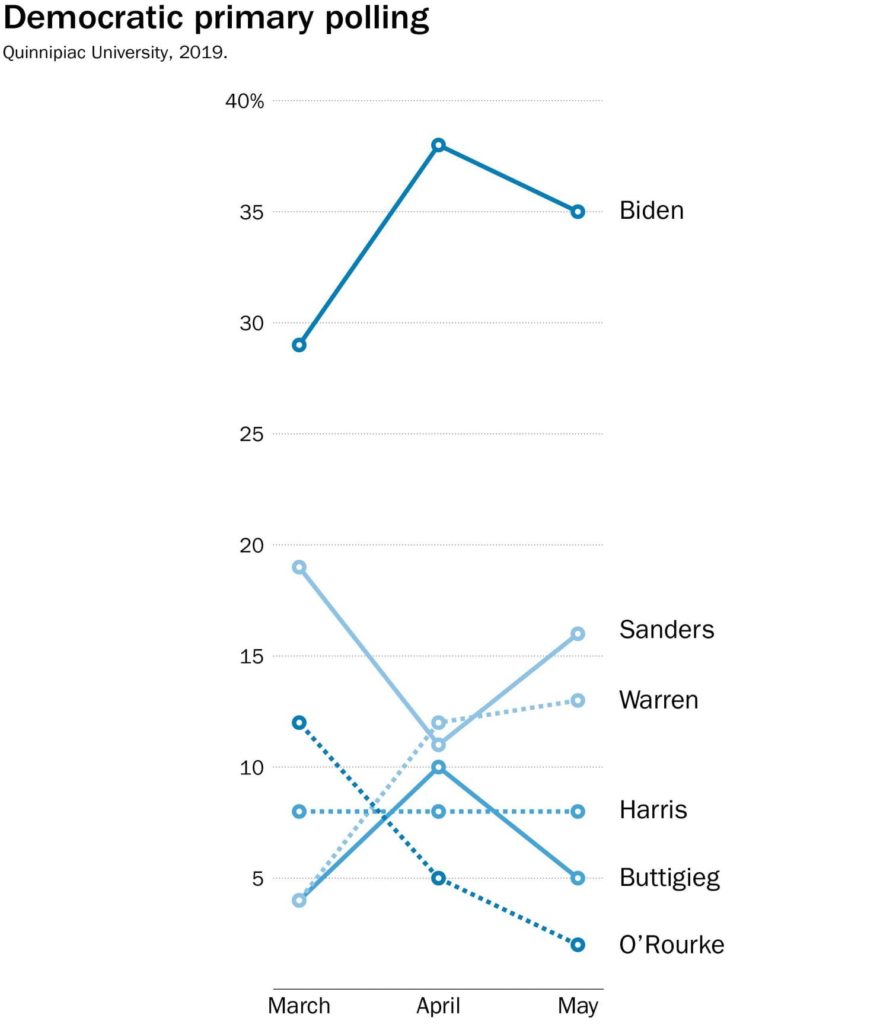 It's early days, but Warren jumped over Harris, Buttigieg and O'Rourke in the past two months. Sanders's biggest problem in the short run isn't Biden, but Warren, who is just behind him in the Quinnipiac poll. If she in fact passes him, it's not clear how Sanders would strike back. Sanders's support seems to have moved with Buttigieg: When Mayor Pete gained ground, Sanders fell. With Buttigieg's support dropping back down, Sanders's has gone back up.
Also notable is the fall of Beto. He benefits from being well-known, but not well-liked as a presidential candidate. There have been calls for him to drop out and run for the other Texas Senate seat, held by John Cornyn, who has a campaign war chest of $7.5 million. But, there is already an announced Democratic candidate, MJ Hegar, who lost a close race for a seat in Congress in 2018. So look for Beto to keep running. Also, four million people in Texas voted for Beto in 2018, while just 11,000 elected Mayor Pete last time, so Beto has shown the ability to raise money and win votes.
While polling isn't voting, these numbers suggest that some winnowing of the field would help focus primary voters on the future of the Party, and on the election. Overall, Quinnipiac shows that 18 candidates are polling at 3% or less (and many of them not registering even 1%), so they face an uphill task to achieve relevancy.
Should the DNC raise the threshold for admission into the debates from 1% to 2%, the debate field would shrink to only eight. Is it too soon to call for 10-14 Democrats to drop out of the running?
Turning to Trump, Quinnipiac says he has a huge problem with women. While 60% will definitely not vote for him, just 28% would definitely vote for him. Among white women (a group he won in 2016), he has a 20-point gap between those who will definitely not consider him and those who definitely will vote for him (55/35%). The GOP's ongoing war on Roe v. Wade is truly bad for a candidate that faces the wall of female opposition Trump is facing.
Let's close with a quote from Quinnipiac in 2015: (emphasis by Wrongo)
"Leading the pack with 10 percent each are former Florida Gov. Jeb Bush, Ben Carson, former Arkansas Gov. Mike Huckabee, U.S. Sen. Marco Rubio of Florida and Wisconsin Gov. Scott Walker…Trump tops the "no way" list as 21 percent of Republican voters say they would definitely not support him. Bush is next with 17 percent, with Christie at 15 percent. "
This proves once again that polling isn't voting. Democrats must choose wisely, or the GOP could be back in 2024, likely with someone at least as bad as Trump, but who is much more sophisticated, say Tom Cotton.