The Daily Escape: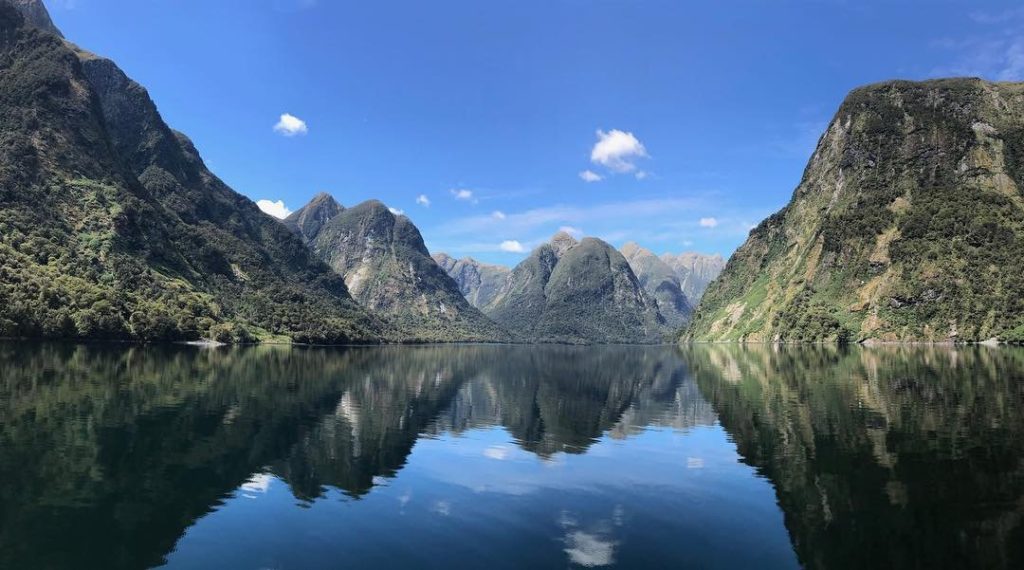 Doubtful Sound, NZ – photo by patlue1101
Wrongo doubts that the way Congressional Democrats are going about their business will make them completely successful in 2020. The media would have us believe that the House is all about investigations. That is compounded by the way they are spinning their wheels about a decision to impeach Trump.
In reality, House Democrats haven't been squandering time. In addition to the investigations, they've been passing legislation. In all, the House has taken up 51 bills since January, of which, 49 have passed.
Do you remember the House voting to end the longest government shutdown in history? Or, passing a bill to lower prescription drug prices, or to protect preexisting medical conditions? They also passed nine bills on veteran's issues. You should remember HR-1, aimed at getting money out of politics and increasing transparency around donors, and expanding voting rights.
A complete list of what the House has passed is here. Despite Trump's complaints about doing nothing on infrastructure, lots of legislation has been passed in the House.
The few things the House has been able to agree with Senate Republicans on include the bill to reopen the federal government, a resolution to end US involvement in Yemen (later vetoed by Trump), and the recent federal disaster aid agreement.
So why does the media make it seem like Congress isn't getting anything done? The vast majority of their bills hit a dead end in the Republican-controlled Senate, and the media is only interested in the investigations, and the fight with the White House.
Trump's attempts to thwart these investigations have turned into a mud wrestling contest between the administration and the Democratic committee chairs. Congress is attempting to perform its constitutionally mandated role of overseeing the executive branch, while Trump is attempting to obstruct their oversight.
A few individuals have agreed to testify, others, including AG Bill Barr and former WH counsel Don McGahn, have been held in "civil contempt" of Congress.
In the case of the Census question, the media gets it wrong. The DOJ handed over tens of thousands of pages about the Census question, but the media didn't mention that those materials were not what was subpoenaed, and in some cases, not even relevant. Thus, Barr's contempt citation.
Civil contempt has no teeth, unless enforced by the courts. Even then, after a federal court held that Trump cannot block a House subpoena targeting his accounting firm, Trump's lawyers filed a brief asking a federal appeals court to reverse this decision. That case will languish until it is decided by the Supreme Court, most likely, next year.
We could nap from now until September, and wake up to find zero progress in Congress on their investigations. Nothing will happen until after the August recess, and most likely, we won't see much until next year.
A decision to open an impeachment inquiry strengthens immeasurably all of Congress's arguments for information. They would have an unambiguous Constitutional basis for their demands, much stronger than what backs their common legislative oversight demands. It all might still wind up in the courts, but Congress's chances of prevailing would be enhanced.
Finally, Trump walked into a propeller on Wednesday when he said he would accept opposition research from a foreign government. It is illegal to accept foreign campaign contributions, although an exchange of political information isn't unambiguously a contribution. Mueller didn't decide if opposition research provided for free by a foreign government constitutes a "thing of value" and thus is an illegal foreign campaign contribution.
OTOH, you would think that Mr. Art of the Deal must know that if he accepts information that is useful to his campaign from a foreign government, it comes with strings attached. When he then says he'd do it again, he shows that he's learned nothing from 2016, or from the Mueller Report's conclusion about foreign government intervention in the 2016 election.
Trump has again invited the Russians and others to intervene in our elections. The question is will he get away with it?
Should Congress continue down the path of waiting on the courts to decide to get them the information they need to make a case? Or, should they launch an impeachment inquiry that limits the legal defenses of the administration?
Time has come for the Congressional Democrats to leave the "do little, say less" portion of their current term behind. We are already six months into the current Pelosi Speakership. That means just 18 months remain until the House is up for re-election.
The war for 2020 has already begun. Democrats shouldn't worry about the political implications of an impeachment inquiry. It's time to do what's right by holding the Trump administration accountable.
It's time to let America know what Democrats in the House are doing.