The Daily Escape: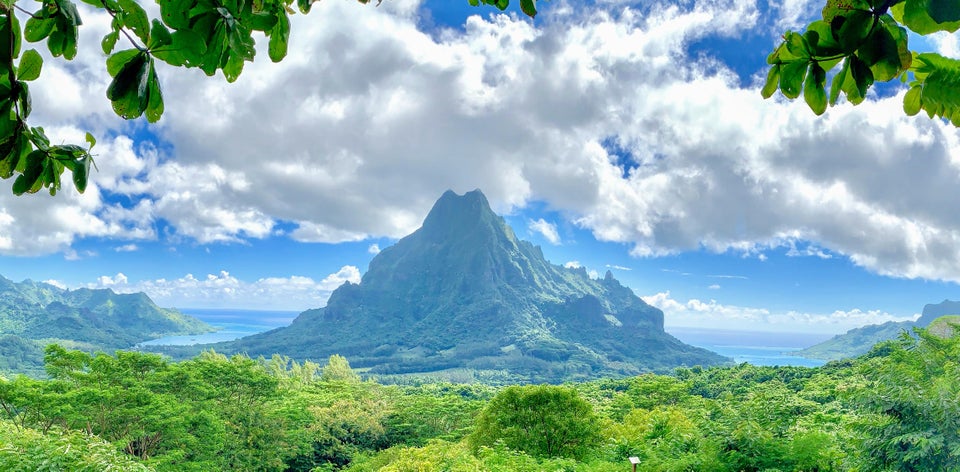 Mont Rotui, Moorea, French Polynesia – 2019 iPhone photo by mystackhasoverflowed
Time to wake up America! Donald Trump has proven once again that he has no understanding of economics. From the Wall Street Journal:
"President Trump will award the Presidential Medal of Freedom to economist Arthur Laffer, one of the pioneers of the idea that tax cuts can boost government revenue, the White House said Friday.

Mr. Laffer is one of the founding theorists of supply-side economics, a school of public economics that rose to prominence during the Reagan administration and returned to the fore in the run-up to the 2017 package of tax cuts that Mr. Trump signed into law.

The White House described Mr. Laffer as "one of the most influential economists in American history," and said his "public service and contributions to economic policy have helped spur prosperity for our Nation."
Laffer is famous for his drawing his Laffer curve on a napkin, illustrating his idea to Dick Cheney and Donald Rumsfeld at a dinner in 1974. His curve showed that increases in tax rates will eventually cause government tax revenue to decrease, because people will begin to work and earn less. This was then taken to its theoretical limit, saying that tax cuts could pay for themselves by spurring economic growth.
The WSJ calls Laffer "one of the pioneers of the idea that tax cuts can boost government revenue". Isn't it weird that the fact that his "idea" has been completely disproven in the real world, doesn't seem to matter?
Conservative economics is not a branch of economics, it's a branch of Conservatism.
The Laffer curve was successful at its real purpose, providing a basis to funnel more money to corporations and the rich. Republicans traffic in propaganda, not knowledge.
Last year, Laffer co-wrote a book titled "Trumponomics: Inside the America First Plan to Revive Our Economy." Laffer's co-author was Stephen Moore, another conservative who styles himself as an economist. Earlier this year Trump nominated Moore to serve on the Federal Reserve Board of Governors. Moore had to withdraw, amid bipartisan opposition from Senators.
Laffer was the advisor behind the notorious Kansas state income tax plan that ruined the state's finances. In 2012, Then-Kansas Gov. Sam Brownback passed a package of tax cuts based on Laffer's ideas. The result was that Kansas lagged behind neighboring states with similar economies in nearly every major category: job creation, unemployment, gross domestic product, and taxes collected.
In 2017, the Kansas legislature repealed the Laffer/Brownback tax cuts. After the repeal, state taxes were boosted by $1.2 billion.
Laffer has spent years preaching his idea that almost any tax cut for businesses and the rich could potentially pay for itself. That idea has become the bankrupt conceptual backbone of the Republican Party's entire economic theology.
For the 2017 Trump tax cuts, his administration also borrowed Laffer's idea. Treasury Secretary Steven Mnuchin and National Economic Council Director Larry Kudlow, have repeatedly claimed that the Trump tax cuts will pay for themselves. But, a new report finds that the tax cuts were responsible for less than five percent of the growth that is needed to offset the revenue loss from the Trump tax cuts.
We must point out here that Larry Kudlow does not hold a degree in economics. He was once fired from an investment bank for doing cocaine. Imagine just how much cocaine you'd have to do to get fired on Wall Street in the 1980s.
Trump's now added the Presidential Medal of Freedom to the American traditions he's debasing. Other economists awarded the Medal of Freedom include Gary Becker, Milton Friedman, John Kenneth Galbraith and Robert Solow. Laffer can't carry their briefcases.
There may be no man alive who has done more damage to America's understanding of taxes and their effect on economic growth than Art Laffer.
Evidently, Trump is grading him on a curve.