The Daily Escape: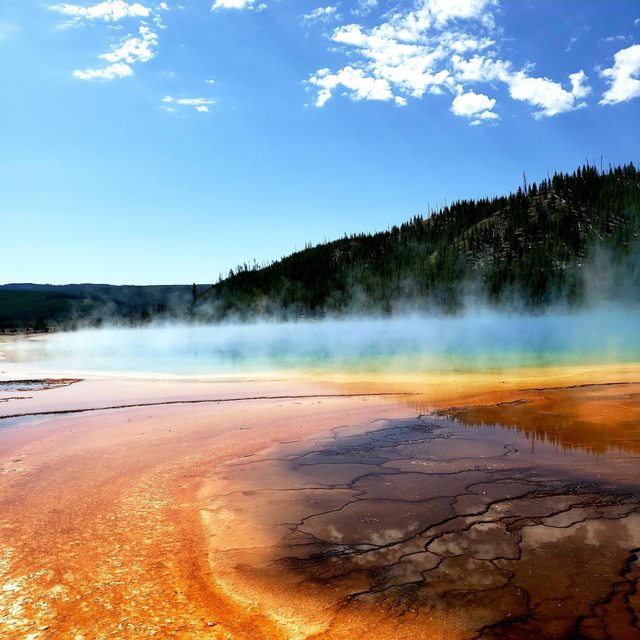 Grand Prismatic Spring, Yellowstone NP, Wyoming – July 2019 photo by dai_yue
How did we come up with such an uninspiring field of Democrats? Wrongo understands that November 2020 is a long way off, but pundits have been saying that Trump has a lock on the Electoral College, and that the Democrats are in total disarray. What to do?
From Tom Sullivan:
"Democrats don't need to run for president on better policy, though they have that. Their candidate needs to generate excitement among traditional nonvoters….from the top of the ticket to the bottom, they need to give nonvoters something to vote for."
When we scan the current 20+ Democratic presidential nominees, none are truly charismatic. Some have an easily understood message: Bernie focuses mainly on improving the economic lot of poor and working people, but he's lost 9 points in the average of polls since late April. Why?
Warren has been the policy wonk among these candidates, and her ratings have improved to the point where she's basically tied with Sanders, but both still lag Biden.
OTOH, Trump's approval rating is now about 43%, the highest since the opening weeks of his presidency. A couple weeks before the 2016 election, Trump's favorability rating was at 35%. Despite all of Trump's outrages, his commitment to walling off his base from inroads by Democrats seems to be working. The current political wisdom seems to be that he has 2020 in the bag, as long as his base of Deplorables sticks with him in the states that matter.
So, should Dems be ignoring Trump and focusing on policy?
The Dem's strategy should be to write off Trump voters; they are beyond reach. A few may be susceptible to the health care and jobs agenda, but most will prefer Trump's anti-immigrant message. Second, we need to tell the unvarnished truth about the wrong Trump has caused. Focus on healthcare and jobs, but make it very clear that Trump has spent as much time and money paying off porn stars as he has spent thinking about how you're going to pay your hospital bills.
We need to focus on the 50%-60% of Americans who aren't for Trump, and energize them so that they turn out. Let's look at two sub-sets of that majority: young voters and women voters. Vox explains how younger voters made the difference in 2018:
Young people drove voter turnout increases. Nearly 36% of 18- to 29-year-olds reported voting, a 16% jump from 2014, when only 20% of the youngest voters turned out to the polls. Adults ages 30 to 44 also increased voter turnout by 13%.
Voter turnout increased more among voters with college degrees than among those without. Voters with more education have historically had higher voter turnout, and that impact was even greater last year.
More urban voters (54% of citizens) voted compared to those who live outside of metro areas. That's in sharp contrast to 2014, when slightly more people in rural areas voted than those in urban areas, by 44% to 42%.
Most important, in 2018, more women (55%) turned out to vote than men (52%). Here's a chart: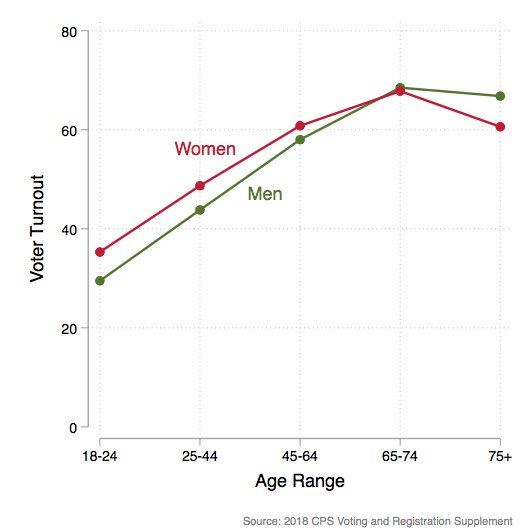 Turnout among younger women was higher than among young men. That flipped with voters 65+, where more men cast ballots than women. The future of voting is apparently female.
For Democrats to win, they have to engage the Democratic base, including women and young voters.
In 2008, Barack Obama gave nonvoters a reason to register and vote. He won the youth vote nationally, 67% to 30%, with young voters proving a decisive difference in Florida, Virginia, Pennsylvania and Ohio, according to Tufts' Center for Research and Information on Civic Learning and Engagement.
Did young people register and turn out in 2008 and 2012 because of Obama's policies? No, they did it out of passion for someone who seemed to embody a better, more hopeful future.
So, Dems should leaven their policy messages with a pivot to Trump's unfitness: Democrats are fighting for pre-existing conditions. Meanwhile, Donald Trump's inciting of neo-Nazis and racists at his rallies is unpresidential.
"We know what we're doing, and Donald Trump is a total disaster" can't be that difficult to get across. How about: "Send him back"? Will either be sufficient to overcome the lack of charisma of the Dem's likely candidate?
Time will tell.