The Daily Escape: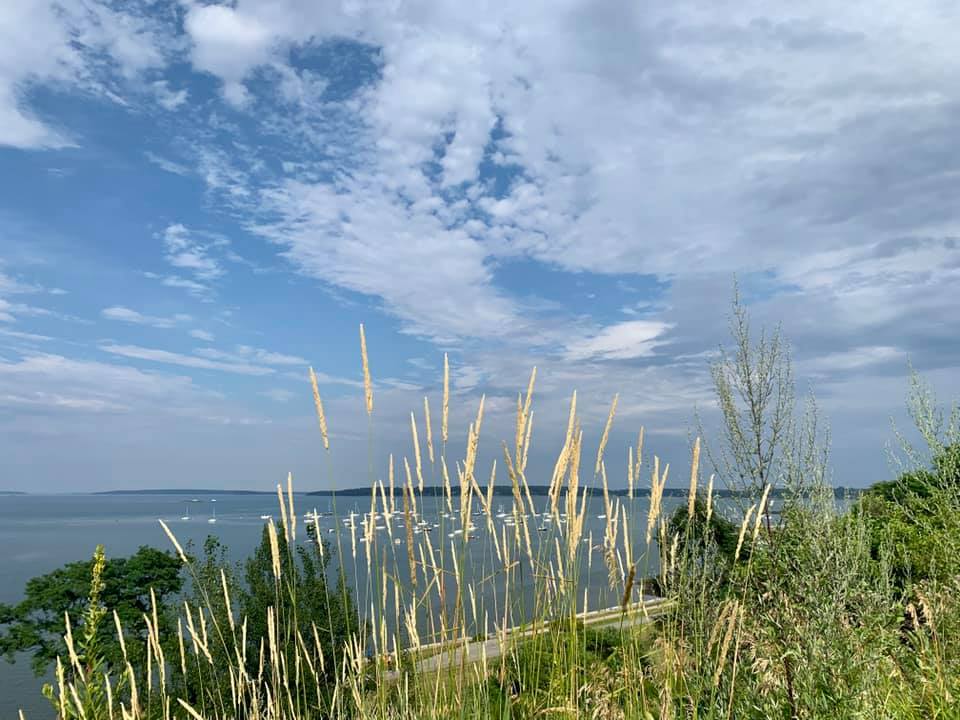 Peaks Island, ME – August 2019 photo by Kendall Lavoie. Peaks Island is a popular destination for day trips on the ferry from Portland. As you might expect, it has a small population in winter, tripling in summer, with many more day trip tourists. There is one taxi, a relatively new Ford Flex. It was purchased through donations by townspeople last year.
(Apologies for the sustained period of no reporting, the longest since the Wrongologist's founding in 2010.)
Wrongo and Ms. Right watched "American Factory" on Netflix last night. The story begins with the closing of a Dayton Ohio GM truck plant in 2008, and the layoff of 2,000 plant workers. Seven years later, Fuyao Glass, a Chinese company that manufactures glass for trucks and automobiles opened in the Dayton factory. Cao Dewang, the Chinese Chairman of the Fuyao Group had a bold idea: Pair American workers with Chinese workers, who are brought to Ohio to train and work alongside their American counterparts.
The former GM workers are initially ecstatic. They're happy to land a new factory job. Never mind that the closed GM plant was unionized, and paid more than $25 an hour, while Fuyao is non-union, with starting pay of $14 an hour. But, the laid-off people of Dayton are happy to have a new job.
Soon it's clear that the operating results aren't meeting Fuyao's plan. There is an obvious and growing culture divide. First, Chinese workers have no problem working 12+ hours a day and at least six days a week, while the Americans are used to five days in eight-hour shifts.
Second, individual expression is difficult for the Chinese but hardly for Americans. During a seminar for Chinese workers to help them understand American culture, a Chinese manager assures them:
"You can even joke about the president. No one can do anything to you."
That's followed by amazed looks.
The movie starts by trying to learn, "will the new plant succeed?" But success has different meanings: Success for the Chinese owner is different from success for the American worker, who only wants to know, "will these be steady jobs?" Success for the management means something different. Can the factory fulfill their orders at the same volume and quality as Fuyao's Chinese factory? What will it take for the new factory to become profitable?
These different goals, and the pressure to meet them drives the film. As one frustrated Chinese manager complains:
"American workers are difficult, and their output is low. I can't train them."
The American view? One fired US manager says:
"You can't spell Fuyao without FU".
OTOH, a move to start a union was soundly defeated.
American Factory is really about how culture drives what we expect to get from a job. Everyone wants to get paid, but what the Americans want from a job is different from what the Chinese are looking for. Americans see the job as an extension of self, and a way to earn. The Chinese see the job as part of the company's drive to succeed. And also as a means for China to succeed.
There is a quite a bit of soul-searching in the film. The soul of the American factory worker, of American manufacturing in general and the future soul of the global economy are at stake. In addition, late in the film, Cao Dewang, the Chinese CEO wonders aloud:
"I don't know if I'm a contributor or a sinner."
He's reflecting on what was lost between his young life in rural China and his later outstanding business success.
But, Cao and his Chinese managers aren't villains in "American Factory." It is a nuanced story, although clearly its sympathies are with the American workers. The film raises many issues: How can companies remain competitive in a global economy? Is it worth it to give taxpayer breaks for companies that relocate? Can global companies bridge the culture gaps that occur whenever a firm locates abroad?
Much of the interest in the film is due to its production company, Higher Ground, formed in partnership with Netflix by former President Barack Obama and Michelle Obama. The filmmakers,  Steven Bognar and Julia Reichert began shooting independently in 2015 while Obama was still president.
In closing, note that at its high point, GM's Dayton plant employed 10,000 people. Fuyao Glass America's Dayton plant now employs 2,200 Americans and 200 Chinese. They had originally promised 5,000 employees, and received tax incentives to open the plant.
Some of the Chinese have now moved their families to Dayton, and their kids attend Dayton's public schools.
By adding automation and fully Chinese management, the plant turned a profit in 2018, three years after it opened.