The Daily Escape: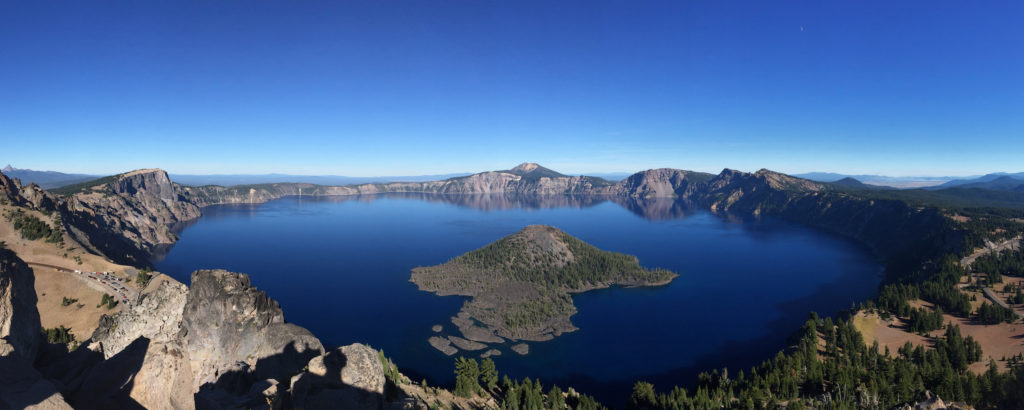 Crater Lake NP viewed from Watchman Lookout Station, Oregon – 2016 photo by atheleticamps
Wake Up America! With El Paso TX, Dayton OH, and Gilroy CA last week, we're starting to see what Red Hat Hatred means in the US. We'll soon hear that these are more lone wolves who snapped, and that's why we need to spend more on mental health, and to keep guns away from those sickies who really just need meds and counseling.
But, "lone wolves" should not be acting in lockstep with the Trump regime. Zealots and militants do that. In real life, wolves hunt in packs, so the term "lone wolf" makes no sense whatsoever.
From sociologist Kieran Healy: (emphasis by Wrongo)
"It's traditional to say that there are 'no easy answers', but this is not really true. Everywhere groups face the problem of holding themselves together. Every society has its enormous complex of institutions and weight of rituals that, through the sheer force of mutual expectation and daily habit, bring that society to life. But not every society has successfully institutionalized the mass shooting. Only one place that has done that, deliberately and effectively. The United States has chosen, and continues to choose, to enact ritual compliance to an ideal of freedom in a way that results in a steady flow of blood sacrifice. This ritual of childhood is not a betrayal of "who we are" as a country. It is what America has made of itself, how it worships itself, and how it makes itself real."
This is the society we've become. Will Republicans do anything? Of course not. Shooting at St. Ronnie didn't get them to act. Shooting at Steve Scalise and other Congress persons didn't help. The common factor is no modern-day Republican politician (since Lincoln and Garfield) have actually been killed. So, unless targeting Republicans becomes the norm, they'll never budge.
OTOH, look at this billboard about the Squad! Have at it, boys! More guns! The fact that American voters countenance this double standard is beyond disgusting. At this point, the right wing's reaction to this endless carnival of mass murder by angry white dudes comes in a few cascading flavors:
The 'thoughts and prayers reaction, which is the shortest and slipperiest response, but if pressed, they'll offer up: That's just the cost of freedom.
Or, that mass shooting deaths are less than 1% of gun deaths, let alone actual murders, in the US, so what ya gonna do? They say that the vast majority of people killed by guns in the US are shot one or two at a time, not in large groups.
But, that's not something any reasonable person should consider a winning argument. And as for Trump, there's really nothing for him to say. He can't play the role of healing the nation that we have normally expected from our leaders, because he bears real responsibility for the violence.
The Second Amendment has failed America, says Joel Mathis of The Week:
"The Second Amendment of the US Constitution is a failure because the right to bear arms — the right it so famously defends — is supposed to protect Americans from violence. Instead, it endangers them…. Data shows that people who own guns legally are more likely to kill themselves than they are to kill an intruder. People who own guns legally are more likely to kill a family member — on purpose or accidentally — than they are to kill an assailant. And people who own guns legally don't actually use those weapons in self-defense all that often."
Mathis goes on to say that: (emphasis by Wrongo)
"On balance, guns do more harm in America than good. The damages are easily measured, while the benefits are mostly theoretical and rare. This means the Second Amendment, as currently observed, doesn't actually work under the terms of its own logic."
Wake up! Americans should be able to gather at places like churches, schools, shopping malls, and concerts without fear that they've made themselves easy targets for the latest angry man possessing the tools to kill dozens of people within a few minutes.
To help you reflect on the Second Amendment, here is CPE Bach's Cello Concerto in A Major, Largo movement, with Tanya Tomkins on a 1798 baroque cello. She's playing along with San Francisco's Voices of Music. This is a very somber piece, seemingly perfect for reflecting on mass shootings:
Those who read the Wrongologist in email can view the video here.