The Daily Escape: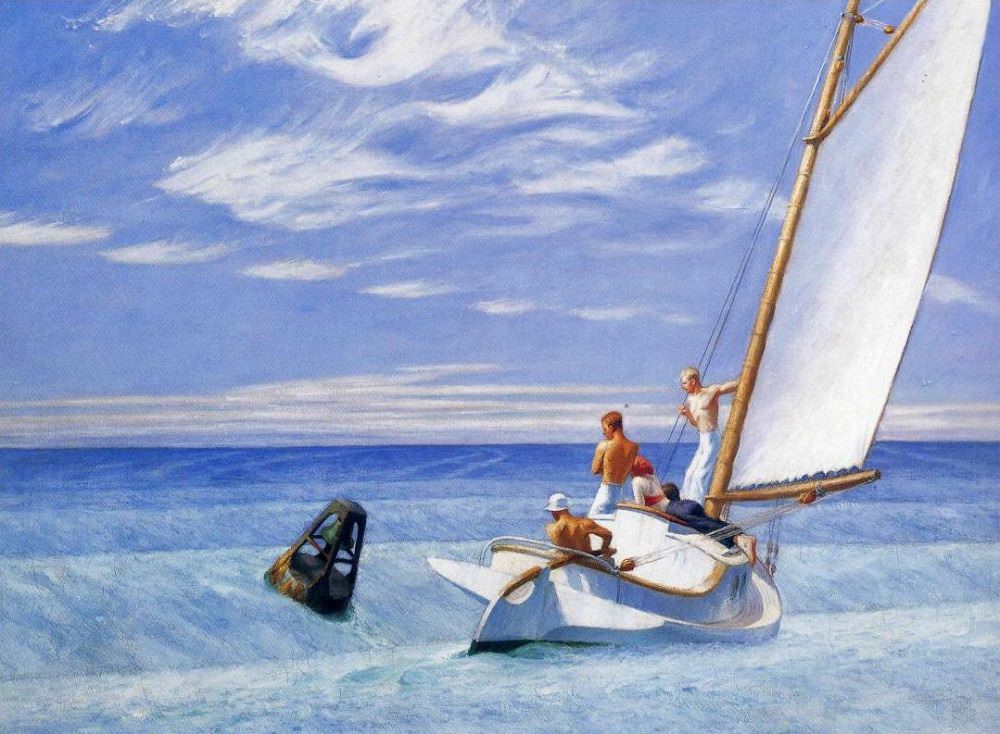 Ground Swell – 1939 painting by Edward Hopper
In news you most assuredly haven't seen, the 10th District US Circuit Court of Appeals in Denver ruled that "Faithless Electors", people who do not cast their votes in the Electoral College for the winner of their state's presidential election, are now free to vote for anyone they want.
This Colorado case came about because in 2016, one elector refused to vote for the state's winner, Hillary Clinton, and instead, voted for John Kasich. The Colorado Secretary of State ordered him to cast his vote for Clinton, or be replaced. He refused and was subsequently replaced with an elector who voted for Clinton.
The faithless elector sued, and the 10th Circuit decided in his favor, saying that the Constitution provides:
"…Presidential electors the right to cast a vote for president and vice president with discretion. And the state does not possess countervailing authority to remove an elector and to cancel his vote in response to the exercise of that Constitutional right."
The court traced the history of faithless electors back to 1796, when Samuel Miles voted for Thomas Jefferson instead of John Adams. Congress counted his vote. In the 2016 election, there were 13 anomalous votes from three states, and Congress also counted those votes.
This decision could have major ramifications for future presidential elections. The attorney for the faithless elector, Jason Wesoky, said the Court's ruling essentially makes the laws requiring electors to vote for the state's winner unenforceable. That impacts 16 states today.
It is even more significant, since a growing number of states are rethinking their Electoral College systems in response to the 2016 election. The 16 states that have passed laws that award all of their electoral votes to the winner of the national popular vote, currently equal 196 electoral votes.
If states representing another 74 electoral votes pass it, the so-called National Popular Vote bill will control the majority of votes in the Electoral College. The bill has passed at least one chamber in 8 additional states with 75 additional electoral votes.
This Appeals Court's decision means that yet another crucial issue to  the future of our democracy will be in the hands of the Supreme Court, once the appeal gets to them.
Enough of news you won't ever use, it's time for your Saturday Soother!
Start by brewing up a mug of Honduras Marcala coffee ($19/12oz.) from Santa Barbara's Handlebar Coffee Roasters. The founders are professional cyclists who met while riding in the Amgen Tour of California, America's best bike race.
Now, settle back and listen to something very different, a guitar band from Mali called Tinariwen. They are Tuareg musicians from northern Mali. They play rolling melodic lines and loping rhythms that evoke the desert sands of the Sahara. The band's name literally means "deserts" in their language, Tamasheq. Here they are playing "Kel Tinawen" from their upcoming album "Amadjar", available on September 6th:
The video is of a road trip along Africa's Atlantic coast as the band and crew cross the Western Sahara. They will be touring the US in September. For an early date in Winston-Salem, NC, some locals on social media are leveling violent, racist attacks against the musicians. Welcome to America!
Here is a translation of the lyrics:
Evil tongues – you can keep talking.
The uprising will be impossible to suppress.
The treachery of your evil words has sold out your brothers for your own interests.
You've locked them up in a prison, every last one of them.
You fine talkers, tell us what road you plan to take to avoid us if we remain rooted.
You've forgotten the suffering of our parents,
The suffering they have experienced since birth,
Unable to find water, unless they dig wells with their own hands.
Those who read the Wrongologist in email can view the video here.