The Daily Escape: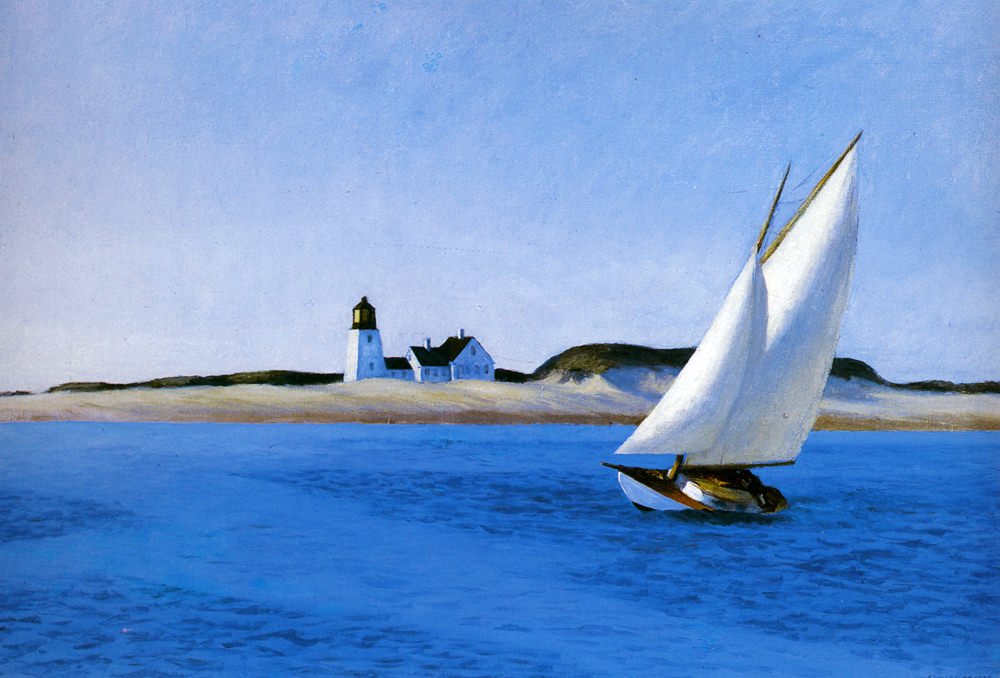 The Long Leg, 1935 – painting by Edward Hopper
(Blogging may be limited for the next week as Wrongo and Ms. Right spend time in Maine.)
Mitch McConnell's "Team Mitch" thought they were being clever by posting a video of a few extreme comments by an otherwise generally peaceful crowd of protesters outside his home yesterday. Twitter didn't like it, so @TeamMitch was put into Twitter jail. From the Lexington Courier-Journal:
"Senate Majority Leader Mitch McConnell's campaign has been thrown in Twitter jail. After sharing a video of a profanity-laced protest outside of the Kentucky Republican's home in Louisville, the campaign Twitter account, Team Mitch, has been locked out."
This was the second time in days that TeamMitch overreached. On Monday, they posted a picture of men in TeamMitch tee shirts groping a poster of Alexandria Ocasio-Cortez. Here's the picture: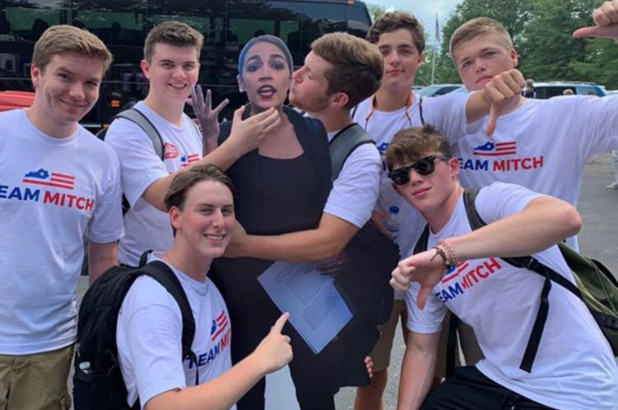 The picture was posted on Facebook and then shared on Twitter.
The response by the Trump regime was swift. By Wednesday, the White House was warning that it is looking at an executive order regulating Twitter's and the industry's free speech:
"The White House is circulating drafts of a proposed executive order that would address allegations of anti-conservative bias by social media companies, according to a White House official and two other people familiar with the matter — a month after President Donald Trump pledged to explore 'all regulatory and legislative solutions' on the issue."
Apparently, none of the three WH aides would describe the contents of the order, but its existence and the deliberations surrounding it, show that the administration is taking a serious look at attempting to limit Silicon Valley's free speech. More from Politico:
"If the internet is going to be presented as this egalitarian platform and most of Twitter is liberal cesspools of venom, then at least the president wants some fairness in the system, the White House official said. But look, we also think that social media plays a vital role. They have a vital role and an increasing responsibility to the culture that has helped make them so profitable and so prominent."
More:
"The President announced at this month's social media summit that we were going to address this and the administration is exploring all policy solutions, a second White House official said Wednesday when asked about the draft order."
The order is not expected to be issued imminently.
On the surface, this may be a bluff. It is difficult to believe that even the Roberts Court would allow the government to limit the free speech rights of a corporation, particularly after the Citizens United decision. But the social media companies can't be looking forward to an expensive, drawn-out court fight. Then again, if Twitter has the balls to actually apply the rules to Mitch McConnell, it might also apply them to Trump, and he would never allow that to happen.
This brings to mind our political double standard, the things that you just can't do to Republicans:
– Repeat their own words back to them
– Cite empirical evidence, scientific evidence, or facts
– Point out hypocrisies
– Call them names (you know, like RACIST)
– Compare actual religious teachings to their bad behavior
– Suggest they're not the fastest tractors on the farm
– Publicly disclose public information about which putrid candidate they publicly donated money to
(This last one was on full display when Joaquin Castro published a list of Trump's Texas donors that he got from an already public listing.
You've got to remember that "Christian" American conservatives are the most persecuted minority in world history and that publishing their names is equivalent to painting targets on their backs for the Deep State and Antifa.
They think that it's right there in the First Amendment that conservatives should never be criticized for anything that spills out of their stupid pie holes.
So, it's looking like Trump will try to make Twitter pay for its imagined offenses to Team Mitch.
Trump says that his rhetoric unites people. Let's hope it unites the rest of us!