Daily Escape: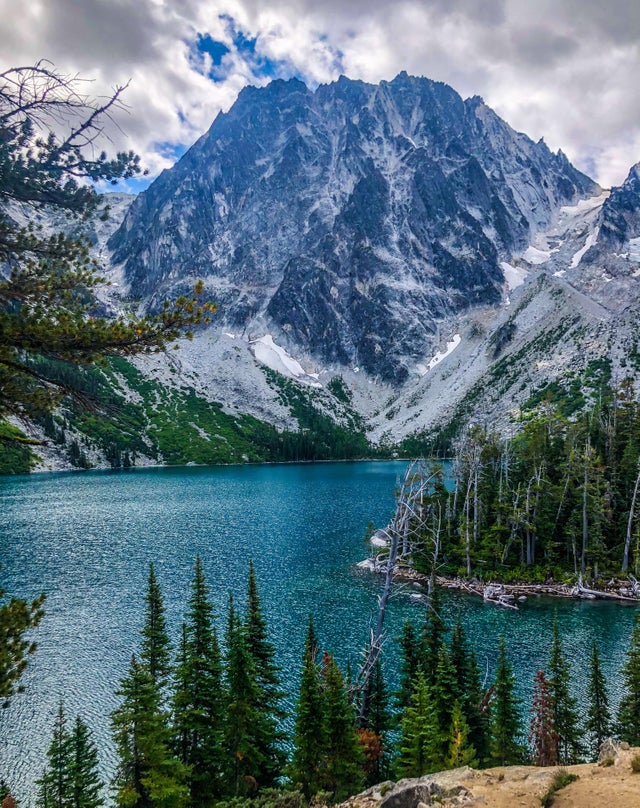 Colchuk Lake in the Enchantments, part of the Cascade Mountains, WA – August 2019 photo by atgctgtt
This summer, the Supreme Court decided 5-4 in the case Rucho v. Common Cause that federal courts could not invalidate maps based on partisan gerrymandering, although states might still do so.
At the time, Wrongo snarked about the decision:
"Wrongo's shorter John Roberts: The federal government can't do anything about your state stripping you of representation. You have to go back to the people who stripped you of representation and ask them."
Despite Wrongo's skepticism, on Tuesday, the North Carolina (NC) state Supreme Court put an end to eight years of Republican partisan gerrymandering when it ruled against NC Republicans who had installed it in 2011. From the Daily Kos (DK):
"On Tuesday, a three-judge panel delivered a major blow against Republican gerrymandering when it struck down North Carolina's state Senate and state House districts for violating the rights of Democratic voters."
More:
"The state court ruled that these maps, designed to entrench Republican rule, ran afoul of the state constitution's guarantee of free and fair elections. These illegal districts were so extreme that they helped Republicans to maintain their legislative majorities in 2018's elections even though Democratic candidates won more votes statewide. If fairer districts are implemented for 2020, they could put Democrats in striking distance of a majority in one or both chambers."
NC's current state-district maps had to be redrawn again in 2017, after the US Supreme Court affirmed a lower court's ruling that they constituted an unconstitutional racial gerrymander.
Now, NC's voters will be voting in new state election districts for the third time since 2011.
This decision is similar to one in PA in 2018, where a state court ruled that PA's congressional map was unconstitutionally gerrymandered. It also relied on the PA state constitution, so its decision was not reviewable by the US Supreme Court.
When SCOTUS decided not to rule on the constitutionality of partisan gerrymandering, it said quite clearly that state courts could rule on the question based on the individual state constitutions. NC now joins PA as states in which this strategy has succeeded.
The NC and PA decisions are reminders that we can challenge bad laws under state constitutions. States are free to recognize more rights than those enumerated in the US Constitution, they just can't recognize fewer rights. This is the sort of "federalism" that conservatives hope you never learn about.
More from DK:
"While this case only concerns the maps in one state, every state constitution has provisions similar to North Carolina's that could be used to challenge partisan gerrymanders so long as there's a receptive and fair-minded state Supreme Court majority to hear such a case. This ruling therefore underscores the importance of Supreme Court elections in key swing states next year, including Michigan, Ohio, and Wisconsin. Progressive victories in these races would go a long way toward blocking the GOP's lopsided control over redistricting as we head into the next round of redistricting following the 2020 census."
The NC court decision was 345 pages long. The opinion really makes it clear how there's just no possible defense for what the GOP was doing in NC. In addition, the opinion might as well have had "John Roberts is an embarrassing hack" stamped on every page.
This doesn't mean that Democrats can relax between here and 2020. Michigan, North Carolina, Ohio, Texas, and Wisconsin are states where 2020 state Supreme Court elections could either give Democrats a majority, or set them up to gain one in subsequent elections. That will be crucial in the next decade, since the Census will also take place in 2020. There will be new voters to count, or to disenfranchise, depending on your Party's ideology.
This war must be won in the trenches, not by the national candidates.  Wisconsin gave us a bad example in April. Although Democrats in Wisconsin won the popular vote in 2018, they didn't work hard enough to get their state Supreme Court nominee over the finish line in 2019, despite having a progressive plurality.
Democrats have to realize that they won't win if they think only certain elections are important enough to get out and vote.
These battles are local, not national, and now that the US Supreme Court will be sitting on its hands for a decade or more, these are fights we must win.
Democrats can't afford not to contest local judicial elections.