The Daily Escape: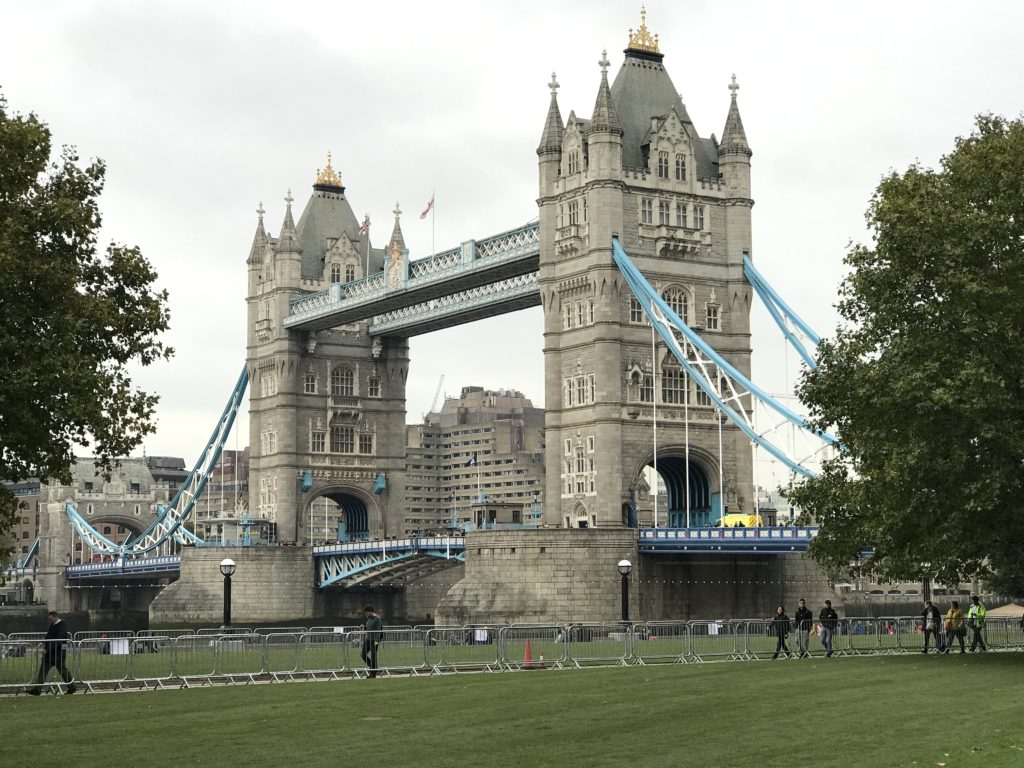 Tower Bridge, London – October 2019 iPhone photo by Wrongo
Wrongo and Ms. Right got to England on Monday. As in our last visit in 2017, much remains under construction, roads as well as buildings, which makes it difficult to get around except by the Underground. It is possible to walk to many destinations more quickly than to go by taxi.
It is clear that the Brexit debate dominates the news and daily discussions, even that of ordinary people. Wrongo spoke with an Italian immigrant who has been working in London for six years. He is very worried that he will become an illegal under a final Brexit deal, even though that isn't part of the current deal's language. Several business people were pro, or con, about Brexit, based totally upon their personal economic interests. Everyone seems to be looking at the possible Brexit from very narrow economic perspectives. Sound familiar?
Today, we saw the play "Two Ladies". It's about the wives of the French and American presidents who are sequestered for their own safety during a summit conference that is deciding whether the US president will get the support of Europe to attack an unnamed terrorist country. The American First Lady is modeled on Melania Trump, the French First Lady on Brigitte Macron. This sets up some prurient interest in the personal stories of each. However, the real focus of the play is on what power these two women have to influence their husbands, and if they do have that power, how their influence could best be used to terminate the political situation that looks as if it will certainly lead to war.
Sophia is the American First Lady. She's a Croatian ex-model that her rich, rightwing husband treats as a trophy. Helen, an English former journalist, is the wife of the French president. She is significantly older than her husband, over whom she used to exert much political influence.
You can see the opportunity these women provide for a play ripped from the headlines. Several Americans spoke about how the play was "not favorable to Republicans". It seems to Wrongo that we can no longer look past our political sensibilities to see value in a story that starts with two women who have mutual loathing, but who develop a mutual understanding based on a common problem: the lack of respect the world shows them when a bad decision involving world peace are being taken by the husbands they barely respect.
"Two Ladies" has played to sold-out audiences, despite not being particularly well-reviewed by the London critics. No US Broadway producer has so far been willing to bring it to the US.
Wrongo suspects that the idea of women trying to bond over the idea of ending war, while trying to be relevant by "being in the room" (as Alexander Hamilton says in "Hamilton"), would find an audience in NYC.
We also saw Ian McKellen, (the legendary British actor most known to Americans as Gandalf), in a one-man play that is a retrospective of his acting life.
McKellen, 80 years old, is in great shape, and has great comedic timing. There are many laughs along the way. Some complained about the acoustics in the old theater where it is playing, saying it was hard to hear McKellen.
But Americans left this show saying that McKellen, who is gay, talked too much about his gay experience. These few Americans had traveled far from their suburban enclaves, only to be triggered by an elderly man's lifestyle.
Wrongo wonders about people with such delicate sensibilities. They seem to be the same people who have no difficulty being dismissive of those who speak English poorly. They are vocal in their suspicions of people from different religious backgrounds. A few think that some racists are also good people.
They're sure that most people on welfare don't deserve to be there.
We have a centuries-long tradition of public events designed to entertain and inform us, to make us think, to add to our experience and collective understanding.
Everyone knows that.
And people must be responsible for protecting themselves if they feel they shouldn't be exposed to the broad and deep culture of America. That can't become our collective responsibility.