The Daily Escape: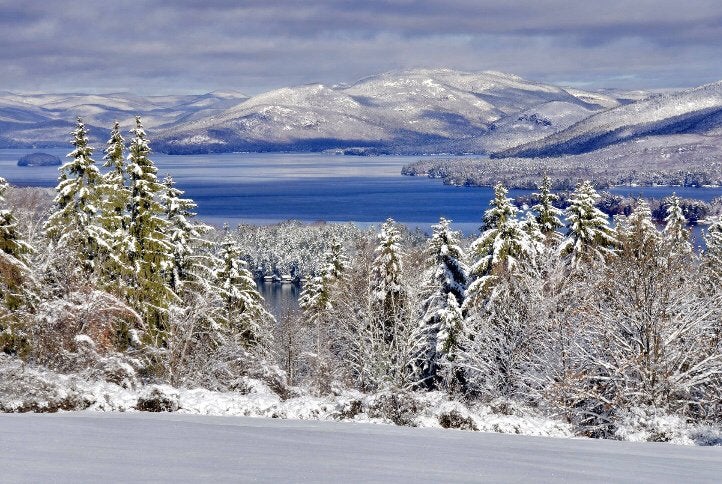 Lockhart Mountain, Lake George, NY – November 2019 photo by goldengoddess69
After seven public hearings with 12 witnesses over five days, the impeachment inquiry moves to a new stage: a public report and a handoff to the House Judiciary Committee. What's not clear is whether witnesses close to Trump, like Bolton, will ever testify.
The House Intelligence will deliver a report to Judiciary that lays out their case for impeachment. The Republicans will submit a minority report of their own, once Dems publish theirs.
We'll have new editions of the same two narratives that have been with us since the start of the Mueller investigation. This leads to the weekly question: How can Republicans not see the facts? Republican lawmakers, aides and strategists surveyed by CNBC's John Harwood have uniformly treated Trump's misdeeds with Ukraine as an inconvenience, an annoyance which will blow over. Here's a quote from Harwood:
"Lawmaker #3 "No. I think the attitude is, so what? "Sondland did his best to protect the President. Over half the Dems were for Impeachment before the whistleblower. People see what they want. This is still too complicated for the average person to understand. But follow the polls."
And we need to think about what will happen in the Senate after they receive the referral for impeachment. The GOP will use the Senate trial to put both the Bidens and whatever they think the Dems did in 2016 on trial.
It will be a circus. Trump says he wants a trial, and wants to be the first witness. They will out the whistleblower. Rep. Chris Stewart (R-UT) said: (emphasis by Wrongo)
"And now we're going on to the main event and that's in the U.S. Senate…So we'll finally be able to get to the truth. So I'm talking to my colleagues in the Senate, these are some of the witnesses that you need to call and these are some of the questions that you need to ask. First, you have to hear from the whistleblower."
It won't take much for the Republicans in the Senate to convince themselves that they were right all along, that Trump was justified in pressuring Ukraine president Zelensky. They'll say that nothing happened, there was no harm, no foul and hypocrisy be damned.
Are the Dems smart enough to hold simultaneous hearings in the House to surface more about Trump's obstruction? BTW, don't you think Hunter Biden's Burisma board seat is unseemly at best? Why don't the Dems just do a proper investigation? But for his last name, Hunter's credentials for a paid board position seem quite weak.
If you haven't become cynical about Republicans in the years since Obama was elected, just wait two months.
America will have national elections in 2020. The circus in the Senate will hopefully lead to historic turnout for local, state and federal candidates. Wrongo feels optimistic that something new and better is coming. The path to that new political reality is steep and difficult, and we all must walk it.
Enough! Let's slide into a Saturday Soother, that time of the week when we try to escape the horror show around us for a few minutes, and contemplate both our inner world, and the world around us.
The first snow covered the fields of Wrong on Tuesday. The short days and the drab colors remind us that spring is a long ways off. This weekend is about preparing for Thanksgiving, the arrival of friends, and a quiet celebration of all that we enjoy, from family, to friends, to our great country.
Let's kick things off by brewing up a mug of Warm November Rain coffee ($20/12oz.) from Chicago's Dark Matter Coffee. The roaster says it has notes of black tea, tangerine, and baker's chocolate.
Now settle into a comfy chair and listen to the enchanting "Pavane, Op. 50" by the French composer, Gabriel Faure, written in 1887. It was originally written for piano, but is better known today in Fauré's version for orchestra. Here it is played live without an orchestra by 12 Cellists (!) from the Berlin Philharmonic.
If one cello is great, imagine just how fantastic 12 cellos can be!
Those who read the Wrongologist in email can view the video here.