The Daily Escape: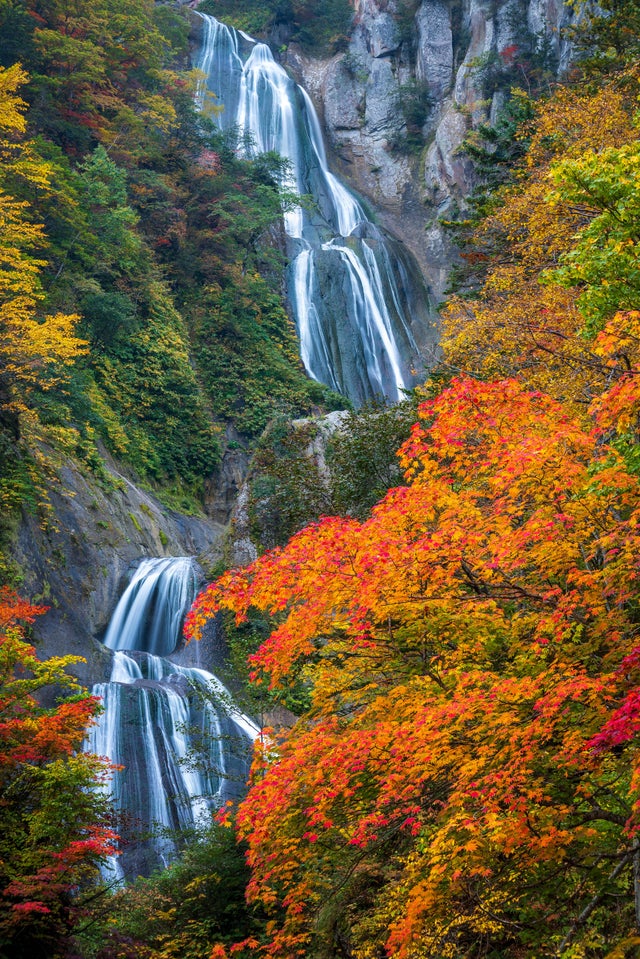 Autumn at Hagaromo Falls, Hokkaido, Japan – 2019 photo by theandylaurel
From the Military Times:
"President Trump has granted a full pardon to two soldiers who faced murder charges in war zone deaths, and reinstated the chief petty officer rank of a Navy SEAL convicted of posing with a dead detainee."
Last Friday, Trump announced that former Army 1st Lt. Clint Lorance and Maj. Matt Golsteyn would receive presidential pardons.
Wrongo sat on a few military trials during his time in the military, and decisions about guilty or not guilty are tough decisions. While Wrongo was lucky not to have seen combat, we all know that war is inherently violent, and violence means killing people and destroying property.
So, where do we draw the line?
We've all heard about the fog of war, and some of us still clearly remember the May Lai massacre, 50 years later. An active battlefield situation is often ambiguous, and the troops' blood is up during the heat of battle.
Enemy wounded are often killed in the midst of an ongoing action. Wrongo's father, who fought in WWII, told him that he had participated with others in just such a killing. He wasn't proud of it. In fact, through the years, it made him feel very guilty. Nothing was made of it then, and certainly, it still happens today.
Is it wrong? Yes, but soldiers exist to kill people in pursuit of their country's political goals. To moderate the savagery of war, the West developed rules, customs and laws that attempt to impose limits on the conduct of war. These have often been violated.
The war crimes of the Imperial Japanese Army in WWII are infamous, despite Japan promising in 1942 to abide by the Geneva Convention and observe the Hague Convention of 1907. Air power kills indiscriminately. Its rules of engagement include bombing civilian populations until their governments surrender.
For ground forces, the basic law of war is that you do not kill or injure prisoners of war if they have accepted their status, and you don't deliberately harm civilians as long as they do not take up arms against you. Do our soldiers indiscriminately shell towns, even though the towns may contain civilians? Of course they do.
All soldiers are expected to comply with the Uniform Code of Military Justice (UCMJ). Military members know what the law is, and how the law will be applied. In these three Trump cases, each individual was in charge, and/or did the deed themselves. They committed straight-forward violations of the UCMJ.
Broadening our view, we need to remember that if we allow soldiers to kill or maim unarmed people, we will soon have an unmanageable gang of armed individuals, not a fighting unit. Here's a take on Trump's pardons by Matt Bohrs: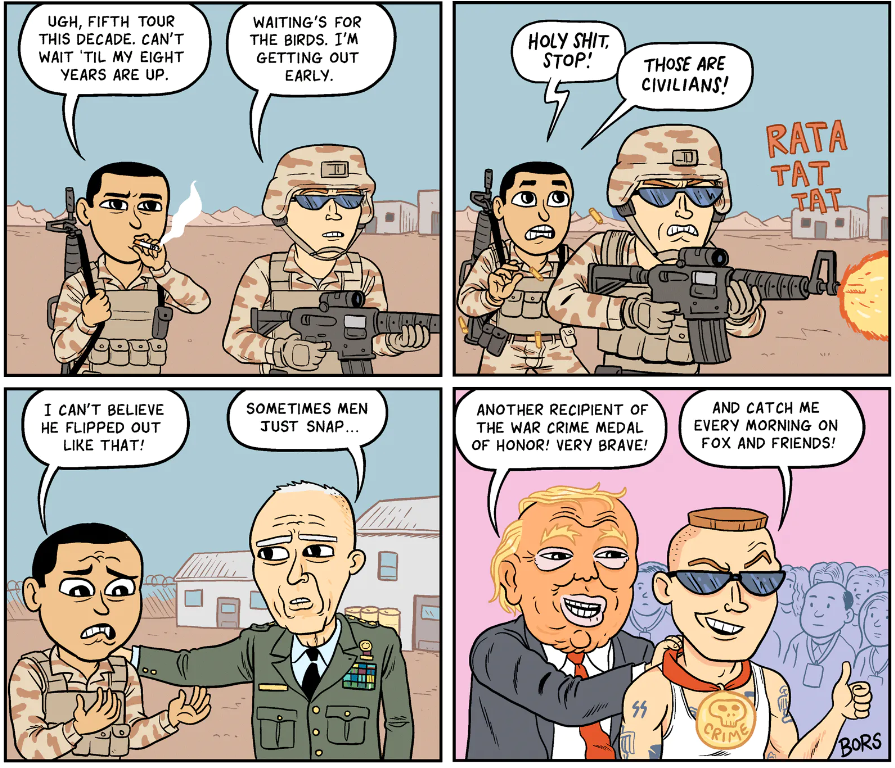 Presidents have the right to pardon and commute sentences. But just because they have the right to do something, doesn't mean it is the right thing to do.
Trump is touted by his supporters as a law and order president. But these decisions again show that he does not really respect either civilian or military justice. He's continually blocked government employees from testifying at legitimate Congressional hearings. He's pardoned 18 people since taking office.
Those that support Trump's decision don't live in the real US. Like Trump, they live in some imaginary country were each individual interprets the Constitution and our laws in his/her own way.
Friday was a sad day for the military, and for nation.