The Daily Escape: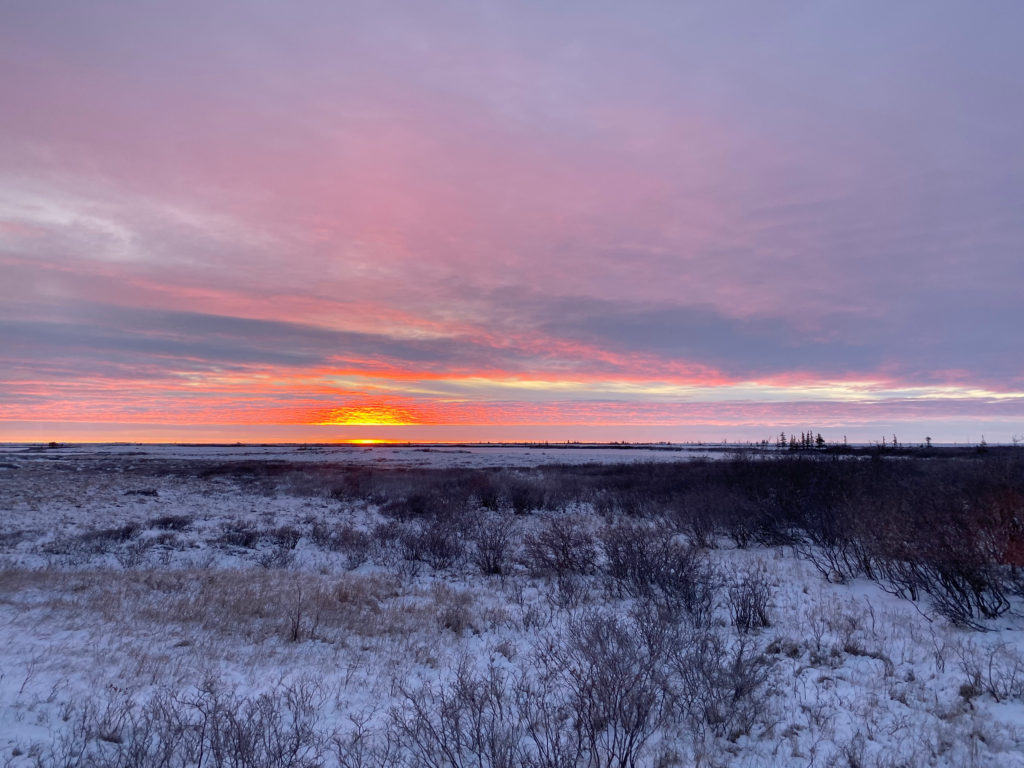 Sunrise, Churchill, Manitoba, Canada – October 2019 photo by Colin Hessel. Hat tip to blog reader Marguerite S.
While America is focused on our impeachment gridlock, we've missed a few things Trump has done that have far-reaching impact.
First, the US solar industry has lost 62,000 new jobs and $19 Billion in investments because of Trump's two year-old tariffs on imported solar panels. The job loss is more than the 53,000 total number of workers employed in US coal mining, an industry Trump favors. Maybe those 62,000 people can just apply for the roughly 250 new coal mining jobs Trump created. The $19 billion in lost investment equates to 10.5 gigawatts in lost solar energy installations, enough to power about 1.8 million homes.
Despite the tariffs, global solar panel prices have continued to fall due to oversupply in China, but US solar panel prices still are among the highest in the world. That makes it more difficult for solar to compete with other forms of electricity generation such as natural gas.
Trump's tariffs have had the greatest impact on newer solar markets such as Alabama, the Dakotas and Kansas, because they make solar uncompetitive.
Second, Trump announced revisions to the small arms export rules. The National Defense Authorization Act (NDAA) is currently in reconciliation negotiations. One of the differences between the House and Senate versions is an amendment that could loosen export controls on firearms. In November, the administration gave Congress notification of the proposed rule changes, which will go into effect on December 20th if Congress does not block it.
The US exports firearms and related technology on a large scale. From 2013 to 2017, the State Department reviewed approximately 69,000 commercial export license applications for firearms, artillery and ammunition reported at a value of $7.5 billion. Roughly two-thirds of these applications were for firearms.
Trump's proposal would transfer control over the export of firearms and related technology from the State Department to the Commerce Department. The new rules could loosen the global trade in small arms, particularly in Latin America and the Middle East.
Export control is a complicated process with substantial paperwork designed to limit weapons or components falling into the wrong hands. The State Department currently manages this process for firearms. Moving control to the Commerce Department means that exports of these weapons will be subject to a less rigorous approval process.
Many observers, including the UN, have noted that the widespread availability of small arms is a "key enabler" of conflicts around the world. Despite calls for states to exercise tighter arm controls, the Trump administration is proposing to do just the opposite.
There are downstream effects of the proposal. It may make it easier for Latin American organized crime or terrorists in the Middle East to get guns and ammo more easily. Perhaps Trump wants to improve the Second Amendment rights of ME terrorists and Latin American gangs. Or maybe, he's just in the tank for US gun manufacturers.
Third, a new Pew survey finds that only half of American adults think colleges and universities are having a positive effect on the country; 38% say they are having a negative impact, up from 26% in 2012. The increase in negative views has come almost entirely from Republicans and independents who lean Republican: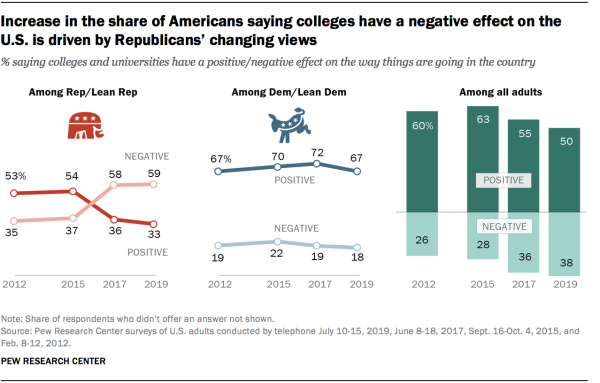 Since Trump was elected, Republicans who say colleges have a negative effect on the country went from 37% to 59%. Over that same period, the views of Democrats and independents who lean Democratic have remained stable, and overwhelmingly positive.
Democrats who see problems with the higher education system cite rising costs most often (92%), while 79% of Republicans say professors bringing their political and social views into the classroom is a major reason why the higher education system is headed in the wrong direction. Age is an important factor: 96% of Republicans aged 65+ say professors bringing their views into the classroom is the major reason why higher education is headed in the wrong direction.
Higher education faces a host of challenges in the future: Controlling costs, ensuring that graduates are prepared for the jobs of the future, and responding to the country's changing demographics.
Trump and the GOP's willingness to see everything from impeachment, to solar panels, to college education as an ideological battle are making addressing America's problems impossible.