The Daily Escape: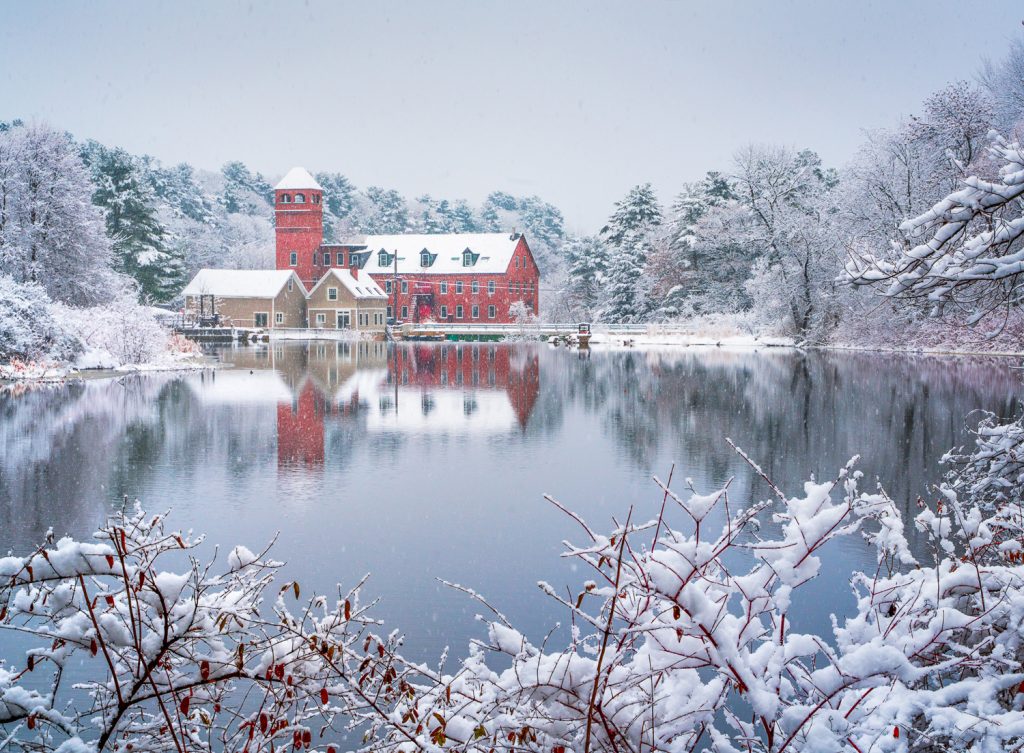 Sparhawk Mill, Yarmouth ME – photo by Benjamin Williamson
Should we be concerned about the new Chinese coronavirus? Given developments in the past few days, we need to focus on it. The CDC announced on Monday that a total of 110 people in 26 US states are under investigation for possible infection with it. But officials continue to believe the immediate health risk to the US public remains very low.
OTOH, the increasingly stringent measures taken in China to contain it sure make it look like Chinese officials are at least worried, if not yet panicked.
China is suffering from shortages of test kits and personnel to confirm that suspected cases are indeed the coronavirus. We know there are no special anti-viral medications that work, people can only rely on their own immunity.
The World Health Organization (WHO) has increased its estimate of global risk of the coronavirus from moderate to high. It's now clear that this coronavirus is very contagious. The estimates of the reproduction rate (number of new infections caused by someone with the disease) is between 2.6 and 2.9. If that is true, the reproduction rate would be higher than for the 1917 Spanish flu, but lower than for measles, which is between 12 & 15. The reason is that it's a large pathogen. From Foreign Policy:
"The coronavirus is a physically large virus—in relative terms…too big to survive or stay suspended in the air for hours or travel more than a few feet."
So far, this coronavirus has a mortality rate of 2.2%: The latest data is 4524 confirmed cases, with 106 deaths. This observed level isn't good, but it's far lower than for SARS (9.6%), and is similar to the Spanish flu, which was 2.5%.
These are the reasons for the current freakout. Governments have started evacuating staff from Wuhan. CNN reports that:
"About 240 Americans being evacuated from Wuhan Wednesday morning local time…arriving in Ontario, California. About three dozen Wuhan-based US diplomats and their families are also expected to be on board…"
CNN mentions that Australia, France, Hong Kong, India, Japan, South Korea and the UK are also evacuating their government employees and families.
Won't evacuations just be another way to spread the disease unless the evacuees are quarantined for the 14 day incubation period? So many practical questions.
It's a little early to speculate, but the impacts can go well beyond just public health. We've already seen a one-day negative impact on Mr. Market, who momentarily panicked.
A pandemic would severely affect Chinese economic output. With public transportation halted, commerce grinds to a stop as people avoid public places and thousands of employees can no longer go to work. Who pays their wages while the city is locked down?
We know cities can't truly be isolated for longer than a few days. And we know people can't live without food, water, fuel, etc. and money to buy these essentials.
The realities leave officials with an impossible choice: Either truly isolate the city (which isn't possible) for more than a few days, or allow the flow of goods required to sustain millions of city residents. The second option creates uncontrollable vectors for the virus to spread beyond the city as transport workers and those fleeing the lockdown illegally, move on to other cities.
How would America cope with this virus if it gained a foothold here?
We had that experience 100 years ago. One of Wrongo's grandfathers died in the 1918 flu pandemic. Of the estimated 500 million people in the developed world to be infected, the recorded mortality rate was 50 million, with about 675,000 occurring in the US. The high mortality in healthy people, including those in the 20-40 year age group, was a unique feature of the 1918 pandemic.
Today, our elites would retreat to their country homes while demanding that their companies stay open. We've seen panic buying in Manhattan before blizzards that would only affect the city for two days. Logistics being what they are, local distribution centers absolutely do not have enough food to last through a prolonged shutdown. And Amazon won't be delivering you toilet paper.
In times like these, it's useful to remember that there is a never-ending attack being waged by the forces of privatization to take over America's public health system, turning it into another monopoly profit center.
So far, we've held this effort at bay, but the lobbyists and the monied class keep working to convince Washington that this government system represents "waste, fraud and abuse". The fight goes on.
Sadly, our leaders are immune to the coronavirus infections, because it is transmitted through the head (eyes, nose and mouth), and they generally have their heads up their asses.