The Daily Escape: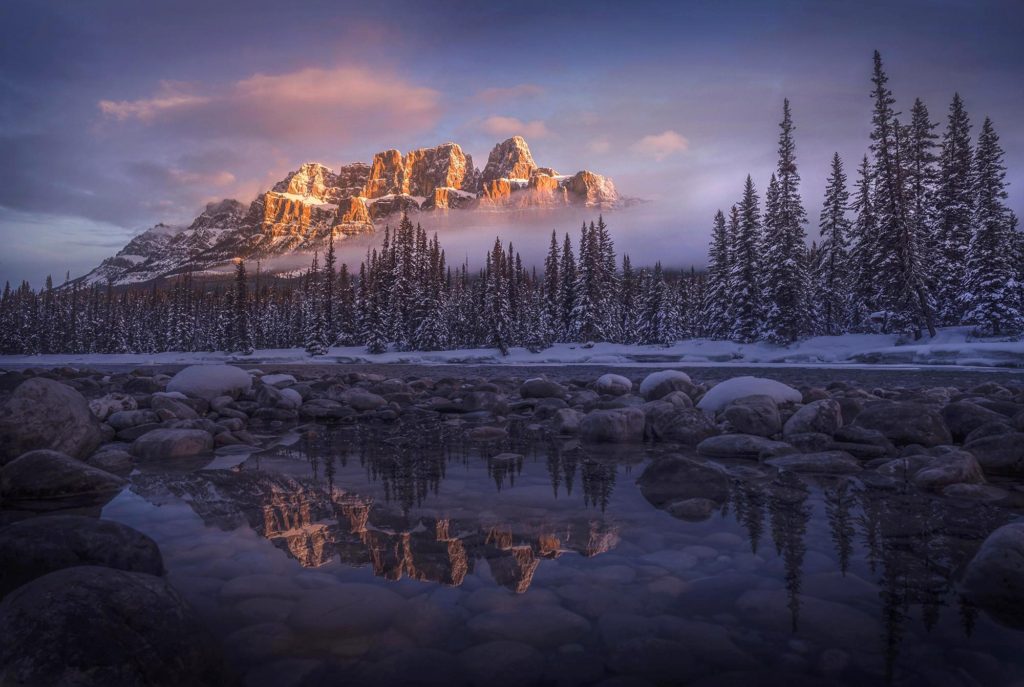 Sunrise, Castle Mountain, Banff, Alberta, CN – 2019 photo by anitajwani
(Sunday Cartoons will appear on Monday)
Yesterday, Brexit became official. The UK is no longer part of the European Union.
The decision to stay or go consumed the UK to the exclusion of all else for four years. But listening to the BBC, they now are barely talking about it. For all the arguing about "Leave" or "Remain", nothing much was really said about what would happen once things got concrete.
It may be hard for Americans to understand, since we are seduced by British accents, but the Tories are dumber than Republicans. One example of what changed on Friday, as the UK Independent observed:
"Brexit day is here, so let us celebrate our biggest victory – the freedom to drink very bad wine."
So now comes the hard part. Britain has until the end of this year to make a new trade deal with Europe, the US, and with other non-EU countries. The EU is the UK's largest trading partner. In 2018, UK exports to the EU were £291 billion (45% of all UK exports). UK imports from the EU were £357 billion (53% of all UK imports).
Services accounted for 41% of the UK's exports to the EU in 2018. Financial services and other business services (including legal, accounting, advertising, research and development, architectural, and engineering) are important categories of services exports to the EU. They made up just over half of UK service exports to the EU in 2018.
Because of the EU's structure, the parliaments of 27 countries will have to agree to any new deal. Imagine what a "No Deal" would mean starting in 2021: Both Britain and the EU would stand to lose a big chunk of their trade revenue.
It will be fascinating to see which side has the greater negotiating power. For example, the UK only accounts for just 6% of German exports of goods. It accounts for 6.8% of French exports.
The US needs a new trade deal with Britain as well. That deal will have to be approved by the US Congress. The US will want open access to the British markets for its agricultural and healthcare industries. That will conflict with Britain's own farmers, food regulations and its National Health Service.
Britain will be negotiating these two large, and very complicated deals under severe time pressure. The EU might offer to extend the deadline, but Prime Minister Boris Johnson has said there will be no extensions. Despite Johnson's promise, comprehensive trade deals take several years to complete, averaging 7-8 years. So there will be little deals announced in steps, with the simplest to agree areas finished first.
There are also the national issues: North Ireland will be integrated economically with Ireland. Having a customs border in the North Sea may prove unwieldy. Scotland preferred to remain with the EU, and voted "Remain". After Parliament finally voted to Leave, Scotland asked to hold a referendum on leaving the UK, but were turned down by the Tories. They may try again to secede over the Prime Minister's objections.
These new trade deals may be on less favorable terms than what the Tories told the voters. As an example, one argument for Brexit was that the UK would regain exclusive fishing rights within its economic zone. But some EU countries will likely ask for additional fishing rights in British waters in exchange for something Britain urgently needs.
We won't know the outcome for five to ten years from now, but it's likely that Great Britain will be less great than it is today.
What with the impeachment show drawing to a conclusion without calling witnesses, and the impending food fest of Super Bowl Sunday, it's time for our Saturday Soother.
Our one oasis of calm in a week of crisis.
Let's start by brewing up a big mug of Ethiopia Shaskiso Natural ($18/12oz.) roasted by Michigan's own Battlecreek Coffee Roasters. The roaster says it tastes of strawberry and cocoa supported by spice-toned florals.
Now, settle back by the fire and listen to Telemann's Concerto in D major for Violin, Cello, Trumpet and Strings, played live by the Bremer Barockorchester, in 2015:
Those who read the Wrongologist in email can view the video here.