The Daily Escape: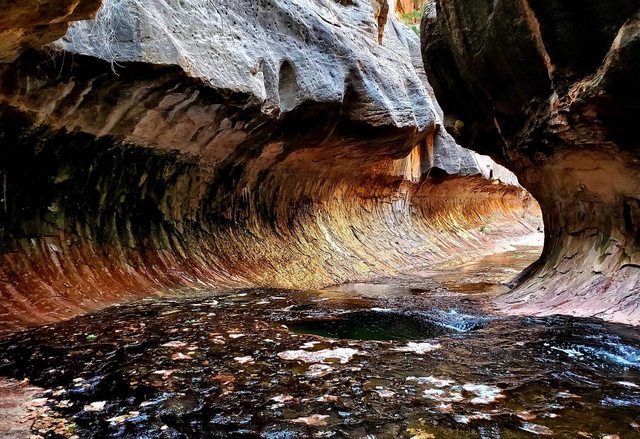 The Subway, Zion NP, UT – 2019 photo by DarthButane. This is a nine-mile round trip hike.
When it comes to the impeachment trial, nothing that's said really matters, if you are hoping for a fair review of guilty, vs. not guilty.
Let's spend a moment reviewing Adam Schiff's closing remarks on Thursday night. He was off the charts brilliant:
"The American people deserve a president they can count on to put their interests first, to put their interest first. Colonel Vindman said, here, right matters. Here, right matters.

Well, let me tell you something. If right doesn't matter, if right doesn't matter, it doesn't matter how good the constitution is. It doesn't matter how brilliant the framers were. It doesn't matter how good or bad our advocacy in this trial is. It doesn't matter how well-written the oath of impartiality is. If right doesn't matter, we're lost. If truth doesn't matter, we're lost. The framers couldn't protect us from ourselves, if right and truth don't matter. And you know that what he did was not right. "
Schiff concluded with: (emphasis by Wrongo)
"But here, right is supposed to matter. It's what's made us the greatest nation on earth. No constitution can protect us if right doesn't matter anymore. And you know you can't trust this president to do what's right for this country. You can trust he will do what's right for Donald Trump. He'll do it now. He's done it before. He'll do it for the next several months. He'll do it in the election if he's allowed to.

This is why, if you find him guilty, you must find that he should be removed. Because right matters. Because right matters. And the truth matters. Otherwise we are lost."
He didn't read this, he spoke from the heart. He wasn't histrionic, or angry. However, he did deliver a sharp condemnation of Trump. He all but said "If Trump walks, and is re-elected, this country is finished."
That fell flat with some Republicans:

Republicans have really thin skins when it comes to attacks on the guy who tweets insults for a living.
Schiff didn't pretend that witnesses are a real possibility.  He didn't pretend Democrats are going to get documents. He didn't pretend that GOP Senators will do the right thing.
He made it clear to the real jury, America's voters, what's at stake, and exactly who is shirking their duties. He's shown us that Republicans no longer even pretend to give a flying f__k about democracy, honesty, or the Constitution.
Was it a tough week for you? Jim Lehrer died. The long-time anchor of the PBS NewsHour was possibly the last of his kind. Wrongo often watched Lehrer's careful, considered journalism on PBS, along with his moderation of presidential debates. He was never one of those in the news media who thrive on gotcha questions and confrontations.
Time to let it all go for a few minutes. Iit's time for our Saturday Soother. Here, the fields of Wrong still have snow on the ground, although it is now crisscrossed by the tracks of all sorts of animals. We're in for a rainy weekend, so let's start by brewing up a mug of coffee that is recommended by Wrongo's daughter, Merrill. It's Colombia Santa Rita coffee ($16/12 oz.) with its notes of caramel, toasted almond, and powdered cocoa, from Rainier Coffee.
Now settle back near a fire, and listen to a piece of cello music from Henry Eccles, a violinist from Great Britain who was born in 1670. We will listen to the Largo section of his "Sonata for Violoncello in G minor", played by Maxim Kozlov, who calls himself "Cellopedia":
Wrongo and Ms. Right heard this played on New Year's Day by Sam Magill, cellist with the NY Metropolitan Opera Orchestra. He hasn't recorded it professionally, but you will love this sad, emotional performance by Kozlov.
Those who read the Wrongologist in email can view the video here.