The Daily Escape: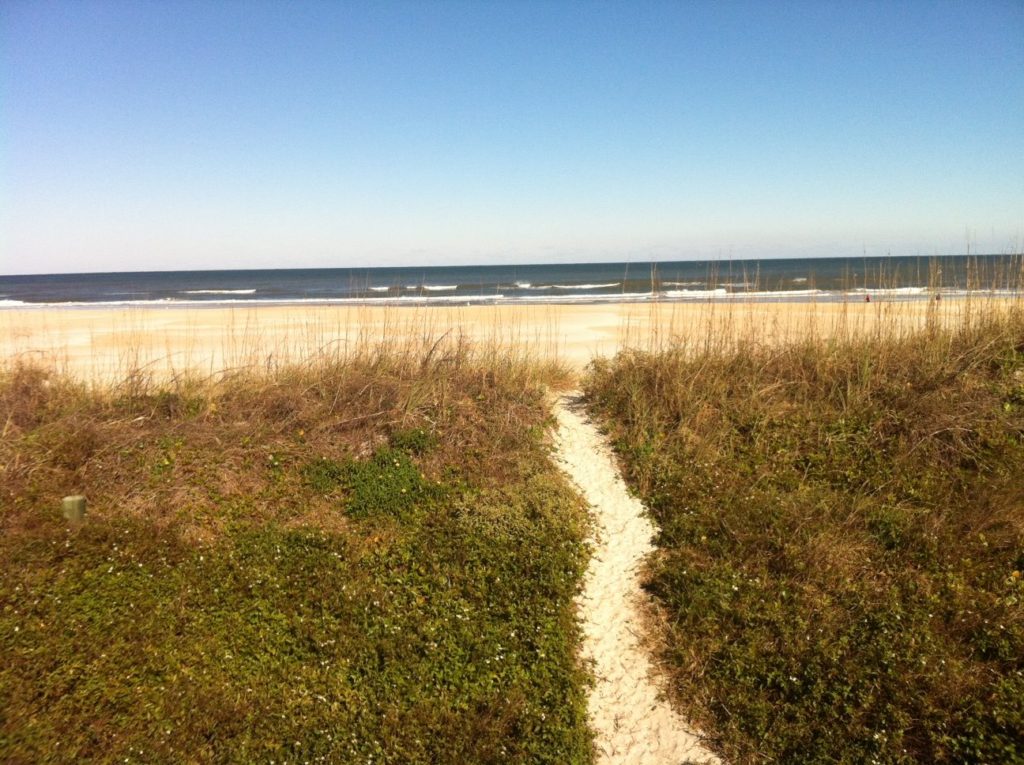 Florida Beach in February – 2015 photo by Wrongo
(Posting will be light and variable until March 8th, as Wrongo and Ms. Right spend a few days warming up in Florida)
The 2020 census is about to start. That's the way we estimate the number of people living in each location in our country. The census is more than just a headcount; it shapes the distribution of political power and government funding for the next 10 years. It will inform the redistricting process at every political level across the country. So Congressional seats and Electoral College votes hang in the balance.
The Census Bureau is running more than 1,000 census ads in the US through July 2020 to encourage all households to participate. The Census Bureau confirmed that all advertisements will include a disclaimer underscoring that participants' information will not be shared with any other parties, presumably, like ICE.
It's expected that scams will be everywhere. According to AARP:
– 70% of respondents were incorrect or unsure about whether the Census Bureau would use email to contact them. Actually, all correspondence is sent via US mail

– 35% expect or are unsure whether the Census questionnaire will ask for their Social Security number, bank account information or passwords, or that it will require payment of a fee
It's clear that the AARP crowd skews older, so you might expect that there would be some level of confusion that could make them susceptible to scams.
In addition to scams, Republicans are taking the opportunity of the census to collect information and raise funds with a form letter labeled "Census". Here's a sample: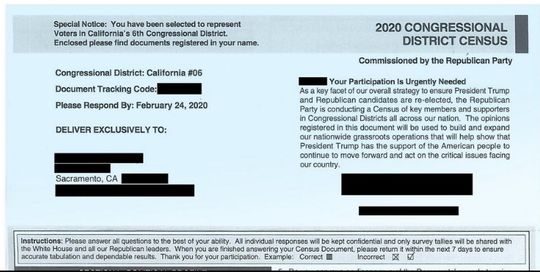 The document asks questions, some of which are leading and biased, such as:
"Do you approve or disapprove of the Democrats' agenda to raise taxes, provide free health care and college tuition for all, open our borders to all immigrants, enact dangerous abortion policies, pack the Supreme Court, allow inmates to vote and abolish the Electoral College?"
There is also continuing confusion about whether the census is asking a citizenship question, despite the fact that the US Census Bureau was directed by the Supreme Court not to include it.
A Pew Research Center survey just found that most Americans believe, incorrectly, that the 2020 census will ask about whether each individual in the household is a citizen:
"A 56% majority of the public thinks the census will include a question about citizenship, according to the Pew survey. Another 25% are not sure. Only 17% know that a citizenship question will not be on the census. By demographic segment, here's who knows there will be no citizenship question on the census:

14% of women, and 20% of men

20% of Democrats and 14% of Republicans

15 to 16% of adults under age 65 and 21% of those aged 65 or older

18% percent of Hispanics and non-Hispanic Whites, but only 9% of blacks

21% of foreign-born Hispanics versus 16% of native-born Hispanics

26% of those with a bachelor's degree and 13% of those with less education"
Whether this mistaken belief will suppress participation in the census, which is just a few weeks away, remains to be seen. Also, Pew says that certain groups are more hesitant to participate, including black and Hispanic adults. The Census Bureau says it is targeting black and Hispanic populations, as well as some groups of young adults, for additional outreach because they have been hard to count in the past.
The 2020 Census will be the first to be completed largely online, assuming that the Census Bureau's plan goes off without complications. And Pew says that 60% are interested in doing so. But, the possibility of scamming will be ever-present.
People do have the option to request a paper form. One way to verify that the document received in the mail is an official Census Bureau form is to see if the enclosed envelope to mail it back is addressed to Jeffersonville, IN, or Phoenix, AZ, locations of the Census Bureau's processing centers.
Like in the 2020 national elections, turning out for, and completing the census is very important to the future of the country.