The Daily Escape: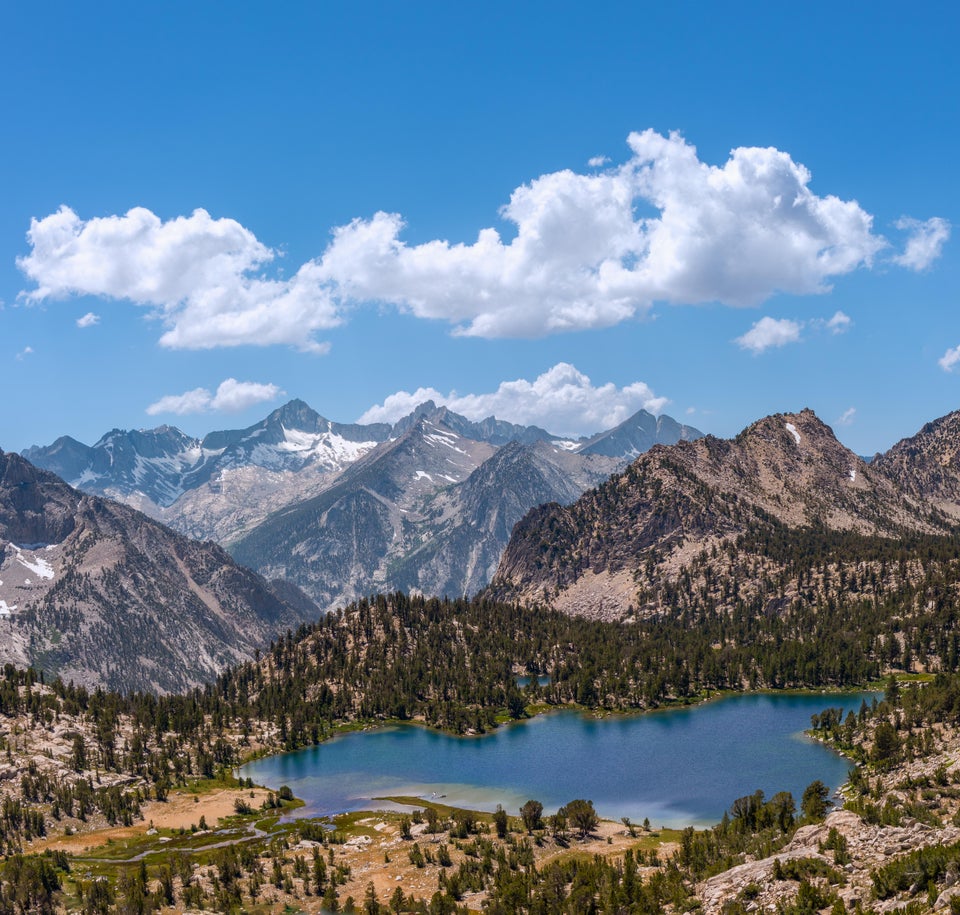 The Great Western Divide, Kings Canyon NP, CA – photo by enigmo81
Let's recall a statistic from the New Hampshire primary (NH) exit polling: 15% of Democratic voters said they wouldn't support the Democratic nominee unless it was their first choice. This has echoes of the 2016 presidential campaign when the divisions between Hillary and Bernie carried over to unwillingness on the part of some Bernie supporters to vote for Hillary in the General Election.
Many of their votes went to the Green Party's Jill Stein. Vox reports that:
"In Michigan, Clinton lost by less than a percentage point, a deficit she could have recovered from with half of Stein's votes. Again in Wisconsin and Pennsylvania, where Clinton lost by one point, Jill Stein's votes would have covered her loss. Had Clinton won all three states, she would have won the election."
And remember the 2000 election. That year, the Green Party's candidate was Ralph Nader, who earned 97,488 votes, in Florida, swinging the election to GW. Bush, who won Florida by less than 600 votes.
So will 2020 be another time that Democrats self-immolate? Can Democrats agree to back one candidate with enthusiasm? Can Dems unify to insure huge turnouts that carry the House and Senate as well?
Let's talk turnout. It's been underwhelming. The total of Democrat voters in the 2020 Iowa caucus was 172,669. This is almost the same number of voters who turned out in 2016 when Hillary and Bernie were battling it out: 171,109. That's about 70,000 less than the turnout in 2008 for Hillary vs. Obama.
Doesn't seem that Iowa showed much Democratic enthusiasm.
In NH, more than 296,000 Democrat votes were cast. This exceeded the 287,542 that voted for Obama and Hillary in 2008. However, there are more eligible voters today than in 2008. That year 29% of the electorate voted in the Democrat primary, while only 26% voted this time.
It gets worse. NH allows crossover voting in primaries. Wrongo lived in NH for 12 years, and on occasion, voted strategically for candidates he had no intention of voting for in the General Election. Charlie Pierce noted this post last Sunday from the NH Journal:
"Bill Kristol, founder of the conservative Weekly Standard magazine, confirmed to NH Journal that he is part of the effort, which involves tens of thousands of New Hampshire voter contacts and a six-figure budget. Kristol said:

"Yup. I'm happy to have joined with some others to help remind New Hampshire independents, who might be accustomed to voting in the Republican primary, that this year, they may be able to make more of a difference by voting for a responsible and electable candidate in the Democratic primary…."
Dave Wasserman of the Cook Political Report calculates NH independents responded to Kristol's prodding, and some helped Buttigieg and Klobuchar: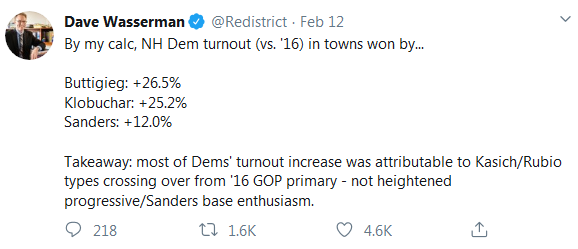 Is this Democratic field causing less than expected turnout? What can turn this around? Wasserman's colleague, Amy Walter, tweeted this:
"Dear Democrats: there is no 'perfect' candidate. There never is…"
It's early in the primary marathon, but the signs are not good. Weak candidates, little enthusiasm, and a significant minority who is unwilling to say they'll back the nominee, regardless of who it is.
And there's been more than the two examples of disunity mentioned above. We have to go back to 1972 and the campaign of George McGovern. Nixon shellacked McGovern by a 23-point margin in the popular vote, carrying 49 states.
After McGovern's defeat, Democrats began running towards the center, even though "the center" has moved further and further to the right with each presidential election.
For the past 40 years, party leaders and mainstream pundits have invoked McGovern's name. In 2004, Howard Dean was the new McGovern. In 2008, Barack Obama became the new McGovern. Now in 2020, many think Bernie Sanders is McGovern. From Martin Longman:
"In 1972, we were told that the newly lowered voting age would bring out a surge of youth voters for McGovern. But only half of 18-21 year olds turned out to vote and 48% of them voted for Nixon. In any case, it wouldn't have mattered if they'd all turned out and voted heavily for the Democrat. Without party unity, McGovern had no chance."
We're again hoping for the youth vote to drive turnout, and bring voter enthusiasm. What are the odds? Democrats are on a high risk course, when based on the midterms two years ago, the Party was pretty cohesive. What's the reason to weaken the coalition that won the 2018 midterms?
Democrats need to think about how to drive their candidates toward agreement on a set of policies and eventually, on a candidate who can unify the Party.
Remember that regardless of who becomes the nominee, that candidate will be running on the most progressive platform of any major party in the past 40 years.