The Daily Escape: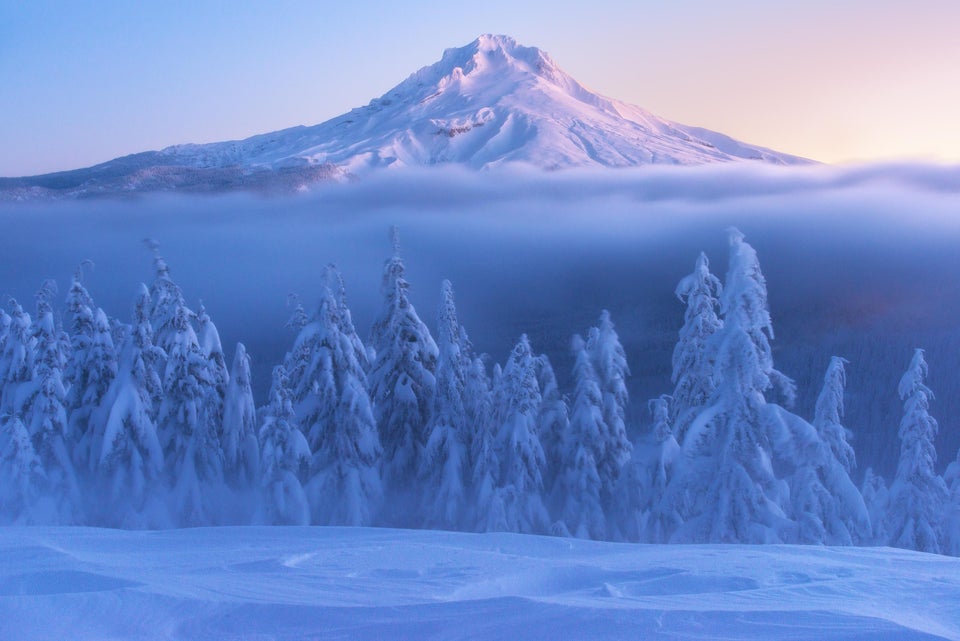 Sunrise, Mt. Hood, OR – 2020 photo by JustinPoe
AWOL means "Absent Without Official Leave". What's really AWOL is the Iowa vote tallying on Monday night. Yves Smith:
"The Democrats have lurched from their self-inflicted wound of the botched impeachment effort to the self-inflicted wound of the embarrassing fail of Iowa caucus result-tallying, thanks not just to the use of a newly-created app that failed in prime time, but also the lack of any sort of fallbacks."
On Tuesday night, Iowa released a partial result:
Buttigieg: 26.9%
Sanders:  25.1%
Warren:  18.3%
Biden:     15.6%
Based on 62% of the votes, these are the viable candidates. It's useful to point out that Klobuchar was next at 12.6% of the delegates. In Wrongo's review of counties that had yet to fully report, but where Klobuchar was in first or second place, she will not gain enough votes to make the 15% cutoff for delegates. Maybe, by the time you are reading this, all the votes will have been counted.
How can it take more than 18 hours to tabulate 105,400 votes? That implies that, when fully counted, the total vote will be about 170,000. That's about as many total voters as a mayoral election in a medium-sized city. Iowa has said since Monday night that every vote had a paper trail. If so, how can they still not have a final count?
Don't you think that football's San Francisco '49'ers wish that the Super Bowl ended when it was 62% complete? This is absurd.
Is it wrong to point out that the Dems also botched the software roll-out for the Affordable Care Act?
Some random thoughts:
The Iowa caucus was administered by the Iowa Democratic Party. Luckily for Iowans, the November election will be administered by state and local election officials.
Nevada Democrats also had plans to use the same mobile reporting app for their caucuses set for Feb. 22, but now they say they won't be using it. The NY Daily News reports that Nevada won't gamble on the vote results app that derailed the Iowa caucuses: (brackets by Wrongo)
'What happened in the Iowa caucus last night will not happen in Nevada,' William McCurdy, the [Nevada] state party chairman, said in a statement. 'We will not be employing the same app or vendor used in the Iowa caucus.'"
In Iowa politics, maybe like politics everywhere, the six degrees of Kevin Bacon works perfectly. Shadow is the software firm that botched the vote tally. It is owned by Acronym. The Iowa Democratic Party paid Shadow $60,000 in November and December 2019. Gerard Niemira and Krista Davis, who both worked for Clinton's 2016 campaign, co-founded Shadow. Shadow collected $153,768 in 2019 from Iowa, Nevada and seven different Democratic campaigns, mostly for technology, software and subscription services like text messaging. Among them were the presidential campaigns of Joe Biden and Pete Buttigieg. Tara McGowan is CEO of Shadow's parent company, Acronym. Her husband is a Buttigieg campaign strategist. Her brother-in-law is the Buttigieg Iowa state communications director.
If this happened in Venezuela, or Greece, or Indonesia, there would be worldwide mockery along with comments like, "well, what did you expect?"
This goes beyond satire. The only question is whether it's staggering incompetence, or something deliberately orchestrated. Wrongo votes for the former, because the people running the Democratic Party are too inept to do something like this on purpose. Never attribute to conspiracy what can be explained by incompetence.
Sabotage is the least likely explanation.
In California, it can take weeks to process election results and they often turn out to be different than the estimates on election night. Better to get it right, than end up with what happened in Florida in 2000.