The Daily Escape: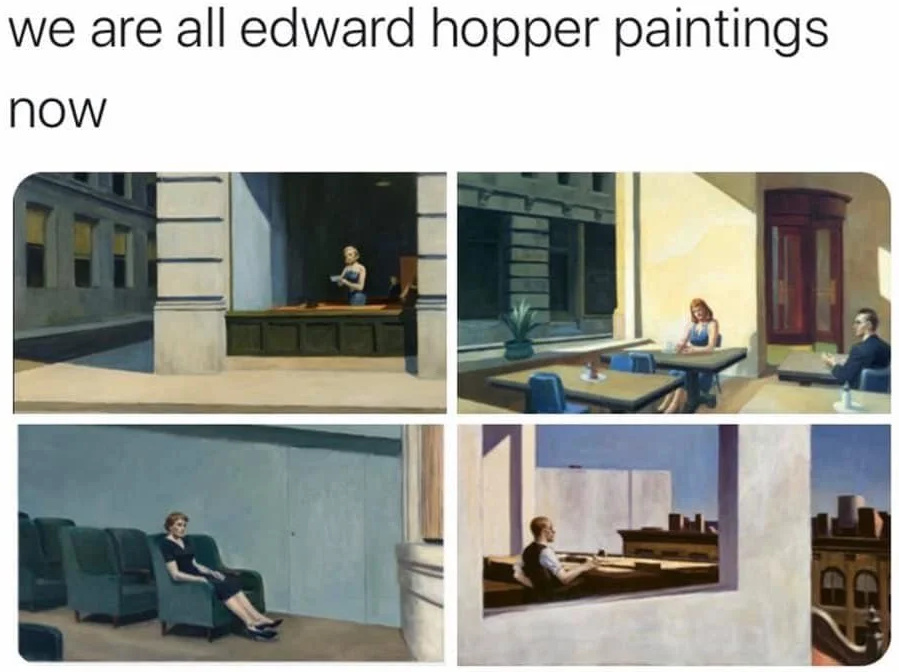 On Tuesday, Trump was in the Rose Garden for a "virtual town hall" on Fox News. The Boston Globe reported that he wants the country "open and raring to go" by Easter, which is less than three weeks away. "I think it's possible, why not?" he said with a shrug.
Watching Trump do a press conference is like watching the kid who didn't read the book give his book report.
The top health professionals have called ending social distancing by Easter far too quick. But, Trump compared the potential for Coronavirus fatalities to our annual flu casualties and, to automobile accidents. That led Charlie Pierce to say:
"I can speak with some authority on this. On December 9, I got hit by a car. It has been three months now. Nobody I came into contact with in the aftermath has been hit by a car."
It's important to remember that Trump is saying this while we still have no idea how many Americans have, or have had, the virus. It seems safe to say the number is vastly higher than the number of people who have tested positive (nearly 50,000). Here's a terrifying tweet:

(James Gallagher is the BBC's Health and science correspondent)
Trump's "let's get America back to work" plea comes at a time when we have no idea about the extent of the virus's impact, or how large the tsunami of cases will be. Trump is sounding a bit like General Buck Turgidson in 1964's "Dr. Strangelove":
"I'm not saying we wouldn't get our hair mussed. But I do say no more than ten to twenty million killed, tops."
There are operational issues involved in conducting a safe economic restart while the virus remains rampant in the country: It would require testing all who enter the workplace, every time they come to work. Where do those test kits come from when we can't get enough for America's hospitals? Who will read the tests and get the data back to the individual and the business? Can social distancing really be practiced at work? In offices?
Obviously there are conflicting opinions about how long to use severe Coronavirus mitigation and suppression measures when the economic consequences of that mitigation could be disastrous. The medical experts can tell us what the consequences of various courses of action are most likely to be in terms of illness and fatalities.
But the willingness to endure the likely costs of a particular course of action is a political, and possibly an ethical question. Last week, Wrongo asked:
"Is restoring our economy, and putting Americans back to work worth a million lives lost? Is it worth 300,000?"
Trump is right both to wrestle with this question, and to be concerned that Coronavirus could end his presidency. Here's a chart that shows how long prior stock market crashes took to return to the pre-crash level: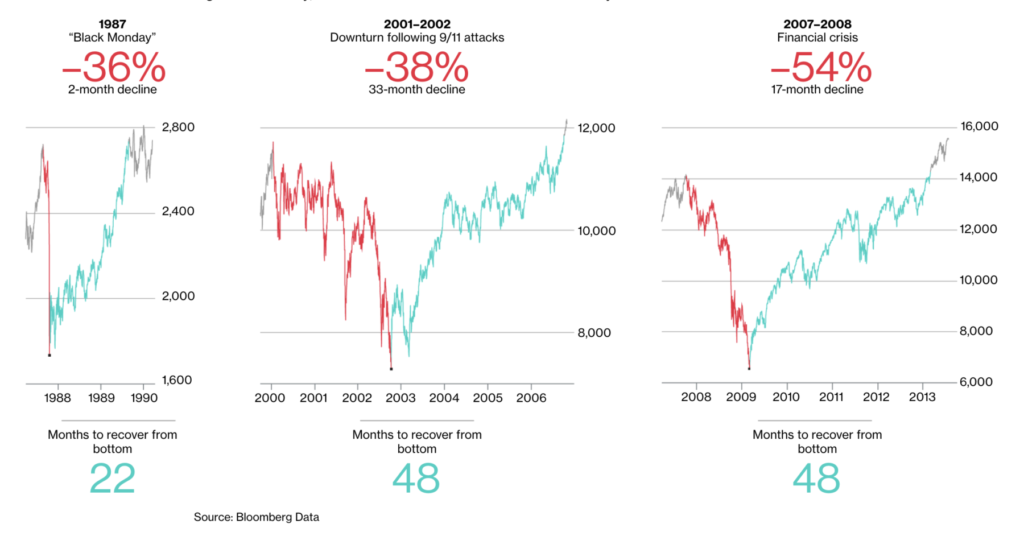 This compares three prior crashes and the time it took to recover. Only the 1987 crash was a sharp "V" recovery, and that recovery took nearly two years. Both of the others took four years.
This most likely means Trump can't run as a peace and prosperity president. He'll simply be running as another Republican who ran up the debt with the crucial difference that Americans died on the home front on his watch, after trying to go back to work prematurely.
A few words about the attempted bailout. As Wrongo writes this, it's likely that there may be a "deal" sometime late on Tuesday . The stock market has already closed up more than 2,000 points, or 11% on the hope of a deal.
The bailout deal should absolutely be as big as possible, but Mitch, Trump and the GOP have it wrong. We should be pointing our water hoses where the immediate fire is: Low – moderate income households and small businesses that have a week or two of cash reserves, and little access to credit markets.
While this is an emergency, it's no excuse for another GOP round of opportunistic, potentially wasteful spending with little oversight. We have more important things to do than setting up a $500 billion Republican slush fund in an election year.
Trump will no doubt make an announcement that "America is again open for business". But, that's not really within his power. The economy is not usually like a faucet you can turn off and on.
It also means that Trump's replacement will have a major job starting in 2021 trying to restore the stock market and the employment level to where they were pre-Coronavirus.
It is the highest duty of the US President to keep the country safe, and protect its people. Trump's downplaying of what his science and security advisers have told him is doing exactly the opposite.