"To prevent the Black Death spreading in the 14th century, all ships thought to be infected were isolated for 40 days to prevent the spread of the disease. In fact, the word quarantine comes from the Italian quaranta giorni, meaning '40 days'".  via Ilargi
Some math. $2 trillion from Congress, and $4 trillion from the Federal Reserve so far is how much per family? 83.5 million families divided into $6 trillion = $71,856 per family of new national debt. Hard to know exactly, but households are likely to see only about $3,400 of that $71,856, assuming it is a two-person, two-kid family that makes under $150,000/year. Your mileage may vary.
This shows that our government has once again misdistributed the stimulus. Isn't it always the case that in a crisis, our Crisis Capitalism government never misses a chance to give money to the corporations and the rich? Why is it so difficult to distribute the funds more equitably? Because they want to distribute as little as possible to the people.
Don't you think that Trump should wait until every state has all the tests, medical gear and ventilators they need before he starts prognosticating on what date we can all return to normal lives?
As part of his deflecting of responsibility, Trump blames Obama for not stockpiling medical masks during his presidency. But Trump has been president for the past three years, he owns the stockpile. Clearly, he made no effort to add new medical masks in his time in office. He owns the shortage.
NY Governor Cuomo has shown miles more leadership ability than Trump in dealing with the crisis. He's been blunt, factual, and realistic. In contrast, Trump has downplayed and lied about the pandemic. On to cartoons.
Anything you need in order to revive the bull: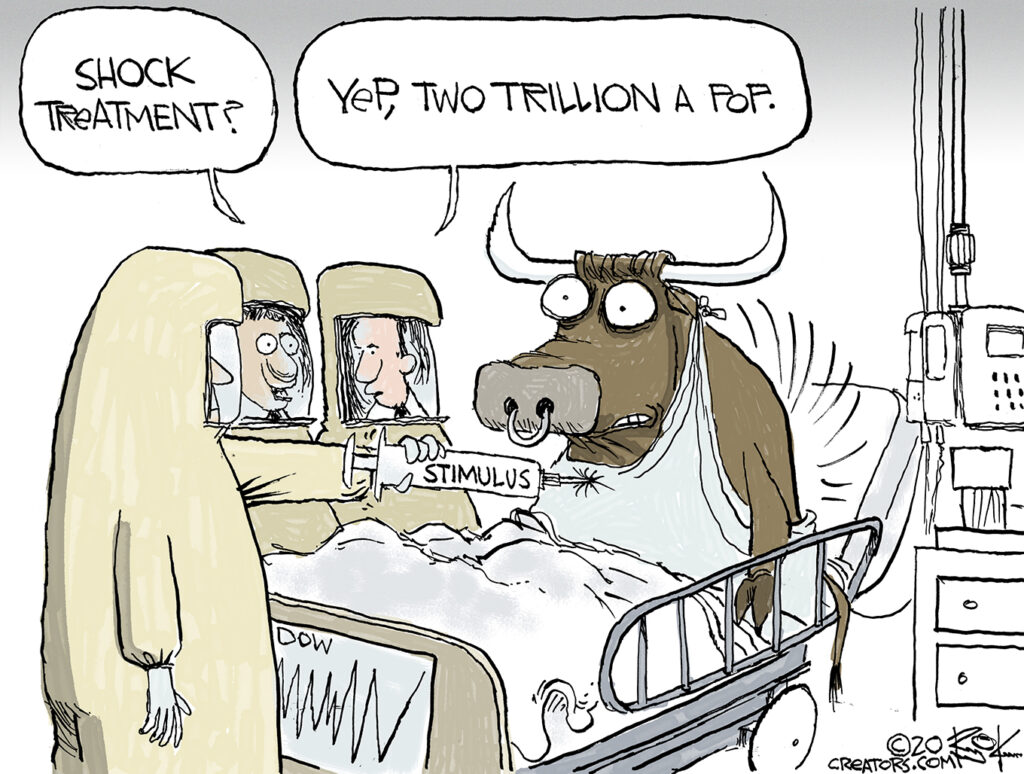 Trump's driving the Death Train: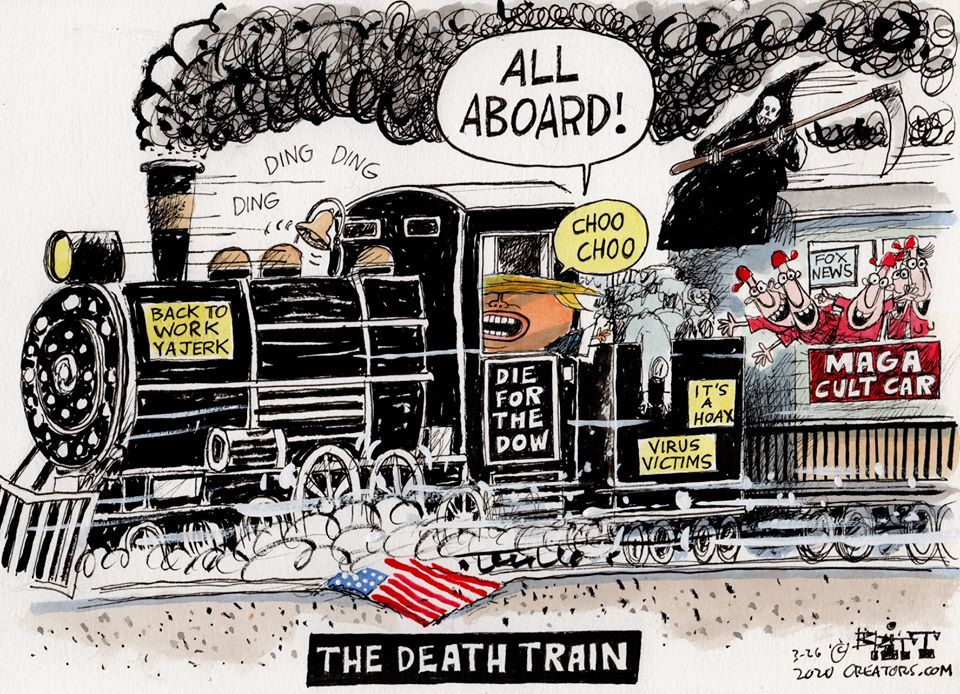 The pandemic shows that our safety net is full of holes: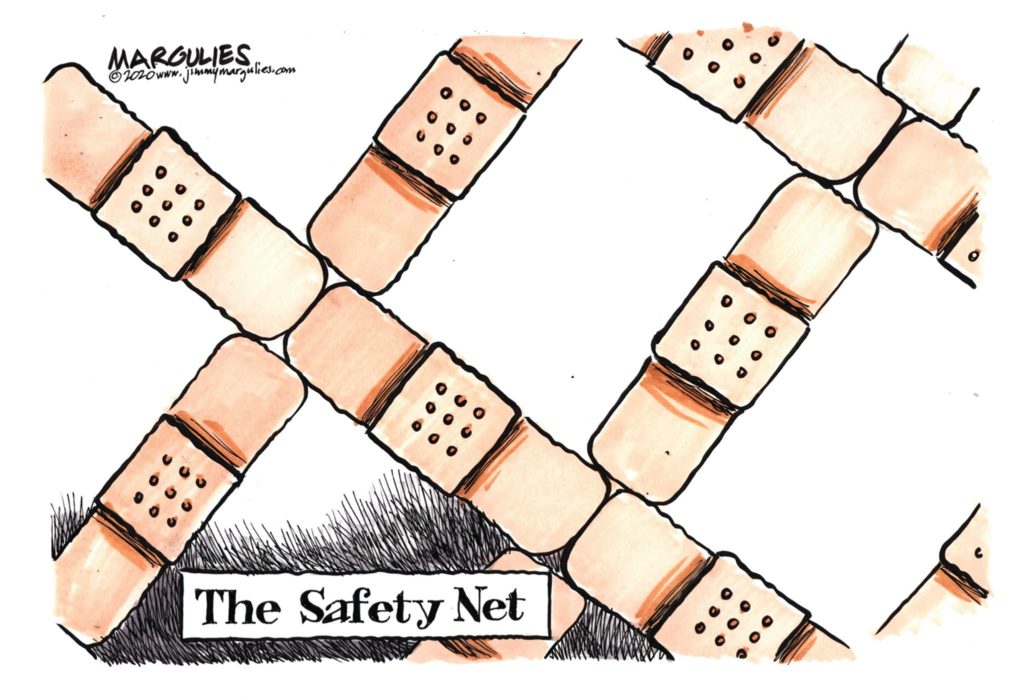 Hypocrisy begins with the GOP: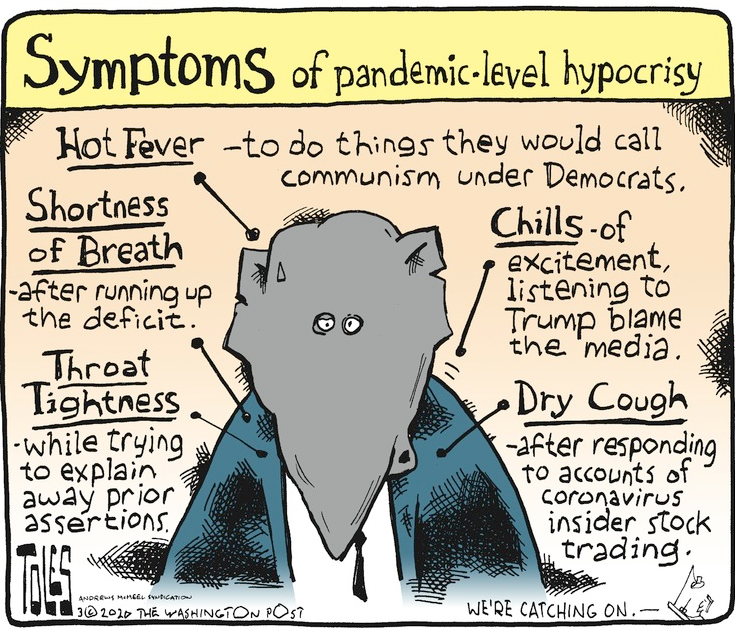 Our new reality:
Stay at home used to be for the timid: