Many in the media echoed this from Newsweek:
"Turnout was higher overall in every state except for Oklahoma, but the percentage of voters who were 17 to 29 years old was lower than in 2016."
That's true as far as it goes, 2020 was higher than 2016. But 2020 turnout was nearly one million fewer than in 2008, 972,443 to be exact. So Democrats shouldn't be getting their hopes up just yet.
Here's a helpful chart from Larry Sabato's Crystal Ball: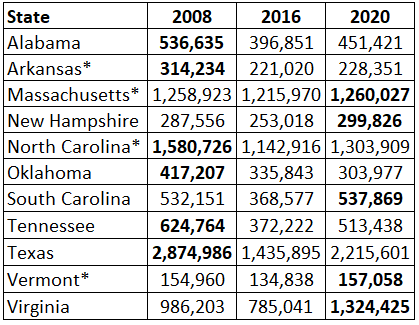 Sabato says:
"Turnout overall is definitely up when compared to 2016, but not when compared to 2008, the blockbuster Barack Obama-Hillary Clinton primary…remember that population size naturally grows almost everywhere, so even matching 2008 doesn't necessarily mean turnout was better."
(California is excluded in the above, because so many votes remain to be counted. States marked with an asterisk have not fully reported yet.)
What does it all mean? That's TBD, but everyone should look clearly at these turnout numbers. We know that Bernie's reason for running is that he can turnout young voters, and other disaffected non-voters. But Sanders hasn't performed consistently with his strategy. He hasn't turned out more young voters, nor has he expanded his base. It's now clear that at least some of his support in 2016 was a function of being the alternative to Hillary Clinton.
Biden's surge shows our pent-up demand for a return to normalcy, a place where we wouldn't be shocked by politics 24/7.
But Biden's winning won't fix the problems underlying our politics. A vote for Joe is a vote for the status quo, and that's not going to work out so well for the millennials or younger Americans. Biden's nomination will not do anything to deal with the malaise among America's youth, who worry about climate change and college debt, and the minimum wage all of which will get back-burnered by Biden and the DNC. So, how can we get them excited enough to turn out and vote?
What's Biden's strategy to do that in November?