The Daily Escape: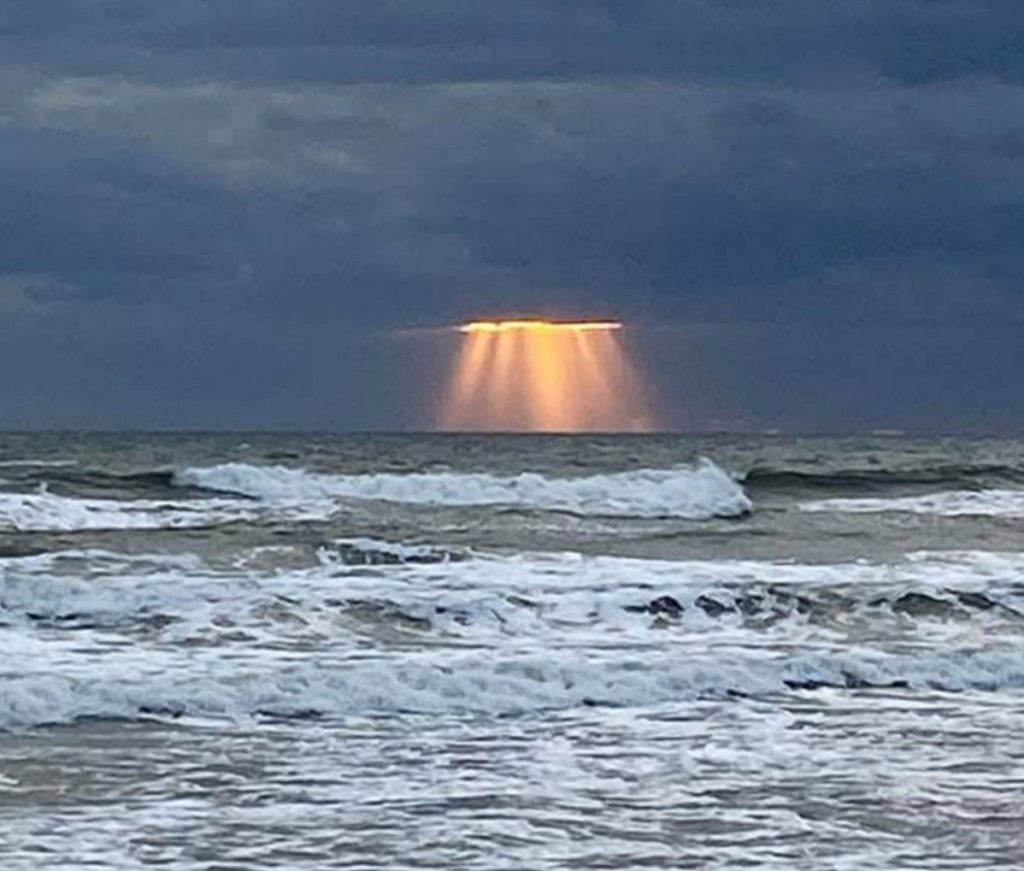 Sunrise, St. Augustine Beach, FL – March 2020 photo by Carl Gill
The WaPo reported that a Coronavirus-sparked oil war sent crude prices down on Sunday by 32.3%. That triggered a forced temporary halt of stock trading on Monday, when the S&P 500 index sank 7% shortly after the market's opening.
This occurred on the 11thanniversary of the current bull market. But, as Greg McBride, chief financial analyst at Bankrate.com, wrote:
"The uncertain economic impact of coronavirus continues to grip markets, with stocks, commodities and interest rates all dropping sharply. Markets hate uncertainty and there is a ton of it currently in play."
There is no question that there will be more angry Americans now that a health crisis coincides with a financial crisis. Who they focus their anger on remains to be seen. Trump took credit for each rise in the stock market, so will he take ownership now that it's tanking?
He's not a broadly popular president, and this will make him less popular, so fewer people will believe him when he tries to lay the blame on others.
The oil price plunge was triggered when Russia announced on Friday that it would no longer stay within the OPEC+ quotas after April 1st. Saudi Arabia then said it would slash prices for its customers in April. In addition, they hinted at increasing production from the current level of 9.7 million barrels per day to 10 million barrels per day.
This is the start of an oil price war between Saudi Arabia and Russia over market share. But the real target for both may just be the US shale oil sector. US banks and other investors have been fueling the shale oil sector's growth with hundreds of billions of dollars of loans over the years. And the shale oil producers keep ramping up production, despite it being largely unprofitable. They continue to burn through cash.
Brian Sullivan at CNBC warns us: The US oil industry valued its oil reserves, as collateral for its loans, at $60 a barrel. Today's price is now about $30/barrel.
By sending some of these shale-oil companies into bankruptcy, Saudi Arabia and Russia are hoping that new money will refuse to support the US shale oil sector. Then production in the US will decline and take some oversupply out of the oil market.
Their timing is impeccable. Oil demand is down due in part to the Coronavirus. Chinese manufacturers are producing less and airlines in particular have less need for jet fuel. If OPEC and Russia increase production, and assuming US production still increases while demand globally is in steep decline, then global markets will be awash in oil.
And what does an oil glut do for Iran, already fighting a severe Coronavirus outbreak, and needing higher oil prices for their own economy?
But no worries! We can count on the competent leadership in the White House. And if that doesn't make you comfortable, you might ask yourself, "Is this 1929 all over again?"
Maybe not, but if it is, who will be our FDR? In the 1930s and 1940s, FDR spent money on America's democratic infrastructure. That money gave jobs to people. He created a social safety net, and allowed industry to again flourish.
But in the past 30 years, all the money has gone to our industrial infrastructure and to the rich, through tax cuts and subsidies. The easy money party has helped to pump up both stock prices and asset prices, giving us an ever-growing income and wealth gap.
What happens to the health of the people and to the health of economy between now and November is going to be a huge political concern. There's always a tension between the best health policy, and the best economic policy.
Trump wants economic policy to win out, but the primary beneficiary of that is industry and the rich.
We should remember that when leaders are seen to be incompetent and/or ARE truly incompetent, they try to divert the voters' attention. What Trump attempts to do in order to divert our attention, is worthy of discussion.
As of today, the fuse is lit. It's an election year, and we know that Trump won't go away quietly.



Category:
2016 Election
,
2020 Election
,
Abandonment of Middle Class
,
Capitalism Reform
,
Coronavirus
,
Corporate Welfare
,
Daily Escape
,
Democrats 2020
,
Economic Policy
,
Energy Policy
,
Health Policy
,
Stock Markets
,
Tax Policy
,
The Presidency