The Daily Escape: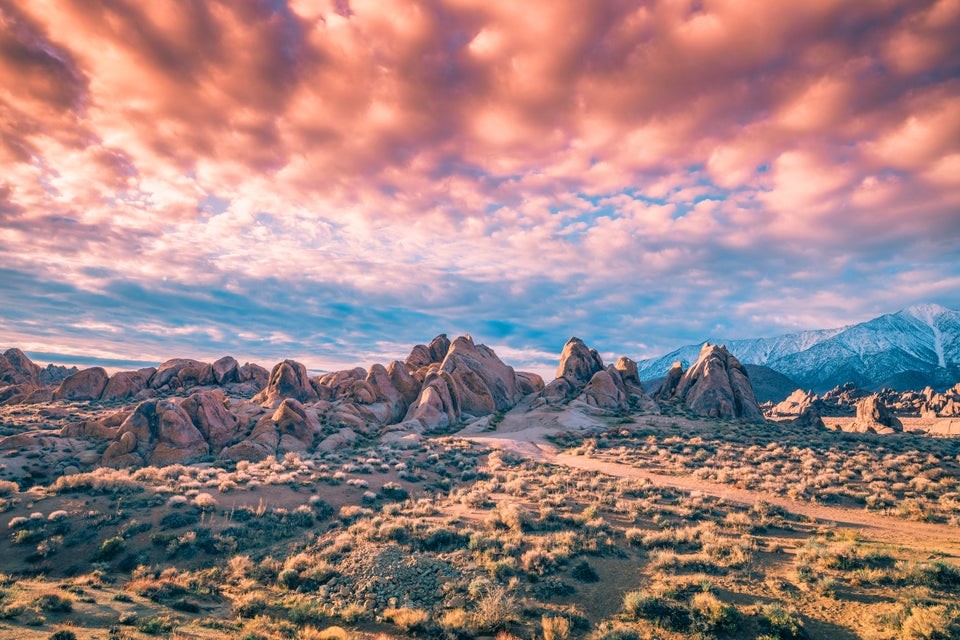 Sunrise, Alabama Hills, near Lone Pine, CA – photo by kristophershinn
Here are the latest national pandemic numbers from The COVID Tracking Project: (as of 4/5)
Number of daily cases: 333,747, up 27,992 or +9.2% vs. April 4
Rate of case increase: 9.2% vs. 12.4% on 4/4 and 13% average for the past week
Number of deaths: Total 9,558, up 1,244 vs. April 4
Rate of deaths increase 4/5 vs 4/4: 14.9% % vs. 19.4% on 4/4
Daily number of tests 4/5 vs. 4/4: 1,778,487, up 154,680 over 4/4
Rate of increase in tests: +9.5% vs. previous day
The rate of growth in cases and deaths are slowing. Testing is still growing, although slowly.
Two pandemic-related stories today, each purporting to offer a cure. First, from the Guardian:
"Neo-Nazi groups in the US are looking for ways to exploit the coronavirus outbreak and commit acts of violence, according to observers of far-right groups, law enforcement, and propaganda materials…"
The Guardian says that the Southern Poverty Law Center (SPLC) raised an alarm about opportunism from far-right so-called "accelerationist" groups who believe sowing chaos and violence will hasten the collapse of society. More from the Guardian:
"Late last month, the FBI warned such extremist groups were encouraging members to deliberately spread the virus to Jewish people and police officers."
Apparently, the shorthand in a variety of extremist and fringe movements and subcultures is the word "boogaloo", used as shorthand for a future civil war:
"From militia groups to white supremacists, extremists on a range of online platforms talk about—and sometimes even anticipate—the "boogaloo." The rise of "boogaloo," and its casual acceptance of future mass violence, is disturbing."
Similar sentiments may have motivated a Missouri man who planned a car bomb attack on a hospital which was treating coronavirus patients. He was shot dead by FBI agents who were seeking to arrest him on March 24th. The man was active in chat rooms associated with two neo-Nazi groups: the longstanding National Socialist Movement (NSM) and the accelerationist group Vorherrschaft Division (VSD).
The NSM was involved in the 2017 "Unite the Right" rally in Charlottesville, Virginia, and is facing a federal lawsuit for its role there. VSD is an organization that urges members to engage in mass shootings or terror attacks to help bring about the collapse of modern civilization. This is disturbing and distracting when we are seeing a few nascent signs that Americans are coming together in the fight against COVID-19.
Second, many saw, or have heard about Trump's Sunday "briefing" where he doubled down on his pushing chloroquine or hydroxychloroquine as a possible cure for Coronavirus. Trump again said "what do you have to lose?" Remember that chloroquine and hydroxychloroquine are used to treat malaria and lupus.
It turns out that many of us may indeed have something to lose. In an abstract from researchers at Johns Hopkins entitled: "Fatal toxicity of chloroquine or hydroxychloroquine with metformin in mice" they say: (emphasis by Wrongo)
"…we report a cautionary note on the potential fatal toxicity of chloroquine (CQ) or hydroxychloroquine (HCQ) in combination with anti-diabetic drug metformin. We observed that the combination of CQ or HCQ and metformin, which were used in our studies as potential anti-cancer drugs, killed 30-40% of mice."
Metformin is the fourth most prescribed drug in the US and is used by more than 150,000,000 people worldwide. It is usually the first drug prescribed for Type 2 diabetes. Its side effects are usually mild, and it is even being researched as a possible "longevity" drug.
Now, these mice results aren't conclusive, so it may or may not be lethal in humans. This is why we test before prescribing an approved drug for another disease.
BTW, Drugs.com says there are 332 HCQ drug interactions (59 of them are major), but it doesn't list Metformin as one of them. Feeling lucky?
Despite this, the NY Post reports that as many as 4,000 patients are currently being treated with hydroxychloroquine:
"A state Health Department official said the DOH has shipped doses of hydroxychloroquine to 56 hospitals across New York…"
And NYU Langone Medical School is conducting a random trial with a $9.5 million grant from the Bill & Melinda Gates Foundation. Sooner or later, we'll have some proof if it helps with COVID-19, and whether it is safe for people who take Metformin.
So, the answer is, at this point, you may have a lot to lose.
Remember the guy pushing this told us that the cure can't be worse than the disease, so we should all go back to work, before he had to admit that he had spoken too soon. Now, he's pushing a cure that MIGHT be worse than the disease.