The Daily Escape: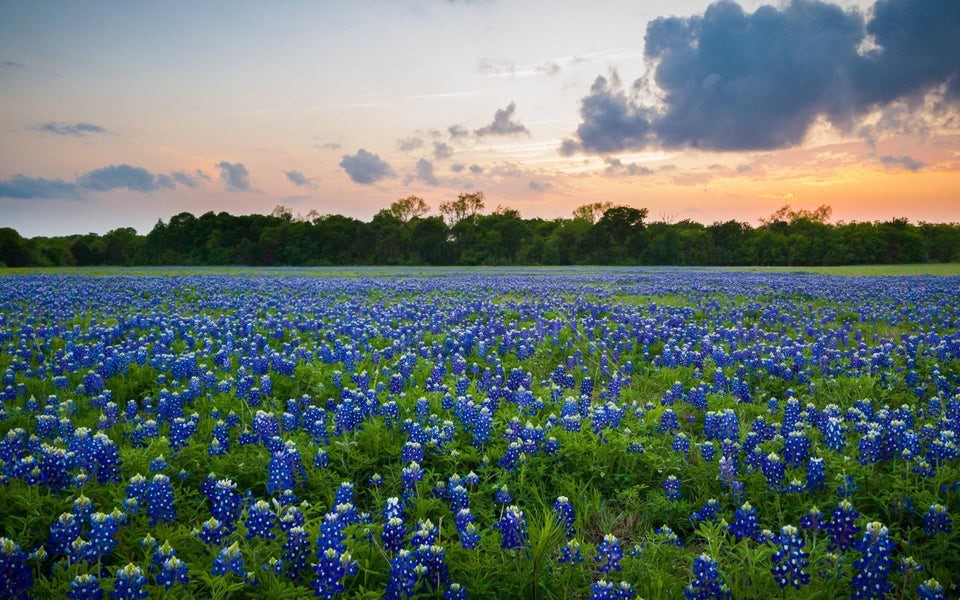 Texas bluebonnets, Round Rock, TX – 2018 photo by dried_fruit
Here are the latest national numbers (which will be out of date by the time you read them). From The COVID Tracking Project: (as of 4/4)
Number of daily cases: 305,755, up 33,767 or +12.4% vs. April 3
Rate of case increase: 12.4% vs. 13.75% on 4/3 and 15% average for the past week
Number of deaths: Total 8,314, up 1,352 vs. April 3
Rate of deaths increase 4/4 vs 4/3: 19.4% % vs. 20.4% on 4/3
Daily number of tests 4/4 vs. 4/3: 1,623,807, up 226,945 over 4/3
Rate of increase in tests: +16.2% vs. previous day
The rates of growth in cases and deaths have begun to slow. In the past week, they are in a decelerating trend, declining by about 1%/day. Testing is growing, which is a very good thing.
Just when you think you can't get any more cynical about America's response to the pandemic, we tumble to the fact that about a third of hospital emergency rooms are now staffed by doctors on the payrolls of two physician staffing companies, TeamHealth and Envision Health. They are owned by two Wall Street private equity firms. Envision Healthcare employs 69,000 healthcare workers nationwide while TeamHealth employs 20,000. Private equity firm Blackstone Group owns TeamHealth; Kravis Kohlberg Roberts (KKR) owns Envision. Private equity is the term for a large unregulated pool of money run by financiers who use that money to invest in, lend to, and/or buy companies and restructure them.
Wrongo began hearing that despite the urgent pleas from hospitals on the front lines of the COVOID-19 outbreak, nurses and doctors were being taken off schedules in nearby places once "elective" procedures were suspended, as they are at many hospitals and clinics. That means the associated revenues were lost, or at the very least, postponed.
Here's a report from Yahoo Finance:
"KKR & Co.-backed Envision, which carries over $7 billion of debt amassed through one of the biggest leveraged buyouts in recent years, reported steep drops at its care facilities. In just two weeks, it suffered declines of 65% to 75% in business at its 168 open ambulatory surgical centers, compared to the same period last year, the company said in a private report to investors. About 90 centers are closed."
Private equity has taken over more and more of hospital staffing, including emergency departments. The legal fig leaf that allows private equity firms like Blackstone and KKR to play doctor is that their deals are structured so that an individual MD or group of MDs is the nominal owner of the specialty practice, even though the business is stripped of its assets. The practices' operating contracts are widely believed to strip the MDs of any say in management.
Care of the sick is not the mission of these companies; their mission is to make profits for the private equity firms and its investors. In 2018, Paladin Healthcare, an entity owned by private equity baron Joel Freedman, bought Philadelphia's Hahnemann University Hospital. This hospital served the poor, and Freedman closed it down so he could use the land to build luxury apartments.
When the city recently asked to use the empty hospital as part of its solution for the Coronavirus pandemic, Freedman demanded $1M/month in rent. Overcharging patients and insurance companies for providing urgent and desperately needed emergency medical care is bad enough. But holding a city hostage?
In another example, STAT reports on another private equity firm: (emphasis by Wrongo)
"Alteon Health, which employs about 1,700 emergency medicine doctors and other physicians who staff hospital emergency rooms across the country, announced it would suspend paid time off, matching contributions to employees' 401(K) retirement accounts, and discretionary bonuses in response to the pandemic…The company also said it would reduce some clinicians' hours to the minimum required to maintain health insurance coverage, and that it would convert some salaried employees to hourly status for "maximum staffing flexibility."
NY's Governor Cuomo and others are pleading to have doctors come out of retirement, and here we have skilled doctors who have the training and are being asked to work fewer hours? All of the Republican talk about "choice" and "markets" in healthcare is just self-serving BS that benefits their buddies.
Time to wake up America!
Why do private equity firms continue to benefit from the "carried interest" tax loophole? Shouldn't they shoulder their part of the financial grief the pandemic is causing to our country?
To help you wake up, here is John Lennon's 1970 song, "Isolation". It appeared on John Lennon/Plastic Ono Band. It has a whole new meaning in today's context:
Sample Lyric:
We're afraid of everyone,
Afraid of the sun.
Isolation
The sun will never disappear,
But the world may not have many years.
Isolation.
Those who read the Wrongologist in email can view the video here.