The Daily Escape: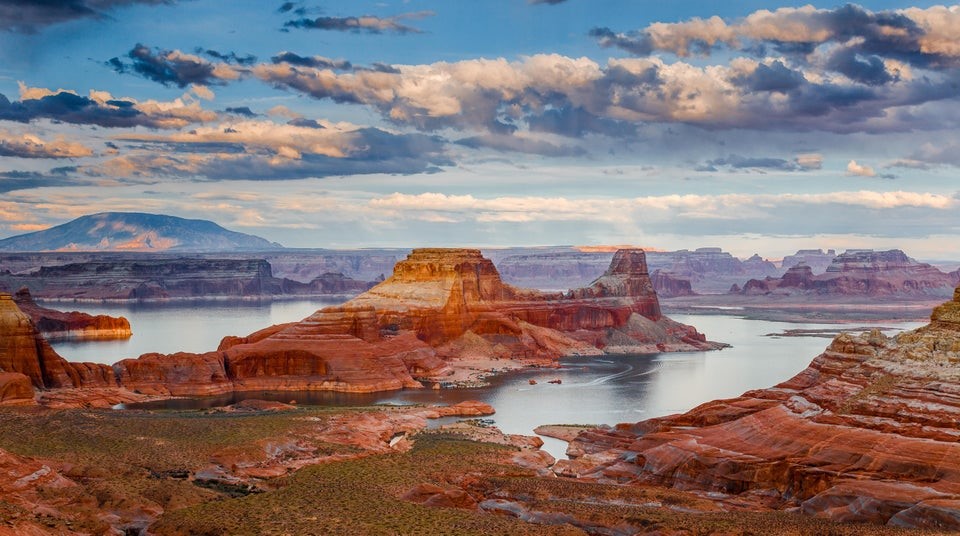 Alstrom Point overlook, Lake Powell, AZ – photo by Gleb_Tarro
World War II lasted six years. Americans from coast to coast planted victory gardens; turned bacon grease into bombs; recycled paper, metal, and rubber. Staples like sugar were rationed. Mothers went to work in defense plants. The war lasted six years, and half a million Americans died.
Fast forward: While some might say we're not at war, it sure feels like we're under attack. But our flag-waviest Americans today can't even last six weeks, much less pull together.
Turns out, we have lost most of our social cohesion, the collective will to commit to a path, and work together to make the goal a reality.
In the past, we had a set of unwritten expectations that members of our society were expected to comply with, like voting, paying taxes, and displaying tolerance for others. Even these deminimus expectations are fraying today.
We're being told that we're on one team, or the other: Team working, or Team lockdown. Each is supposed to do the best it can to help control the virus, but people are becoming frustrated and angry.
If you need a visual representation of the reasons why, take a look at this chart from Visual Capitalist: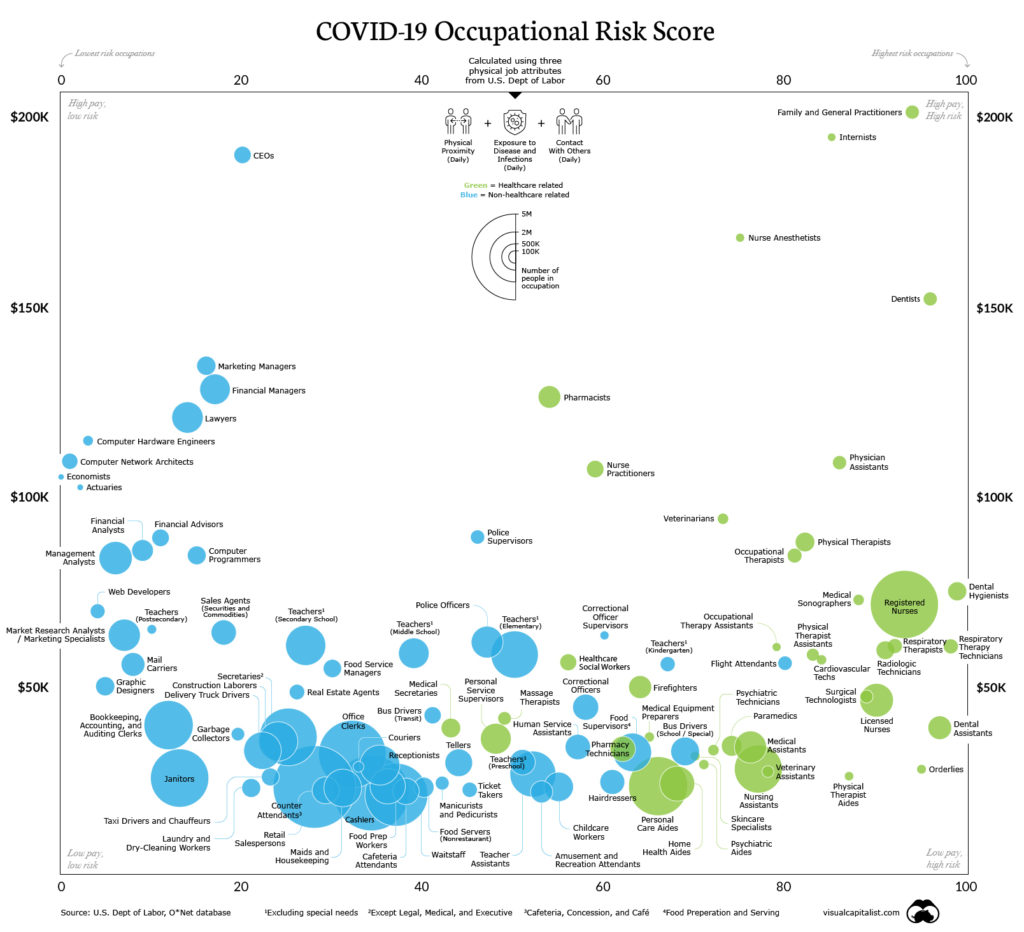 You can view a bigger version of the chart here.
The chart graphs jobs by income and degree of risk of catching COVID-19. They used the following criteria to establish level of risk:
Contact With Others: How much does this job require the worker to be in contact with others in order to perform it?
Physical Proximity: To what extent does this job require the worker to perform tasks in close physical proximity to others?
Exposure to Disease and Infection: How often does this job require exposure to hazardous conditions?
Visual Capitalist then assigned a Risk Score between 0 and 100, with 100 representing the highest possible risk to each job. More from Visual Capitalist: (emphasis by Wrongo)
"Many individuals have been practicing social distancing by working from home in recent weeks. While this arrangement can be a great way to reduce one's exposure to COVID-19, it's a luxury that's available to just 29% of Americans.

The situation for the remaining 71% is uncertain, to say the least. A significant portion of the population has lost their jobs due to business shutdowns and mandated lockdown orders. Others employed in "essential services" have continued working as usual, but may face a higher risk of potential exposure to the virus."
Andrew Noymer, a public-health professor and an expert on the 1918 influenza pandemic, observed:
"Someone is at home wondering how he's going to make rent and feed his family," he said. "And someone else is wondering if they can binge-watch the first season of The Sopranos…"
So it's understandable that at least 71% of America want to end the lockdown. They are business owners who stand to lose plenty, or unemployed workers who have nothing left to lose.
There's a disconnect with the end the lockdown reasoning and the world in which we live. We live, work, play, and eat together. We buy from and sell to each other. We depend on the farmers, the truck drivers, the street repair people, and the bankers. More than ever, we depend on the medical people, the teachers, and the people who run all kinds of business, big and small. And they depend on all the people who work for them.
The virus has disrupted all of that.
Are the lockdown protesters ready to pitch in and take the high risk jobs above? Will they drive the buses? Wait on tables? Deliver the groceries? Clean hospital rooms? Work with people who may be infected in nursing homes?
Time to wake up, America! We need to reach back and try for more social cohesion, or we're lost. To help us wake up, we turn to Bob Dylan. Let's listen to his "Slow Train Coming":
Today, it's no longer a Slow Train. It's high-balling down the track.
Sample lyric:
Big-time negotiators, false healers and woman haters
Masters of the bluff and masters of the proposition
But the enemy I see wears a cloak of decency
All nonbelievers and men stealers talking' in the name of religion
And there's a slow, slow train comin' up around the bend
People starving and thirsting, grain elevators are bursting
Oh, you know it costs more to store the food than it do to give it
They say lose your inhibitions follow your own ambitions
They talk about a life of brotherly love show me someone who knows how to live it
There's a slow, slow train comin' up around the bend
Those who read the Wrongologist in email can view the video here.