The Daily Escape: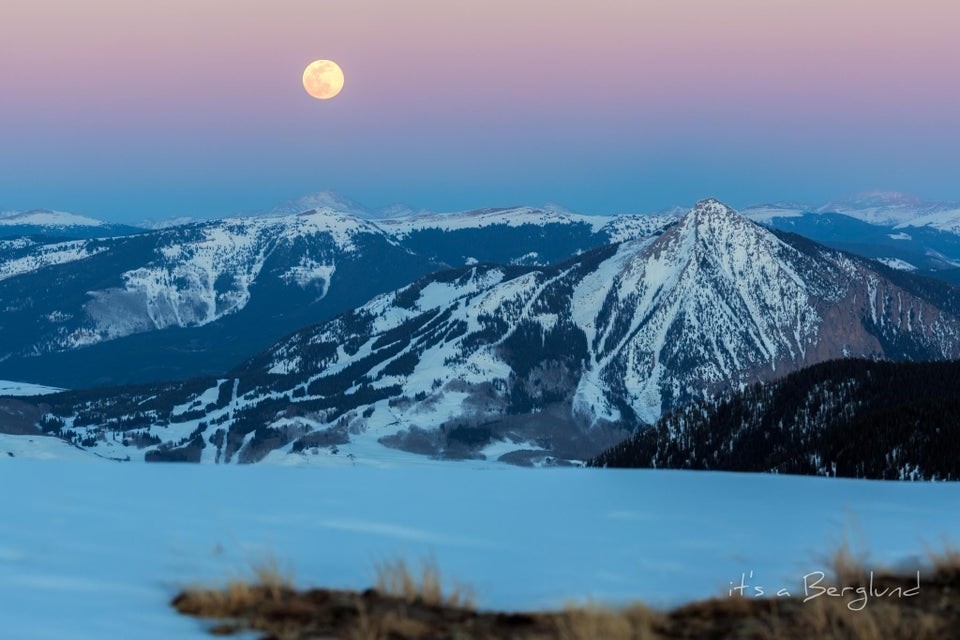 Super moon, Crested Butte, CO – 2020 photo by itsaberglund
First, here are the latest national pandemic numbers from The COVID Tracking Project: (as of 4/7):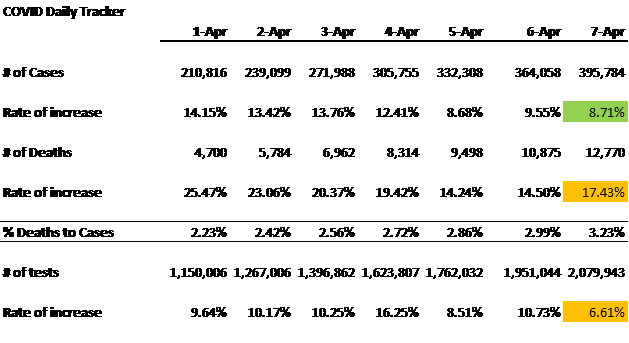 The good news is that the daily rate of increase in new infections is now in single digits (see green above).
Deaths have again spiked, and the percentage of deaths to total cases is rising steadily.
Daily testing has stalled (again) at about 150,000/day. Growth in testing is again lagging growth in new infections.
Next: The Wisconsin primary debacle: Wisconsin held its presidential primary on Tuesday, and on Wednesday, Bernie Sanders dropped out of the race for the Democratic nomination. Unifying the Party will be much easier than in 2016. The stakes are different, the mood is different, and Bernie seems to like Biden more than he liked Hillary.
But that was far from the most surprising thing about the Wisconsin primary. The big Wisconsin news was that the US Supreme Court decided a case called "Republican National Committee v. Democratic National Committee" along political lines. The symbolism is glaring.
The issue before the Court was whether to stay a lower court's decision that would have extended absentee balloting for a week due to the Coronavirus. And the most notable race wasn't the Democrat's primary. It was a conservative Republican's battle to keep his seat on Wisconsin's state Supreme Court. From the WaPo: (brackets by Wrongo)
"The scant, 10-page opinion issued Monday night highlighted the [US Supreme] court's ideological and partisan divide. The justices' inability to speak with one voice on matters as serious as the coronavirus pandemic and voting rights raised concerns about the legal battles bound to proliferate before the fall elections."
The great irony in the SCOTUS decision is that the justices didn't meet together. They are practicing social distancing, because of the Coronavirus, conducting their business via teleconferences. They have also suspended all public Court proceedings for the current term, because, you know, public safety.
But the Supreme Court's Republican majority felt it was proper to insist that Wisconsin's normal rules about elections be followed, and hold the primary as if there was no pandemic, no public health threat.
The best comment on the ideological divide in America today came from Tom Sullivan's column, where he quotes a 2018 observation about conservatism by Frank Wilhoit: (emphasis in the original)
"Conservatism consists of exactly one proposition, to wit: There must be in-groups whom the law protects but does not bind, alongside out-groups whom the law binds but does not protect….So this tells us what anti-conservatism must be: the proposition that the law cannot protect anyone unless it binds everyone, and cannot bind anyone unless it protects everyone."
More on Wisconsin from Sullivan:
"This morning's online headline at the Washington Post reads, 'The coronavirus is infecting and killing black Americans at an alarmingly high rate.' Wisconsin Republicans on Tuesday made them stand on line in Milwaukee for hours to vote during a deadly pandemic. That will show them."
And this tweet from Sen. Cory Booker underlines the evil intent:
"Milwaukee is home to the largest African-American community in Wisconsin. Don't tell me that forcing people to choose between their health and their right to vote today is anything but an appalling act of voter suppression. https://t.co/4Leq1CtMHZ"

— Cory Booker (@CoryBooker) April 7, 2020
Chief Justice Roberts may claim that he is only calling balls and strikes, but he's using a different strike zone for his friends.
Finally, let's spend a moment remembering that both John Prine and Bill Withers died this week, Prine from the Coronavirus.
Both released their debut albums in 1971. Both were among the true greats. Here's a Prine song that shows his social consciousness. Written in 2005, it was prescient. He wrote about the kinds of people who would eventually lead the nation in 2020 in his "Some Humans Ain't Human":
Sample Lyric:
Have you ever noticed When you're feeling really good There's always a pigeon  That'll come shit on your hood Or you're feeling your freedom And the world's off your back  Some cowboy from Texas Starts his own war in Iraq
Those who read the Wrongologist in email can view the video here.
And this Withers song about Vietnam has always hit Wrongo hard. "I Can't Write Left-Handed":
Those who read the Wrongologist in email can view the video here.