The Daily Escape: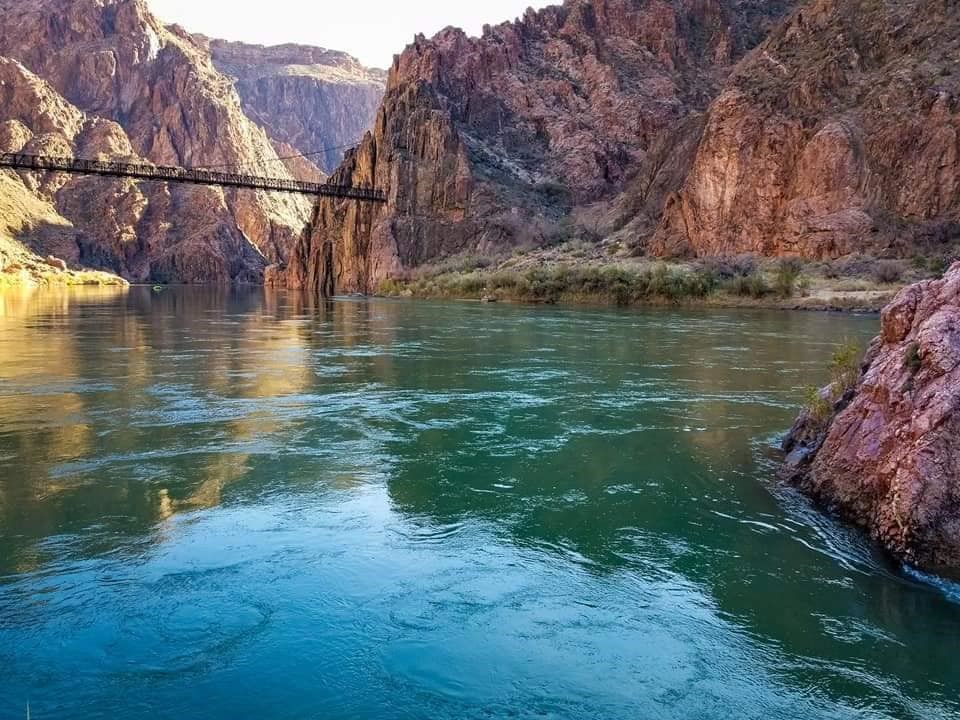 Colorado River, from South Kaibab trail, Grand Canyon NP, AZ  – photo by DJ Memering. The bridge is called the Black Suspension Bridge. It is 5,260 ft below the canyon rim.
The CARES Act was sold as emergency funding for individuals and small businesses. In all, Congress has authorized $3.3 trillion in coronavirus relief in four separate acts over the last two months. The stated intent of those bills was to protect the American economy from long-term harm caused by the overall impact of the virus.
Alas, Congress also took care of their true constituents, Big Oil and other fossil fuel companies. Those companies got CARES Act tax breaks. The subsidies were supposed to help bail out small businesses pounded by the pandemic, but at least $1.9 billion of it was sent to fossil fuel companies and their executives.
Bloomberg News reports:
"$1.9 billion in CARES Act tax benefits are being claimed by at least 37 oil companies, service firms, and contractors"
Bloomberg used the example of Diamond Offshore Drilling Inc. who manipulated the bailout: (emphasis by Wrongo)
"As it headed toward bankruptcy, Diamond Offshore Drilling Inc. took advantage of a little-noticed provision in the stimulus bill Congress passed in March to get a $9.7 million tax refund. Then, it asked a bankruptcy judge to authorize the same amount as bonuses to nine executives."
But, Diamond's refund wasn't all. Some went to their larger competitors. More from Bloomberg:
"…$55 million for Denver-based Antero Midstream Corp., $41.2 million for supplier Oil States International Inc. and $96 million for Oklahoma-based producer Devon Energy Corp."
In addition, Kevin Crowley reports that Marathon Oil got $411m, Occidental $195m, and Valero $110m.
Hats off to all of our Senators, Congresscritters and the Trump administration! They all continue pursuing a pro-fossil fuel agenda, even as the economic disaster of the pandemic unfolds. Bernie Sanders tweeted:
"Good thing President Trump is looking out for the real victims of the coronavirus: fossil fuel executives,"
But, Bernie apparently voted for the bill, which passed the Senate in a unanimous vote. Hypocrisy much, Bernie?
These loopholes in the Act were deliberately written in so that corporations could feed at the trough along with small businesses, and we the people. Moreover, the initial bill was written in the House, although presumably in consultation with Trump and the Republicans. So, you can view this as either the cost of doing business for Democrats, or as just another day at the office listening to the lobbyists. Subsidy legislation has been a bipartisan objective.
Its always been this way. Here's a cartoon from 1920 that could be drawn today: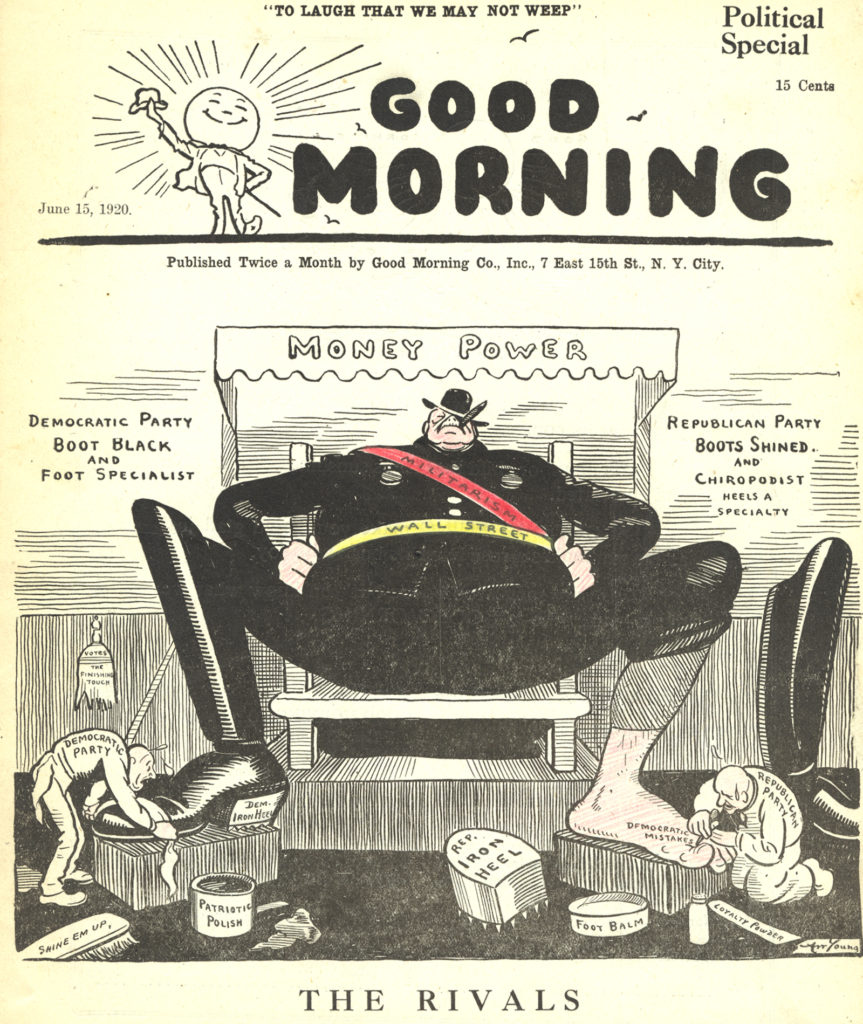 Let's remember that a big issue was the requirement for oversight, particularly after Trump said he wasn't interested in having any. A compromise was struck so that an oversight commission could be empaneled to keep track of how the money was spent.
Today, it remains without a leader. Four of the five members of the Congressional Oversight Commission have been appointed, but Speaker Nancy Pelosi, (D-CA) and Senate Majority Leader Mitch McConnell, (R-KY) have not agreed on a chair.
While the current members of the panel can perform some oversight, without a leader, it can't hire staff or set up office space. In addition, the four members have not met as a group since the economic rescue law was passed. The PBS NewsHour quotes John Coates, a professor of law and economics at Harvard Law School:
"If the commission is not functioning — which it is not — then there is no oversight on a huge part of the economic rescue law…"
We seem to be able to bail out the rich every few decades, and we always seem to do it on the backs of the poor. It will probably happen again in another 10 years or so. Between these bailouts, politicians and pundits appear on all of the news shows, and write very serious articles proclaiming the need to resist socialism and to preserve "the free market" for the sake of "wealth creation and innovation".
Time to wake up America! This great con has been going on for all of Wrongo's lifetime and by looking at the cartoon above, for a few lifetimes before. Yet voters seem to be oblivious to this insidious form of corruption each and every time they go to the polls.
To help America wake up, let's listen to Drive by Truckers, and their tune "Armageddon's Back in Town" from their 2020 album, "The Unraveling"
Sample Lyric:
There'll be no healing
From the art of double-dealing
Armageddon's back in town again
Those who read the Wrongologist in email can view the video here.