The Daily Escape: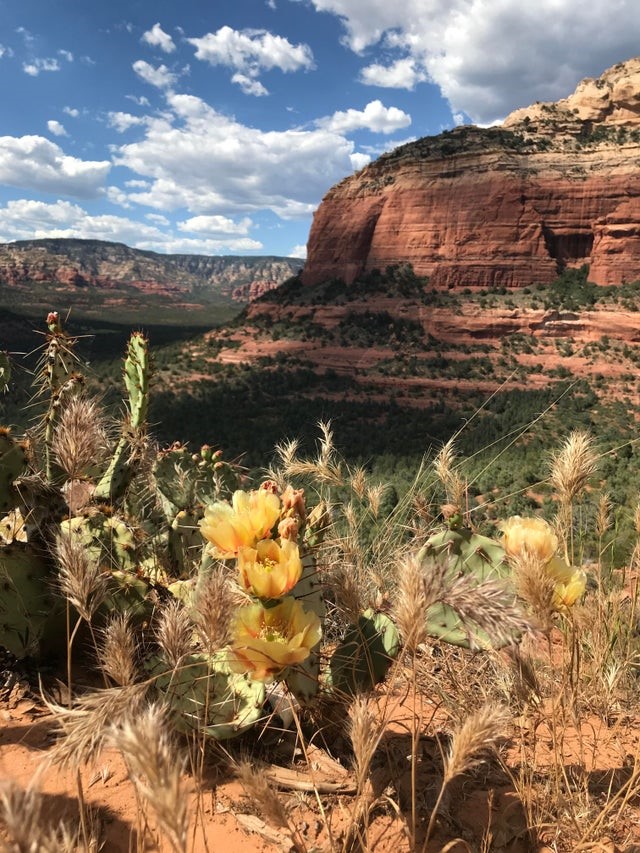 Cactus flowers, Devils Bridge, Sedona, AZ – May 2020 photo by sooperb4d
It's hot and muggy at the Mansion of Wrong. Today we received our usual daily visit from a momma turkey and her eight chicks. Some are already able to fly for short distances, while the smaller ones just jog along.
This morning, Wrongo was thinking that he'd never expected to have to live through something as tumultuous and dangerous as 1968, but here we are. We've got:
A Plague killing people in every state
Economic collapse (potentially on the scale of the Great Depression)
An incompetent incumbent president who will say anything in order to win re-election
Heavily armed yahoos complaining about having to wear masks, or that they can't get haircuts
But rather than talk about those four things, America's talking about a racially based killing in Minneapolis that has morphed into an urban dystopia. Hennepin County finally brought charges against a cop who murdered a man in public with dozens of witnesses. That has incited urban violence. Second, Trump called for the looters in Minneapolis to be shot, tweeting:
"Any difficulty and we will assume control but, when the looting starts, the shooting starts,"
We will assume control? Does Trump think he has the right to invade Minnesota? And that wasn't the worst of his tweet.
You may know by now that the other phrase was notorious in the civil rights movement. It was used in 1967 by Miami's police chief at the time, Walter Headley, after he sent police dogs and officers armed with shotguns into Miami's black neighborhoods in what he called:
 "…a crackdown on…slum hoodlums….We don't mind being accused of police brutality."
Headley claimed that Miami had not experienced "racial disturbances and looting" because he had put the word out that "when the looting starts, the shooting starts." Headley thus elevated stealing to a capital crime punishable by death without due process. And now Trump is advocating the same thing.
Some are saying that Jack Dorsey, CEO of Twitter has taken a courageous stand against Trump, that Dorsey is standing up for all of us. CNN reports:
"…Trump has angrily complained this week about social media companies, repeatedly accusing them of censoring conservative voices and going as far as to sign an executive order Thursday seeking to limit their power. But data from Facebook, the world's largest social media company, pours cold water on the assertion that conservative voices are being silenced."
Here's the data: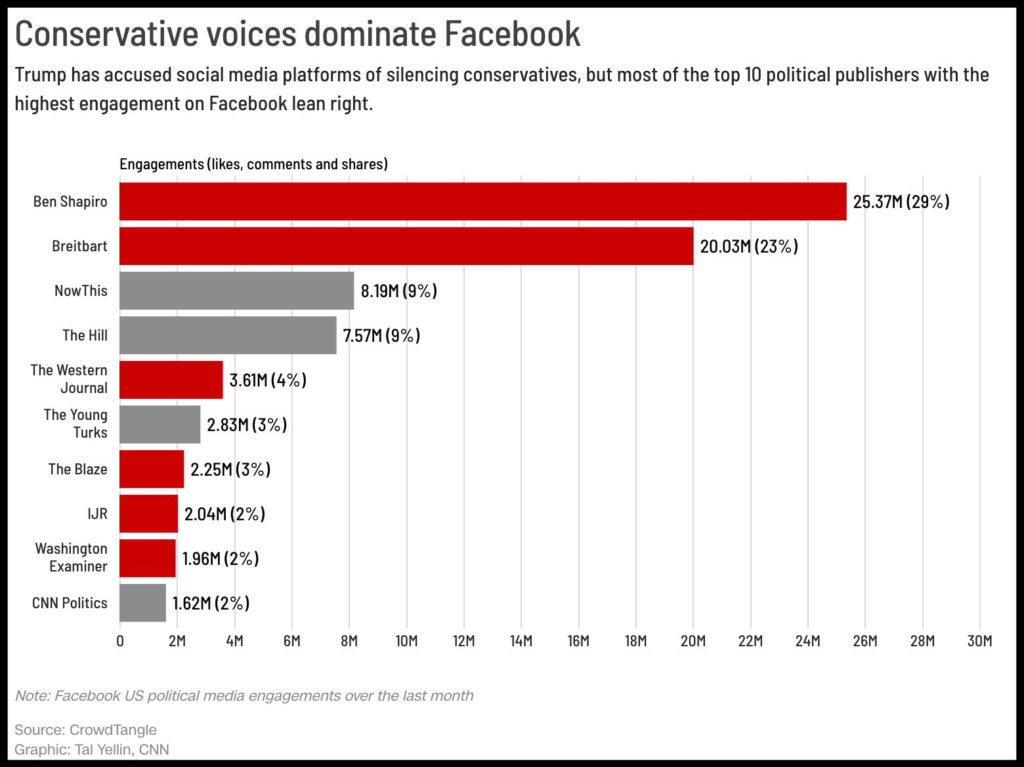 The red bars represent conservative sites. CrowdTangle, the company that made the chart, says that in the last month on Facebook, Trump has captured 91% of the total interactions on content posted by the US presidential candidates. Biden has captured only 9%.
Trump and the Republicans repeatedly accuse Facebook, Twitter and other social media platforms of bias, saying that they are the villains in the culture war the GOP uses to excite the conservative base.
The dispute is about whether Twitter has the right to disagree with and respond to the president. As a private company, it obviously does have that right. The chilling part is that the president and his advisers think otherwise.
Wrongo started by talking about 1968, the year that Nixon won the White House, running on a law and order message. He split the vote with George Wallace and Hubert Humphrey. That was 52 years ago, and a few things have changed. From Paul Campos:
"For one thing, the current president is somebody who makes George Wallace look like a statesman. For another, the country is much less white. (As a percentage of the total population, white non-Hispanics have declined from about 85% of the population to 60%)."
Nixon in 1968, like Trump in 2020, clearly exploited racial tensions, but a crucial distinction: Nixon wasn't in power at the time of the 1968 elections. We'll have to see whether Minneapolis helps or hurts Trump in November.
Time to take a break from our worst year in 52 years, and calm ourselves with a Saturday Soother. There is more yard work to do on the fields of Wrong, but we're starting with a cold brew coffee from Greater Goods roasters in Austin TX. Food & Wine named them the best coffee in Texas in 2019. Their cold brew is called "Connections" ($15/12 oz.) and features the sweet, chocolatey goodness of beans sourced from Colombia and Brazil.
Now settle back and listen to the Tedeschi Trucks Band play a stunning live version of "Midnight in Harlem", written by Minnesota band member Mike Mattison. Stay for the fantastic slide guitar solo by Derek Trucks:
Those who read the Wrongologist in email can view the video here.