The Daily Escape: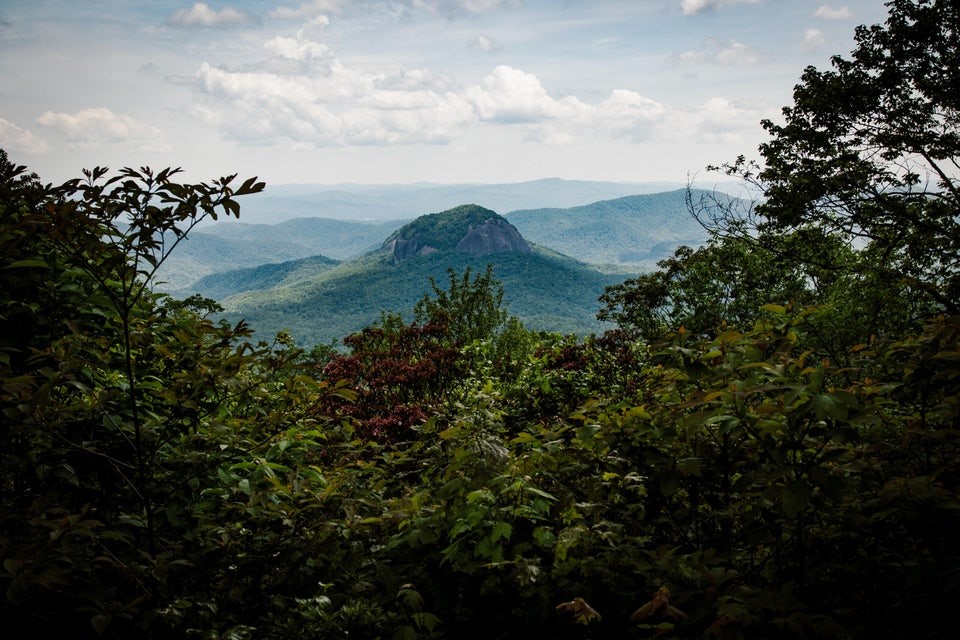 Looking Glass Rock, from Blue Ridge Parkway, NC – 2020 photo by 2paymentsof19_95
On Sunday afternoon, a veto-proof majority of Minneapolis City Council members announced their commitment to disbanding the city's police department (MPD), which has endured harsh criticism in the wake of the police killing of George Floyd.
This step is considered part of the movement that is wrongly called "Defund the Police". What Minneapolis is doing is reorganizing, re-imagining and redirecting their police. Calling this movement "defunding" is a misnomer that some in BLM, and others on the left have advocated, while the right has jumped on it to discredit Biden along with all Democrats.
Groups advocating defunding have put forward a variety of ideas. Some simply oppose police budget increases, others advocate mass personnel reductions, and some are fighting for actual defunding as a step toward abolishing police forces. Some initiatives are linked to the fight to close prisons. All are pushing for a reinvestment of any dollars saved into community services. Only the first two are mainstream ideas.
A reasonable question is what would the defunding advocates want on their streets instead of police?
Polling this month from Data for Progress indicates that 68% of voters answered that they would support: "Creating a new agency of first-responders, like emergency medical services or firefighters, to deal with issues related to addiction or mental illness that need to be remedied but do not need police."
According to a study from the Treatment Advocacy Center, a person with an untreated mental health issue is 16 times more likely to be killed by police than other members of the community. Even though many US police departments' duties include responding to non-violent, non-emergency calls, departments keep expanding their military-style arsenal.
The question by Data for Progress had broad support, including 62% of Republicans, and higher percentages of Democrats, whites and blacks. Versions of this concept are already in place in Eugene, Oregon; Austin, Texas; and Denver, Colorado.
It is also reasonable to ask, "Can't we just fix what's wrong"? The answer is yes, but efforts to do this have been underway for decades. If police and city officials in most cities had been serious about reform and policy change, we wouldn't be hearing dumb ideas like "Defund the Police", and people would not be this angry.
Newsweek reports that Camden, NJ had success in 2013 when it disbanded its 141-year-old police force. In its place, the surrounding county formed a new police department. This move had the result of busting the local police union. But the Camden County Police Department rehired most of the laid-off cops, along with 100 new officers, at much lower salaries and with fewer benefits than they had received from the city. From Bloomberg:
"The focus was on rebuilding trust between the city's residents and officers. The remaking of Camden's police department appears to have led to crime rates falling in the city. Camden recorded 67 homicides in 2012, while last year, there were 25."
For Camden's Black Lives Matter protest on May 30, officers left the riot gear at home, and brought an ice cream truck. The police department's chief, Joseph Wysocki, who is white, brandished a "Standing in Solidarity" poster alongside residents holding "Black Lives Matter" signs.
And yes, the Camden police department is again unionized.
Disbanding police departments isn't going to happen everywhere, but "reorganizing" local police departments is a necessity in most places, especially when the municipality's police union management is not interested in reform.
The argument shouldn't be to defund them, but to take away their military toys, and hold them to higher performance standards. With the right to exercise lethal force should come closer scrutiny for their behavior.
"Defund the Police" should mean: See what is happening in your town with clear eyes. See the original sin of placing property rights over human rights. See the original sin of racism in America and how it impacts the community.
Policing in America is deeply broken. Few departments are controlled effectively by their elected officials. America needs stronger mayors, town councils and district attorneys who can be for "law and order", and also for protecting the rights of the people who are confronted by day-to-day policing. We will only have stronger public servants by voting them in.
It's going to be a long struggle to rebuild our police departments into something that creates a peaceful community while valuing Constitutional rights.
That's a struggle worth taking on.