The Daily Escape: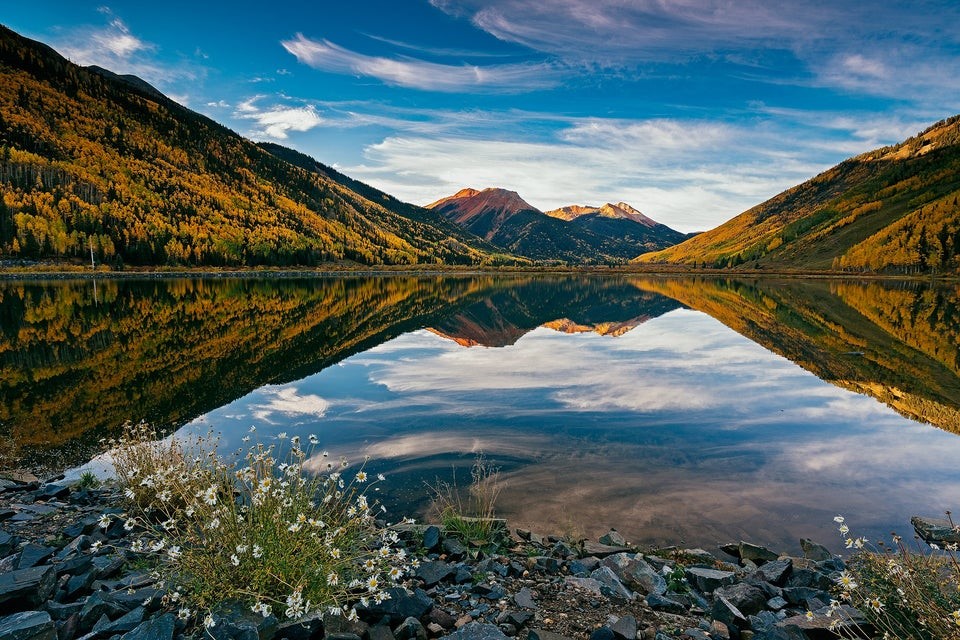 Fall sunrise at Crystal Lake, near Ouray, CO – photo by Ryan Wright
Wrongo is now certain that 2020 is the worst year for America since 1968. Why? We have had riots in 140 cities. 40 million are unemployed, and the Death rate from COVID-19 has reached 106,003. Here's a map of where protests have occurred in the past few days: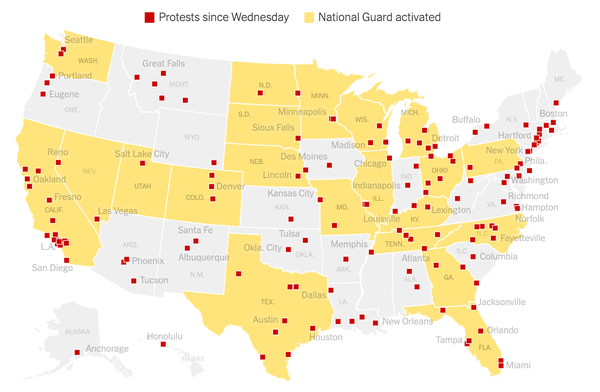 We have a national problem of civil disobedience leading to rioting and looting. Note the number of states (in yellow) that have already activated the National Guard. We should assume that the number of cities with protests will probably grow.
Let's talk briefly about policing in America. After the Ferguson uprising in 2014, we were astonished at the militarization of the police. We also started paying closer attention to the number of police killings in the US, but since there was no central database, independent groups started to compile them.
Cities and towns introduced new policies designed to reduce police violence, starting with police wearing body cameras. But according to the Police Shootings Database, police in America killed more people in the US in 2019 than in 2015, and the number has risen every year since 2017.
If police killings are increasing despite widespread public attention and local reform efforts, shouldn't we be asking why?
Minneapolis, like most other cities, has a civilian review board, but it didn't prevent Chauvin from killing George Floyd. In fact, the review board had failed to impose consequences for any of the eighteen previous complaints made against Chauvin. This shows how little these review boards are doing to change behavior.
Can change happen through the ballot box? Minneapolis implies that voting isn't enough: Minneapolis has a progressive mayor and a city council composed entirely of Democrats and Green Party members. But it doesn't prevent out-of-control racist cops from killing people. The glue holding this broken system together is police unions.
From Eric Loomis:
"That our police are openly fascist is finally becoming apparent to a lot of liberals who really didn't see it that clearly before…..The police are openly declaring war on the nation. They are raising their fascist flag instead of the American flag. They are blinding good journalists. It is completely unacceptable…"
Loomis specializes in labor unions and labor issues. He says that it is in the public's interest to force the police unions to give up the blank check for violence that they currently have. The two concepts that should be written out of the union contracts are arbitration in discipline cases, and qualified immunity.  Qualified immunity is a concept in federal law that offers government officials immunity from harms caused by actions they perform as part of their official duties.
Because of qualified immunity, police act like the laws don't apply to them. This is a legal obstacle blessed by the Supreme Court that's nearly impossible to overcome when the police violate our Constitutional or civil rights.
Despite that, blanket immunity shouldn't absolve cops of responsibility for violence. Since they are state actors, the burden of proof should be on them to prove their violence was justified, not the other way around.
In many cases, the police unions are also run by bad people. In Chicago, the police union just elected as president a cop who has been reprimanded several times and is currently stripped of his police powers.
Minneapolis's police union has a hard line and controversial president, Bob Kroll, who said that George Floyd had a "violent criminal history" and that the demonstrations were part of a "terrorist movement."
Minnesota AG Keith Ellison blasted Kroll on "Fox News Sunday":
"…he operates as sort of an alternative chief who, I think, undermines good order in the department."
These are the kinds of people that rank and file police all across America want protecting them. That shows something about the true character of the rank and file.
Cities should pull the records of every cop with a double digit number of excessive force complaints and fire them. Force the unions to sue and then litigate it every step of the way. Make them defend the indefensible.
America needs stronger mayors, town councils and district attorneys who can be for "law and order" and also for protecting the rights of citizens who are swept up by day-to-day policing. We can have stronger public servants by voting them in.
Atlanta Mayor Keisha Bottoms says just that in this video, which everyone can see here:
As an aside, Mayor Bottoms looks to Wrongo like an excellent choice for the Democratic VP.