The Daily Escape: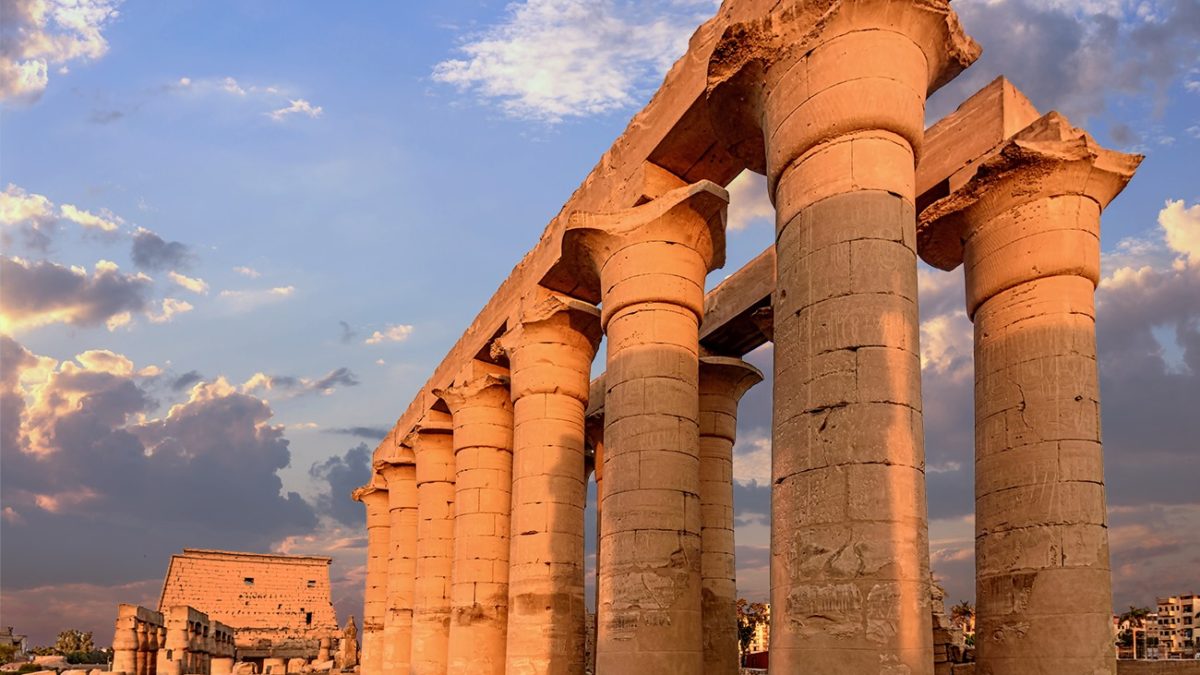 Temple of Luxor –August 2020 photo by Hossam Abbas
If you have not seen the horrifying video of Jacob Blake being shot point-blank in the back by police, while his children were watching, while bystanders were screaming for his life, you've certainly heard about it.
Kenosha, WI is now the nation's new epicenter of unrest. Government buildings were left damaged and businesses were burned out in the city's downtown. Somehow those seven bullets didn't kill Blake, but he's paralyzed from the waist down. We've seen so many of these incidents that it seems unbelievable that police continue to shoot people in front of cell phone cameras.
One of the most maddening parts of these incidents is that they remain so commonplace. It's hard to know what will spark change. Part of police training involves the concept of situational awareness. So you'd think, since George Floyd's murder, that every cop is aware that each confrontation will be captured on cell phone video. Clearly, you'd be wrong.
Here are some stats: 1,146 people died at the hands of police in 2019 in the US. The UK had 3. Denmark, Switzerland, and Iceland had 0. The US rate of police killings per capita is right below Iran's and just above Angola and Colombia.
That isn't something that we should accept. It also doesn't mean we have to accept riots with people burning cars and damaging buildings in Kenosha, Wisconsin, or anywhere else. But it does mean there has to be both acknowledgement of the problem, and action to fix it.
Both Parties have to deal with this. Let's start with how the Republicans decided to handle it.
Wrongo didn't watch the Republican Convention (If you ain't Indicted, you ain't invited) on Monday, but he doesn't believe Jacob Blake was mentioned. The internet-famous St. Louis couple Mark and Patricia McCloskey, who brandished an assault rifle and pistol at Black Lives Matter demonstrators marching by their home went another way, speaking about white grievance.
Jonathan Capehart in the WaPo quotes Mrs. McCloskey:
"When we don't have basic safety and security in our communities…we'll never be free to build a brighter future for ourselves, for our children or for our country."
Actually they do have both safety and police protection in their community. There was no need for them to come out of the house brandishing guns. And the future she is speaking about is only for some white kids. The McCloskey's seem to be garden variety racists scared to death of Black people.
However, Black people do not have safety and security in their communities because the police do not protect them. Police are very likely to violate Black people's constitutional rights, verbally attack them, injure, or kill them whenever there is an encounter.
The McCloskey's were saying to Trump supporters: Those young Black thugs are coming to take what you have, to kill you and your family too, and only Trump can fix it:
"Make no mistake: No matter where you live, your family will not be safe in the radical Democrats' America."
But Democrats can't be silent on the rioting and property damage in cities across America. If they remain silent, they will be defined by the Republican racists. After the Blake shooting, Biden called for an immediate investigation, and for officers to be held accountable.
He also said systemic racism is "the urgent task before us."
So far, so good, but the Dems need to make clear where they stand on street violence that flows from police violence.
Biden must walk a tightrope. The BLM movement has deep and wide support from persons of color as well as from white voters, but, between the lockdown and the riots, the sense of insecurity on the part of small business owners has never been higher. People who live in cities are also insecure when rioting occurs in their part of town. Large-scale destruction pushes away some of the people who are inclined to listen.
Some are already asking why Biden hasn't yet denounced the street violence. And Pew Research has found violent crime is increasing in importance as an issue for voters in 2020:
"59% say violent crime will be very important to their 2020 decision…"
For context, it's nearly as important to Americans as the coronavirus, which ranks fourth with 63%. Not surprisingly the Parties feel differently. Here are the details. Trump supporters in red, Biden's in blue: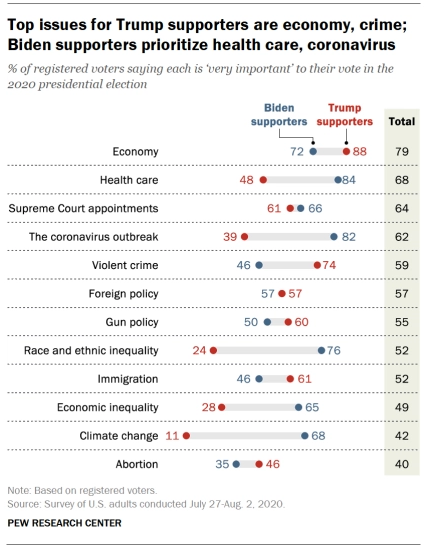 The widest gaps between Trump and Biden supporters are on climate change (57 points) and racial and ethnic inequality (52 points).
Time to thread the needle Joe!