The Daily Escape: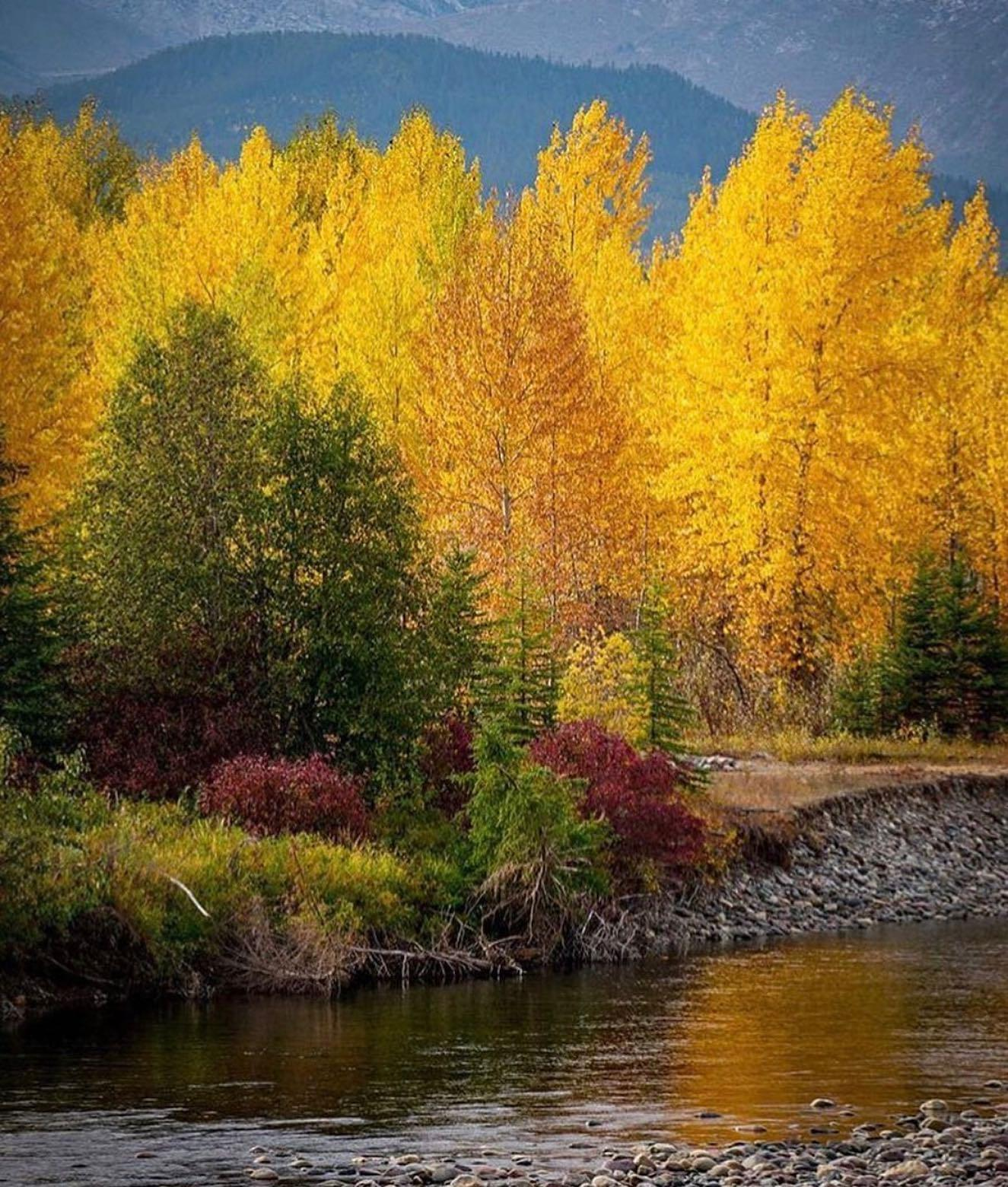 Fall, Polebridge, MT – 2020 photo by Drew Silvers
There are just 38 days to go until the election, and another 78 days after that until the inauguration, almost a lifetime in Trump years. Today, we'll jump among a few unbelievable news items.
First, the nation's leading newspaper's story about the US president refusing to commit to a peaceful transfer of power should he lose the election appeared on page 15. How can it be page one in everyone's mind, but on page 15 of the NYT? And what political story did the NYT find space for on Thursday's front page? An article about how Trump is running well in the virtually all-white suburbs north of Milwaukee. But we all know there's a liberal bias in the news.
Even if the media tries to do it, we can't normalize Trump.
Second, Ruth Bader Ginsburg's coffin was in the US Capitol rotunda on Friday. She was the first American woman so honored. But, even that brought more naked politics: Although they were invited, neither of the top Republicans, Senate Majority Leader McConnell, nor House Minority Leader Kevin McCarthy attended.
Third, Wrongo keeps saying that Trump's willful failure to deal with the COVID pandemic is by far the largest story of the year, and the issue that should decide the election. Another 885 Americans died from COVID-19 yesterday, and 45,178 more were infected, according to The NYT COVID-19 map and case count.
Cases are rising in 29 states and Puerto Rico. Deaths are increasing in 12 states. Think about how difficult it will be to tell COVID from the flu now that we're starting the flu season. Some perspective:
During World War II, an average of 220 US soldiers died per day.
During the Civil War, an average of 540 soldiers died per day.
So far during this pandemic, an average of 946 Americans have died per day.
New cases are trending up again, with the 14-day average up 17%.
Finally, turnout on November 3: The Cook Political Report has introduced an interactive page that lets you tinker with turnout levels for various demographic groups. It's based on 2016 numbers, and without the 6% third-party vote, Joe Biden wins 307-231, very similar to Trump's win of 306-232.
But if turnout is lower or much higher, it wouldn't take much for Biden to lose. For example, if 2016's turnout of white non-college voters goes from 55% to 60%, Biden wins the popular vote by more than 3 million, but loses the electoral vote 306-232.
And if there was a 4-point shift in the Black vote, with Trump going from 8% to 12%, Biden would win the popular vote by more than four million, but lose the electoral vote 276-262. Biden would pick up PA and WI, but Trump keeps FL, MI, and AZ. A combination of a 10% Trump Black vote, and a 2% drop in Black turnout also leads to electoral loss for Biden.
On the upside, if Biden's share of white college voters goes up just three points from 54% in 2016 to 57%, he wins Georgia, NC, and Florida and he rolls in the Electoral College, 350-188. The same would happen if he does 3 points better with non-college white voters, winning 34% instead of Hillary's 31%.
If somehow, he was able to do both, Biden would keep the same electoral margin, but he wins the popular vote by almost 12 million.
Some history: In 2004, 122 million people voted. In 2008, the number was 130 million. We had 129 million votes in 2016, and that's the baseline for all of the current modeling. The big question about 2020 is whether turnout rises or falls by a crazy number? Crazy would be say, 150 million on the high side, or 110 million on the low side.
While there's both upside and downside to think about, turnout is everything. Do whatever you can to help improve turnout over 2016.
On to the weekend. Indian Summer seems to be upon us in Connecticut, along with continuing near-drought conditions. Looking ahead to winter, Teresa Hanafin of the Boston Globe offers this: "The Old Farmer's Almanac says chionophobia is the fear of snow. Mitchophobia is the fear of snow jobs."
Saturday coffee is taking a break this week, so settle into a space outdoors and listen through your Bluetooth head set to Gerald Finzi's "Introit for Solo Violin & Small Orchestra – Op. 6 (Molto Sereno)". The piece was written in the mid-1920s. Here it is performed by the Northern Sinfonia, conducted by Howard Griffiths with violin solo by Lesley Hatfield: