The Daily Escape: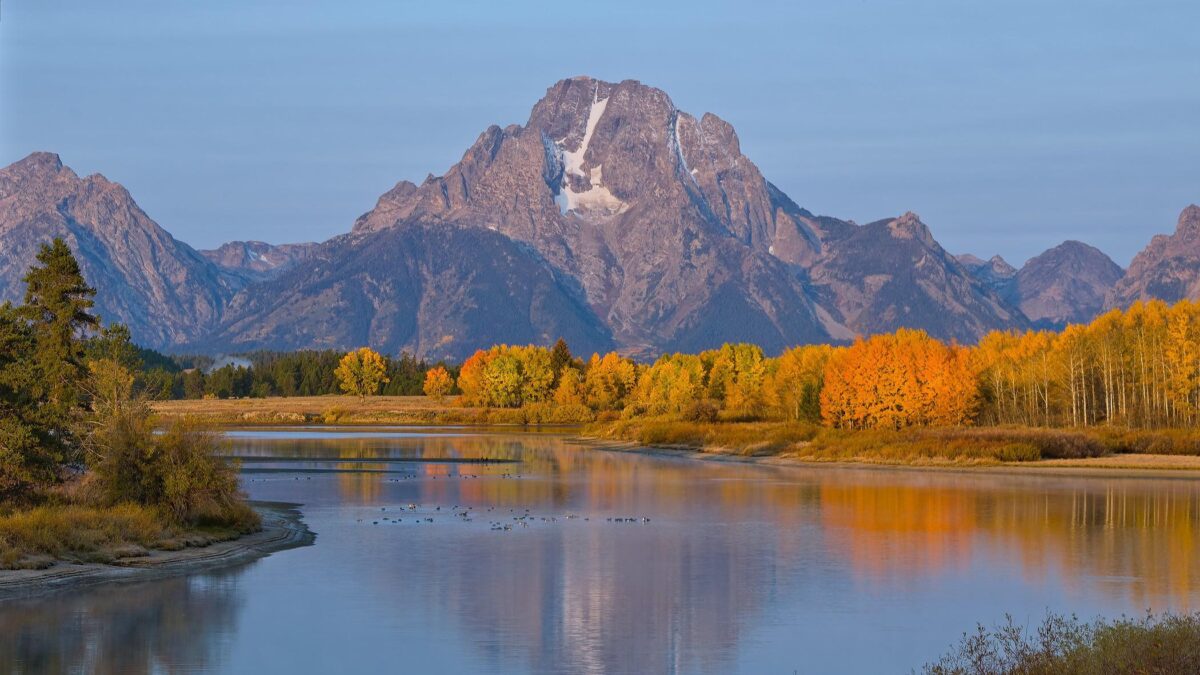 Mt. Moran, Jackson, WY – October 2020 photo by campsG.  The snow is said to resemble an electric guitar.
The plan to kidnap Michigan Governor Gretchen Whitmer is truly disturbing. According to the FBI, who foiled the plot, the conspirators intended to move her across state lines to Wisconsin where she would be tried by a kangaroo court for "treason."
Let's wander back in time to April in Michigan. On April 15, there was a drive by "Operation Gridlock" protest in Lansing. The organizer of that rally received financial assistance from the DeVos family. You know, the one that includes Trump's Secretary of Education. Then on April 17, Trump tweeted, "LIBERATE MICHIGAN!"
Then came April 30 when a bunch of armed right-wingers showed up and took control inside the state Capitol building, intimidating people with their semi-automatic rifles. One of them had a Whitmer doll with a noose around its neck.
That was followed on May 6 by a lawsuit by Republicans against Whitmer: "Michigan House of Representatives and Michigan Senate v. Whitmer". And on October 6, the Michigan Supreme Court decided in a 4-3 ruling along partisan lines, that Whitmer did not have the authority to issue COVID-related executive orders after April 30, 2020.
Now we learn that the would-be kidnappers, who called themselves the "Wolverine Watchmen" according to FBI documents filed in court, wanted to create a "self-sufficient" society free from what they called unconstitutional state governments. They discussed plans to storm the Capitol and take hostages, and planned Whitmer's kidnapping. They allegedly began meeting in June.
These guys were well organized and very well armed. They planned to set off explosives under a bridge to distract authorities while they carried out Whitmer's kidnapping at her weekend home. At least two of the men arrested Thursday, were also present in the takeover of the state Capitol building.
So the political discord, division, unrest, and violence in this country, fomented by the maskless president has come to this. From David Neiwert at the Daily Kos: (emphasis by Wrongo)
"This remains the indelible lesson from these arrests: Trump's profoundly irresponsible rhetoric has concocted a cauldron of hatred that the nation will be dealing with long after he has departed the scene, resulting in an army of authoritarian followers eager to mete out terroristic violence against any politician or person who opposes them—a sociopolitical plague that could come to rival the COVID-19 virus in lethality. It certainly seems unlikely to subside anytime soon…"
Trump set the tone for this by refusing to help Whitmer when she asked for federal assistance. He refused to allow Pence, as COVID-19 Task Force chair, to speak to Whitmer, and he encouraged violence with his "LIBERATE MICHIGAN" tweet after the first protest against Whitmer's orders.
Even after learning of the arrests of the kidnapping conspirators, Trump attacked Whitmer via tweet, saying:
"…I do not tolerate ANY extreme violence. Defending ALL Americans, even those who oppose and attack me, is what I will always do as your President! Governor Whitmer—open up your state, open up your schools, and open up your churches!"
By the way, despite all the Republican whining about opening bars and not wearing masks, Whitmer's early stay-home orders and restrictions on businesses crushed the virus in Michigan, with cases plunging from a daily high of 1,878 on April 3, to just 56 cases by June 15.
Cases have risen again, largely because of Republican pressure to reopen the economy. There were 1,230 new cases on Wednesday, but deaths have stayed low: From 232 on April 21 to just 8 on Wednesday. Neiwert said in the same article:
"…Trump's rhetoric and policies have unleashed a second pandemic in the form of far-right domestic terrorism."
What will Trump's tweets spawn next as we head into the second wave of COVID-19?
Wrongo knows how difficult it is to relax at times like these, so no coffee for you. Instead take a few moments to remember John Lennon, who was born 80 years ago (10/9/1940) and died at age 40.
His tune, "Imagine" was released on October 8, 1971, itself 49 years ago. And the world has been running from its message ever since.
It's hard to imagine that Lennon's been gone for as long as he was alive. Could he have imagined the world in our triple header of a social, political, economic crisis, along with a global pandemic topping it off? Take a break, and think an impossible thought or two on this Saturday. This video starts with a slow walk by John and Yoko, but ultimately, it shows John singing with Yoko by his side.
Never cared much for Yoko, but seeing her looking at John is this video changed my mind:
Imagine a world where people understand and tolerate each other.