The Daily Escape: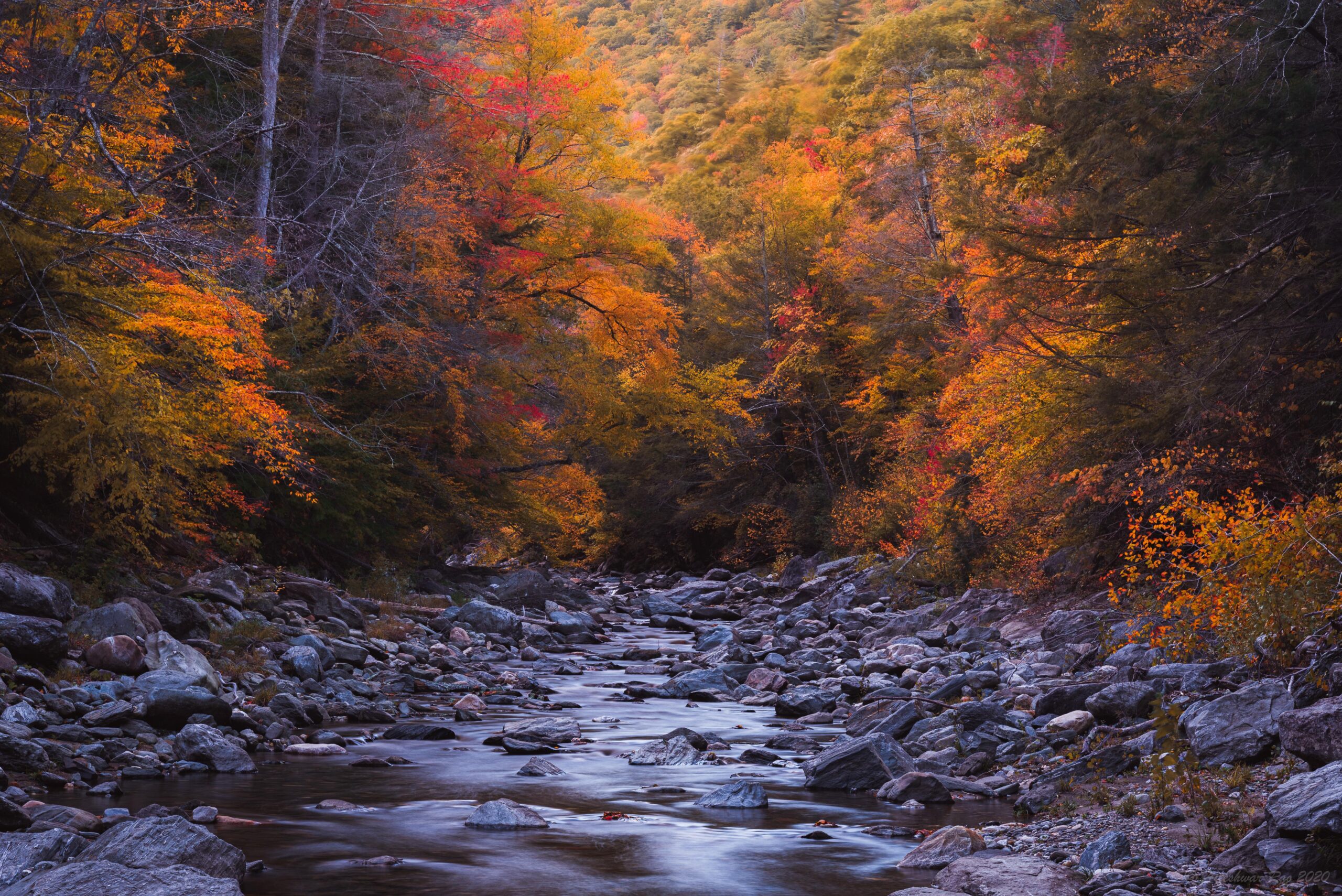 Mohawk Trail, just off Route 2, near Williamstown, MA – October 2020 photo by Alahomora
Three days to go.
Happy Halloween, although at the Mansion of Wrong, All Hallows Eve is just another day. We've never had a human come to the door looking for treats. Let's hope that tonight's not the night.
The reality show that is 2020 really sucks. On Monday in NYC, a man fell about 15 feet into a pit of rats when a sidewalk sinkhole opened under him. He was injured and while he will recover, nobody will ever want his nightmares.
And early on Sunday morning, we turn the clocks back one hour when daylight saving time ends in most of the US. This year, more than 30 states considered legislation to make daylight saving time permanent, something that Wrongo endorses.
Roll Call has this about Trump's closing argument:
"By arguing that the country is 'rounding the corner' on COVID-19 in the face of irrefutable data that the coronavirus is surging, Donald Trump risks appearing more and more out of touch with reality."
But we know cases are way up. This is the NYT's chart from Friday: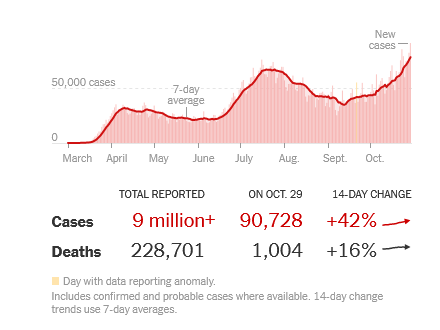 From the NYT:
"As of Friday morning, more than 9,024,100 people in the United States have been infected with the coronavirus and at least 228,700 have died…"
That's roughly a 2.5% death rate since the virus came to our shores. It seems serious that cases are rising in most states, while deaths are rising in 24. The NYT reports that the top ten states with the highest death rates are: (in order) North Dakota, South Dakota, Wisconsin, Montana, Wyoming, Alaska, Nebraska, Idaho, Iowa and Utah.
Most of these states have significant populations that refuse to wear masks or practice physical distancing. Now, there clearly are people in America who won't work for the common good, because their backs have never really been against the wall. We've become a soft, cartoonish version of what our parents and grandparents had to be in order to survive.
Americans play at being tough. Some of us strap on side arms or long guns to go to the supermarket. We complain when the internet is down because we can't play Netflix or our favorite video game. We melt down on Facebook when someone objects to our little thoughts.
What this moment should have given all of us was a sense of common purpose that united us against an invisible enemy. Instead, it's simply too hard for us to delay even a moment's gratification in the face of the second wave of the pandemic.
Notice too that of those ten states, only one (Wisconsin) is a good bet to vote Blue next week. That's not necessarily a problem, since the path to 270 for Biden looks like this: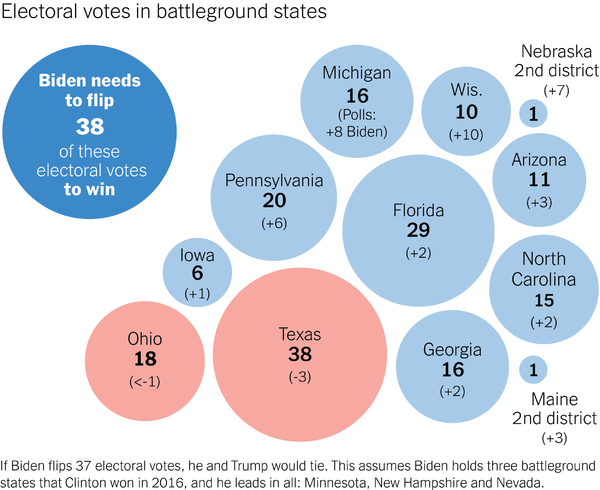 If you look at voters in generational terms, Trump has turned into an electoral cul-de-sac. He's simultaneously losing younger voters by a 2-to-1 margin, while also losing seniors by nearly 10 percent.
If you're voting Blue this year regardless of your Party affiliation, you are indeed serving a common purpose, one that you will remember forever: When our democracy was on the brink of collapse, when our fellow Americans needed us, we came together to fire Donald Trump.
There are still a few days left to obsess about the election, but its Saturday, and we need our weekly break from the monster that sucks all of the happiness out of our lives. It's time for our Saturday Soother.
We had snow on the fields of Wrong on Friday, and the weekend is bringing overnight temperatures in the 20's, so few outdoor plants will survive that hard frost. We've still got a tree to plant that is supposed to arrive today, but Wrongo will wait for next week's warmer weather to get it in the ground.
No coffee today, but a very relaxing video. The music is by Franz Schubert, his No. 4 Standchen from Schwanengesang, which means "swan song" in German. It's from a collection of songs written by Schubert at the very end of his life. The Schwanengesangs were composed in 1828, and published in 1829, just a few months after the composer's death. Franz Liszt later transcribed them for solo piano.
So a hopeful swan song for Trump, and a relaxing moment for all of us who listen today. Here the solo piano is played by Vadim Chaimovich.
The video combines Schubert with images of a Van Gogh painting. Pretty relaxing: