The Daily Escape: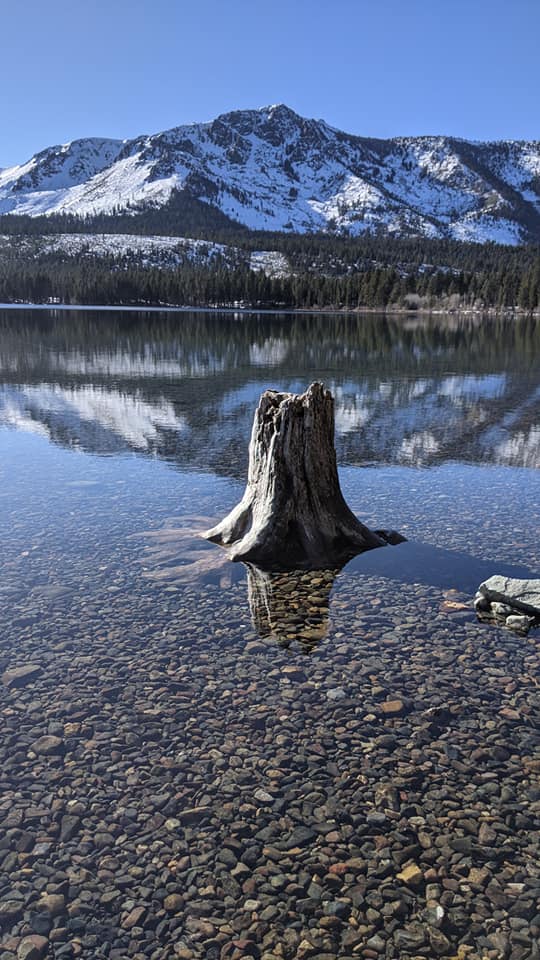 Fallen Leaf Lake, near Lake Tahoe, CA – December 2020 photo by MDodd
Here at the Mansion of Wrong, we made it through Christmas with zoom calls and some good cheer. But before the year ends, Wrongo wants to share a few thoughts on what happened in the past week.
First, if anyone other than Trump were president, the White House would have commemorated a difficult holiday season for hundreds of thousands of families grieving from losses due to Covid. There would have been a small moment calling for national unity: A speech, tolling bells, a moment of silence. Anything, to show people that the president gets it, that they aren't alone. But not this guy.
Second, Trump pardoned four former Blackwater military contractors who killed 14 Iraqis in 2007. All four had been convicted in federal court, one sentenced to life in prison, the other three to 12-15 years.
One terrible thing stands out: Not one Republican in Congress has raised an objection to these pardons of convicted war criminals. This again shows the dishonor and hypocrisy of the American right. Some in the GOP are even calling these criminals "American heroes", and are actually defending them.
Imagine the GOP's outrage if a Democratic president did this.
Here we are, watching the rule of law shredded by Trump, who's hiding behind yet another poorly conceived founding idea in the Constitution. We need to amend the pardon power. OTOH, can we design a system that the GOP won't corrupt? They systematically misuse all of the levers of government. So perhaps we should do away with "pardons" and leave the president with "clemency".
Third, as you know, Trump opposes the Covid "relief" bill and wants it to be amended to include a $2,000 check, not a $600 one. Whatever his motives, he's right about this. The bill is packed with pork, with just a few crumbs for the people. It's totally inadequate to our current economic circumstances.
Trump's call for additional stimulus money has split the Republicans into two camps: those who oppose his plan, and those who as always, are simply silent. House Democrats tried to jump on board by offering an amendment to the bill raising the one-time payment to $2,000, but House Republicans blocked it from being taken up.
This does nothing for the people, but Dems get to say that it's the Republicans' fault.
Trump seems to want to collaborate with McConnell to sabotage getting a bill that the Dems want. He and McConnell have been batting the Dems back and forth like a badminton bird, while Trump gets to talk about the good stuff he'd like to do for the people.
Finally, are you surprised that the world's most loathed industry is coming to our rescue with a vaccine? Or, that they did it in record time?
"…before the coronavirus pandemic started, the two best-known faces of the pharmaceutical business were the imprisoned Martin Shkreli and the…opioid makers at Purdue Pharma. The rest of the industry was perhaps best known for the skyrocketing prices of its medicines. In a Gallup Poll of the public's view of various business sectors, pharma was ranked at the bottom, behind the oil industry, advertising and public relations, and lawyers."
In a year where almost everything else went wrong, the vaccine development effort was something that mostly went right.
This also highlights just how badly the US screwed up almost everything else the government did to fight the pandemic. If you think that's wrong, look at these numbers: Nearly one in every 1,000 Americans has died of COVID. CNN reports that the:
"Census Bureau estimates for the last week of December place the US population at around 330,750,000. On Saturday afternoon, the national death toll from Covid-19 reached 331,116."
Trump is much worse than any of his predecessors, and that's truly saying something. He will have killed more Americans than were killed in WWII by the time he leaves office.
People need to focus long enough to realize just how evil Trump has been for America.
Wake up America! It is probably optimistic to say that we may be back to something approaching a new normal by next Christmas, but let's hope so.
To help you wake up, listen to Imagine Dragons do a live cover released in December 2020, of "I'm Dreaming of a White Christmas", written in 1942 by Irving Berlin for the film "Holiday Inn":