The Daily Escape: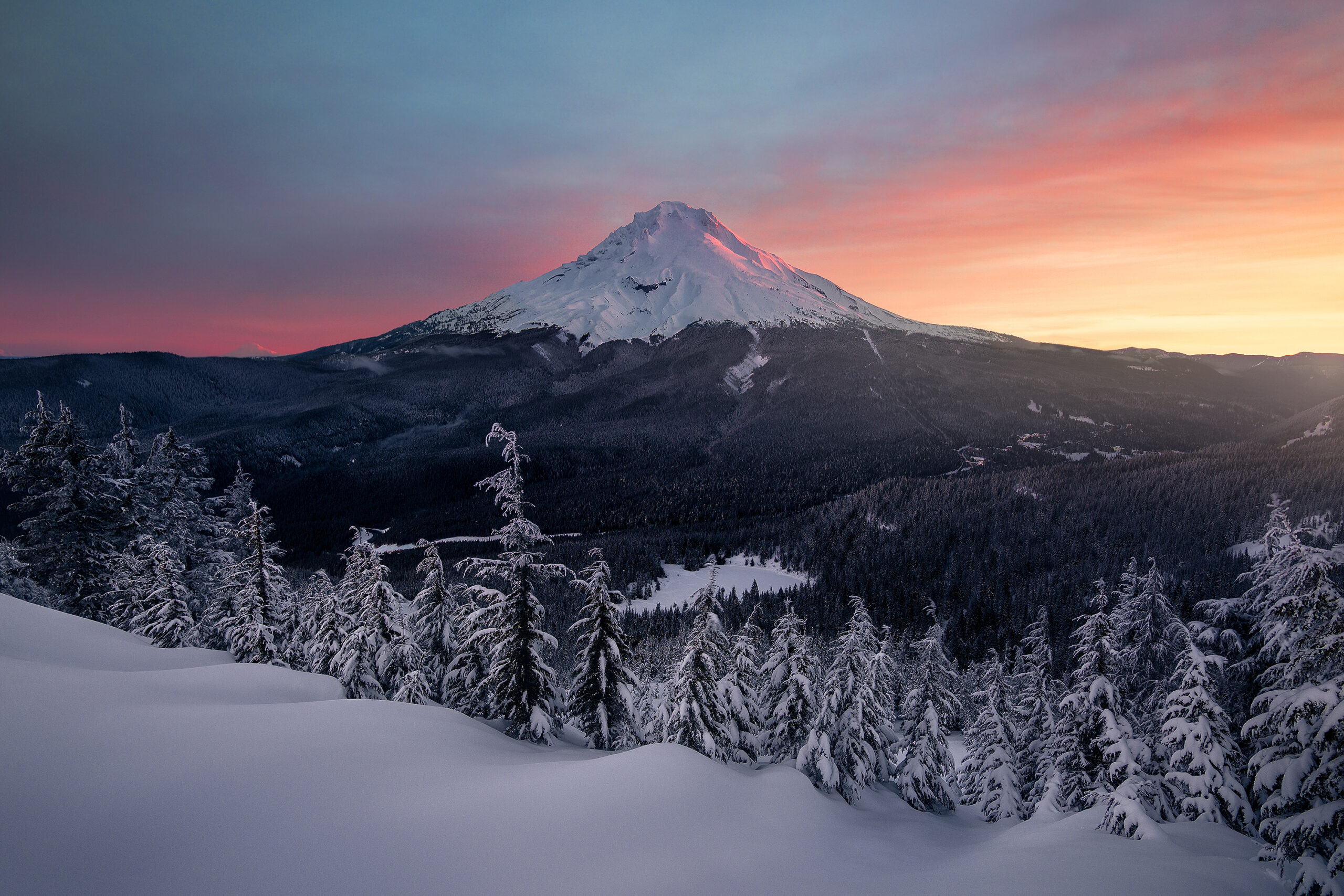 Sunrise, Mt. Hood, OR – 2021 photo by debuggerfly. The "smile" on Mt. Hood is called the Mississippi head wall.
The MAGA movement isn't going away. Even if Trump's political strength fades, the MAGAs are strong enough to remain a toxic element in our politics. Chris Parker at the University of Washington, along with Rachel Blum of the University of Oklahoma, have conducted what may be the first comprehensive national survey of MAGA supporters.
They surveyed about 1,500 self-identified MAGA members in December 2020 to try to better understand them. This wasn't a poll, but an in-depth survey of MAGA attitudes. The study participants were found based on their MAGA activity on Facebook. Interestingly, the numbers are huge: They found 6,610,370 Facebook users self-identify as MAGA.
They are well-represented throughout the country, and their numbers correlate with population density. Less populous states have fewer members. This shows that MAGA presence is not limited to rural areas. In most states, MAGA respondents were clustered around major cities like Atlanta, Chicago, Dallas, LA and New York.
After the Capitol riot, a subset of the group was re-interviewed specifically about that event. That questioning wrapped up around the end of January. It seems that to the MAGAs, there's an alternate universe where the Trump coup didn't happen:
More than 80% of the MAGA survey respondents say the Capitol riot wasn't the fault of the GOP, and not Trump's; Antifa was behind it.
98% said they agree with Trump's claim that the election was stolen.
In other words, it wasn't Trump's fault, so they don't think Trump deserves any punishment or criticism for what happened.
And a new national poll released on Feb. 11, the American Perspectives survey of 2,016 adults, found that half of GOP voters nationwide agreed with this statement: "Antifa…was mostly responsible for the violence that happened in the riots at the US Capitol." That's an astounding level of delusion. It makes crystal clear how and why so many Republican politicians could end up looking the other way at an anti-democratic insurrection that killed five people.
The Parker/Rubin study found that MAGA members are not demographically diverse:
60% are White, Christian, and male.
About half are retired, over 65 years of age, and earn at least $50K per year.
Roughly 30% have at least a college degree.
Since about half are middle-class by income, and nearly a third are middle-class by education. the data show that economic anxiety isn't the primary explanation for Trumpism.
Roughly 85% of MAGA supporters are members of gun-rights groups. Approximately 60% are members of pro-police groups. In addition, 50% belong to anti-lockdown and pro-life groups. Significantly, only 38% of the MAGA movement identify with the "Stop the Steal" campaign, and only 23% identify with militia movements of any kind.
So what IS driving the MAGA movement? Parker and Blum ask: if they want to Make America Great Again, what's wrong with America? They started with questions about racial resentment: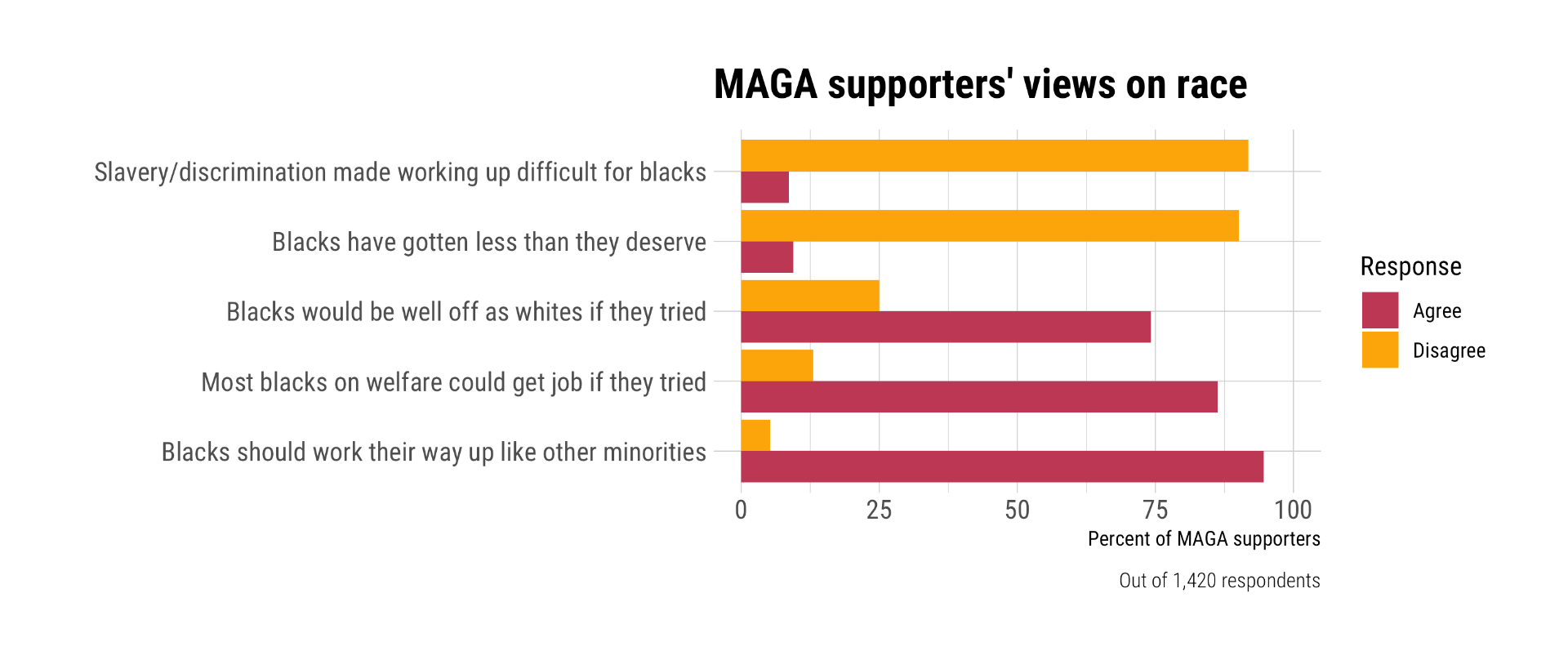 Note that 90% disagreed with whether "slavery and discrimination make it difficult for Blacks to work their way up," and whether "Blacks have gotten less than they deserve". A lot of their response seems to boil down to "I don't want those people doing better than me." What seems true is that resentment over possibly losing status is the driving force behind Trumpism.
What about views on immigrants and women?
85% of respondents believe that "Immigration is changing the culture for the worse,". They also believe that "Immigrants refuse to abide by our laws."
On questions used to assess sexism, about 75% agreed that: 1) Women are seeking special favors; 2) Feminists make unreasonable demands of men; and 3) Feminists are seeking more power than men.
Parker and Blum asked a series of questions about political activism. At least 50% have signed a petition, contacted a representative, participated in a boycott, or donated funds to a campaign. Roughly 45% attended a political meeting, 35% have attended a rally, and 30% have volunteered for a campaign.
Approximately 90% of MAGA supporters self-identify as Republicans, or lean GOP, the rest saying that they are independents. Importantly to Trump's Big Lie, they found that 90% of the MAGA movement disagreed with making it easier for people to vote: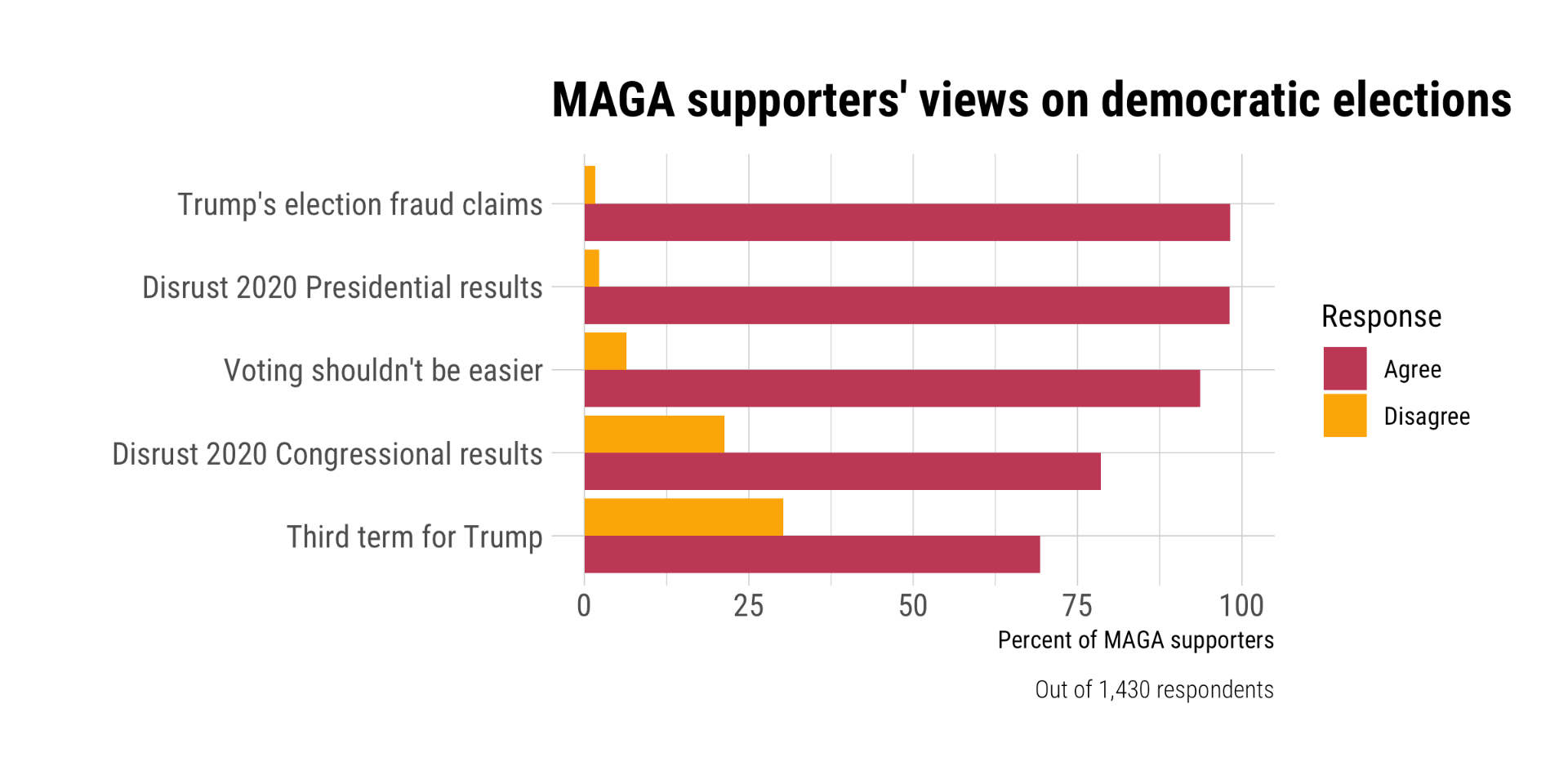 Based on this survey, these MAGA loyalists do not believe in democracy. They are a threat to our country and will be a threat for many years to come. The GOP can't let Trump go, because doing so would mean losing the MAGA vote, and the GOP needs each one of them in order to hold on to power.
This is why we should disregard the rosy comments that: "Our democracy was tested and survived! The system worked!"
Every Republican needs to be asked two simple questions:
Who won the 2020 US presidential election?
Was it a free and fair election?
The answers are one word each: "Biden" and "yes." If they can't answer correctly, they are an enemy of democracy.