The Daily Escape: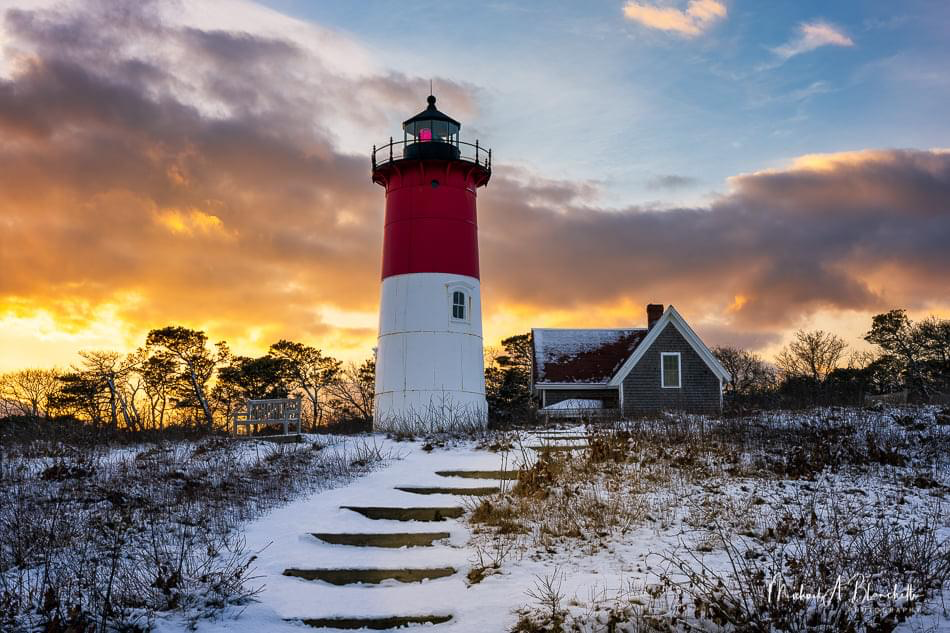 Nauset Light, Cape Cod, MA  – February 2021 photo by Michael Blanchette photography
The impeachment trial is behind us, but the Big Lie of the 2020 election, that there was massive voting fraud, remains with us. That Lie is propelling Republicans in many states to try to minimize, or end entirely, mail-in voting.
Republicans have reason to worry. Mail-in voting alone constituted nearly half the votes cast in the 2020 election, a significant increase from previous years. This chart from 538 shows the remarkable decline in same-day voting in America: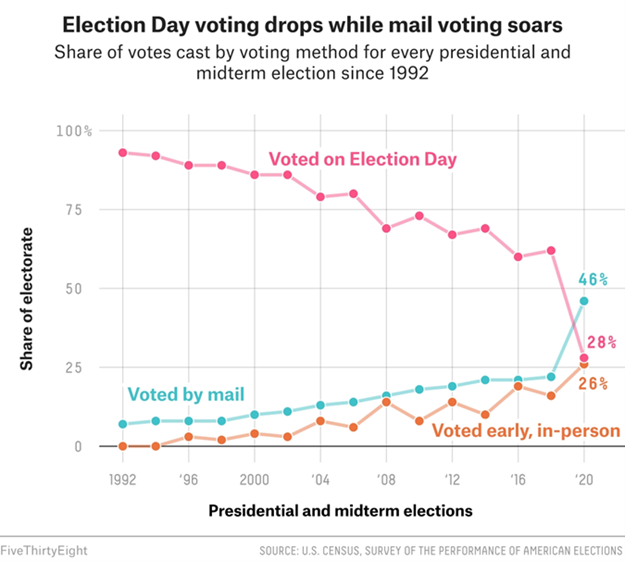 Traditional same day, in-person voting has dropped from more than 90% of ballots cast in the 1990s to 60% in 2016, to just 28% in 2020. Early in-person and vote-by-mail now accounts for 71% of total voting.
Overall, despite the Big Lie, early and by mail voting was a remarkable success. It was less prone to errors than expected, and had almost zero documented fraud. As expected, 538 reports that absentee votes broke blue, Election Day votes, red. They only have data for 15 of the 50 states, but it is consistent:
"Biden won the absentee vote in 14 out of the 15 states (all but Texas), and Trump won the Election Day vote in 14 out of the 15 as well (all but Connecticut)."
Trump used this historic change in voting patterns to claim that Democrats used mail ballots to steal the election. Now, in a backlash to the historic trends in voter turnout, Republicans are again looking to make it more difficult to vote.
A new report by the Brennan Center for Justice shows that legislators in 33 states have introduced 165 bills to restrict voting rights. The proposals primarily seek to: a) limit mail voting access; b) impose stricter voter ID requirements; c) slash voter registration opportunities; and d) enable more aggressive voter roll purges.
Many of these bills parrot the same lies Trump used to claim the election was stolen. And they're sponsored by the same state officials who backed Trump's efforts to reverse the results of the election.
Remember how narrow the Biden win was: he won three states by a combined margin of 43,560 votes: Arizona (10,457 votes), Georgia (12,636 votes), and Wisconsin (20,467 votes). These three states have 37 electoral votes, and had Trump won all three, the Electoral College would have been tied, 269 to 269. Then the House would have determined the winner, with each state delegation getting one vote. Since the Republicans hold a majority of state delegations, Trump would have won a second term.
It was worse. The WaPo reports that
"Republicans came, at most, 43,000 votes from winning each of the three levers of power."
Just 32,000 votes would have flipped control of the House to Republicans, while 14,000 votes would have kept control of the Senate in Republican hands. The Republicans have a built-in structural advantage in all three political levers of power: In the House it's gerrymandering; in the Senate it's the population imbalance favoring rural states; and in the White House, it's the Electoral College.
So, beating back voting restrictions has to be a top priority.
Republicans have been restricting voting for years. We were lucky that state and local election officials acted in the best interests of the people and the country. That may not happen next time, so these anti-democratic pieces of legislation must be highlighted publicly and fought tooth-and-nail.
Think for a minute about last week's impeachment trial: 34 GOP senators representing just 14.5% of the US population can block the conviction of an impeached president. Said another way, the 57 senators who voted to convict Trump represent 76.7 million more Americans than the 43 senators who voted to acquit him.
We should also remember that every state sets its own rules when it comes to voting and counting the votes. And we'll soon see the impact of Republican gerrymandering, once the 2020 census is complete. The long-term solution is a Constitutional amendment that finally establishes that all citizens have the right to vote, and describes the approved methods of voting.
Time to wake up America! Voting reform must be a top priority just behind beating the Coronavirus and getting kids back in school. To help you wake up, listen to John Fogerty perform his newest, "Weeping In The Promised Land", released this January:
Partial Lyrics:
Forked-tongued pharaoh, behold he comes to speak
Weeping in the Promised Land
Hissing and spewing, it's power that he seeks
Weeping in the Promised Land
With dread in their eyes, all the nurses are crying
So much sorrow, so much dying
Pharaoh keep a-preaching but he never had a plan
Weeping in the Promised Land
Weeping in the Promised Land
This is another very powerful video, a must-watch.