The Daily Escape: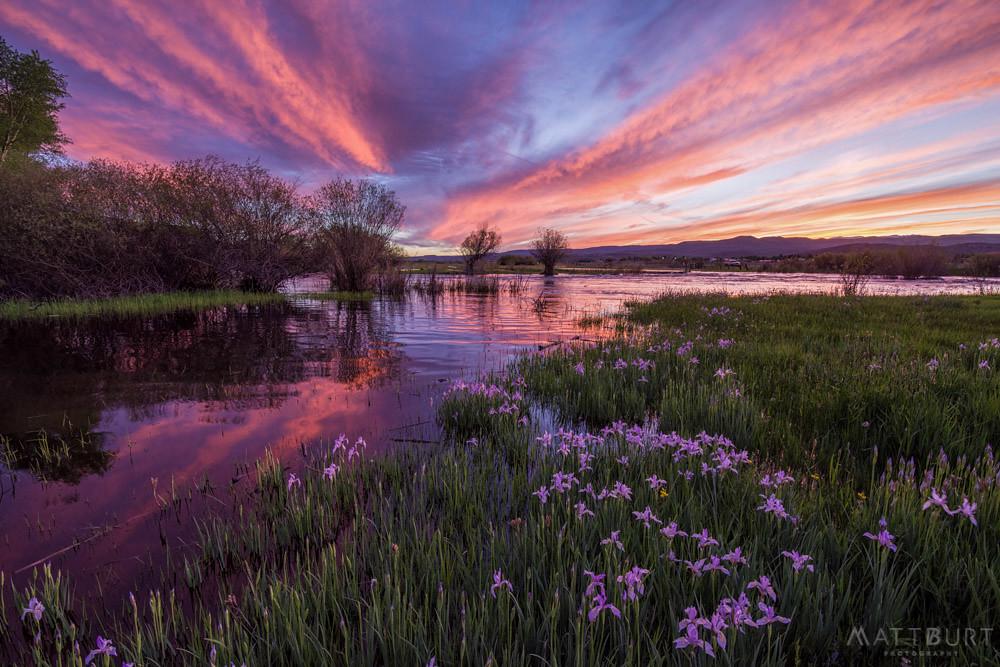 Sunset and wild Iris, over a flooded Tomici Creek, Gunnison CO – Spring 2019 photo by Matt Burt
The GOP is preparing an army of "poll watchers" to discredit elections, and GOP state legislatures are delivering in nearly 20 states.
"Bills in several states would grant new authority to poll watchers…to observe voters and election workers. Critics say it could lead to conflict and chaos at polling places and an improper targeting of voters of color."
A new analysis by the Brennan Center for Justice found that as of April 15, lawmakers in 20 states had introduced at least 40 bills to expand poll watchers' powers.
The Texas GOP is bringing back having trained partisans intimidate minority voters whom they consider possibly illegitimate:
"The red dot of a laser pointer circled downtown Houston on a map during a virtual training of poll watchers by the Harris County Republican Party. It highlighted densely populated, largely Black, Latino and Asian neighborhoods.

'This is where the fraud is occurring', a county Republican official said in a leaked video of the training, which was held in March. A precinct chair in the northeastern, largely white suburbs of Houston, he said he was trying to recruit people from his area "to have the confidence and courage" to act as poll watchers in the circled areas in upcoming elections.

A question at the bottom corner of the slide indicated just how many poll watchers the party wanted to mobilize: "Can we build a 10K Election Integrity Brigade?"
Republicans in battleground states are trying to make voting harder and more confusing. They're making a concerted legislative push to grant more autonomy and access to partisan poll watchers, that is, citizens trained by a campaign or a party and authorized by local election officials to observe the electoral process.
Many questions: Who will train the poll watchers? Who will certify them? And importantly, who watches the poll watchers? Before this effort to make poll watching partisan, poll workers were trained by the county and certified by the county to perform the job. Without a standardized and transparent process, poll watchers are simply harassers violating voters' privacy.
In Florida, an election bill passed last Thursday by Republicans in the state legislature specifies that partisan observers must be able see the ballots as canvassing boards work to authenticate voters' signatures on absentee ballots. There are no limits on how many ballots poll watchers can challenge. Florida Gov. DeSantis has indicated he will sign the law.
There's a long history of poll watchers being used to intimidate voters and harass election workers, often targeting communities of color. During the 2020 election, Trump's campaign repeatedly exhorted  its "army" of poll watchers to venture into Black and Latino cities and hunt for voter fraud.
There's no evidence that justifies giving poll watchers expanded access and/or autonomy in their jobs. We should fight a system where a random citizen can watch you vote, and then complain. That should be expressly prohibited.
The Republicans have grounded their reasoning in the argument that their voters want more secure elections. That desire is driven by Trump's repeated lies about last year's presidential election, which included GOP complaints about insufficient poll watcher access.
Should we be worried that these a-holes will actually scare people away from the polls? Yes, some will be frightened away. A bunch of MAGA Hat yahoos will flood voting places and try to harass and terrorize racial minorities, students, and the elderly, anyone who they believe might be voting the wrong way.
And if the GOP has their way, it will be legal to do so.
Time to wake up America! The GOP plans to turn every state that they control into little banana republics. The solution is to keep them from controlling any battleground states.
To help you wake up, listen to Larkin Poe, a Nashville-based sister group, do a cover of "Layla", from their album of cover songs, "Kindred Spirits". You'll love the slide guitar: