The weekend got off to a good start with Bannon indicted and Britany freed. But the final outcome at COP26 is the big news. The final agreement was announced on Saturday. It calls for reductions in coal and fossil fuel use and a transition to renewables. Those are all firsts in the more than 25-year history of UN climate talks.
Still, countries like Saudi Arabia or China were resistant; so the wording had to be significantly watered down. Wednesday's draft mentioned phasing out coal, but Saturday's speaks only of accelerating "efforts towards the phase-out of unabated coal power".
What seems to have happened is a lot of speechifying, including Boris Johnson sounding a lot like Greta Thunberg. But not much happened in terms of concrete political action.
There is some good news: a net-zero pledge from India, a commitment from the US and China to work together, and a toothless but significant global agreement to reduce methane emissions.
One thing that is easy to overlook is that there were no climate deniers among the countries represented at COP26, a first. But a preliminary analysis of the agreement published by Carbon Brief suggests that, all told, the agreements coming out of COP26 may shave only 0.1 degree Celsius off of future warming.
The disconnect between rhetoric and reality has several possible explanations, but Occam's Razor suggests it can be explained best in three words: Talk is cheap.
As Wrongo has said, not all the climate change news is bad: the probabilities of the worst-case scenarios seem to be falling a bit. The flip side of this is that, at present, the probability of the best-case scenario (holding global warming to 1.5 degrees C. above the pre-industrial baseline) also seems to be fading, and all of the medium-range outcomes look pretty terrible. On to cartoons.
Climate warriors won't fight: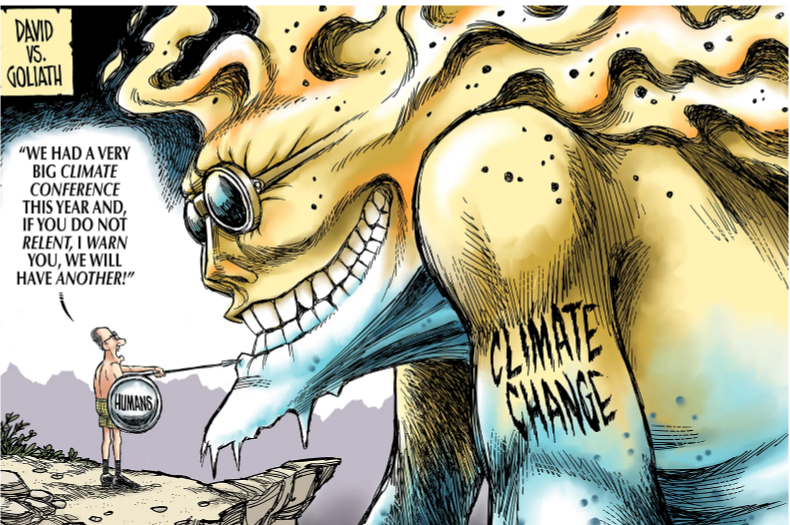 Infrastructure Week finally arrives: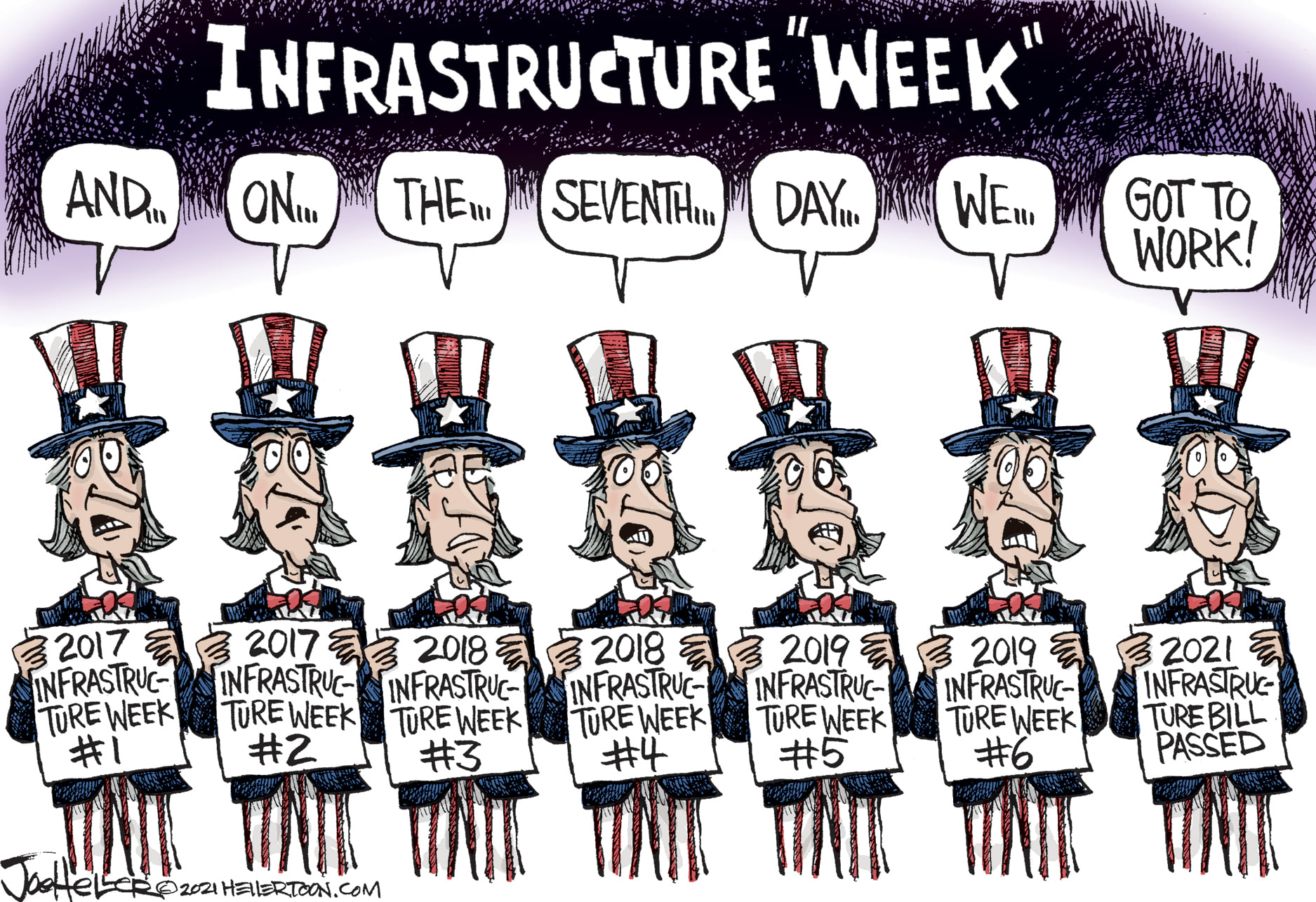 Not everyone is enthusiastic about Infrastructure week: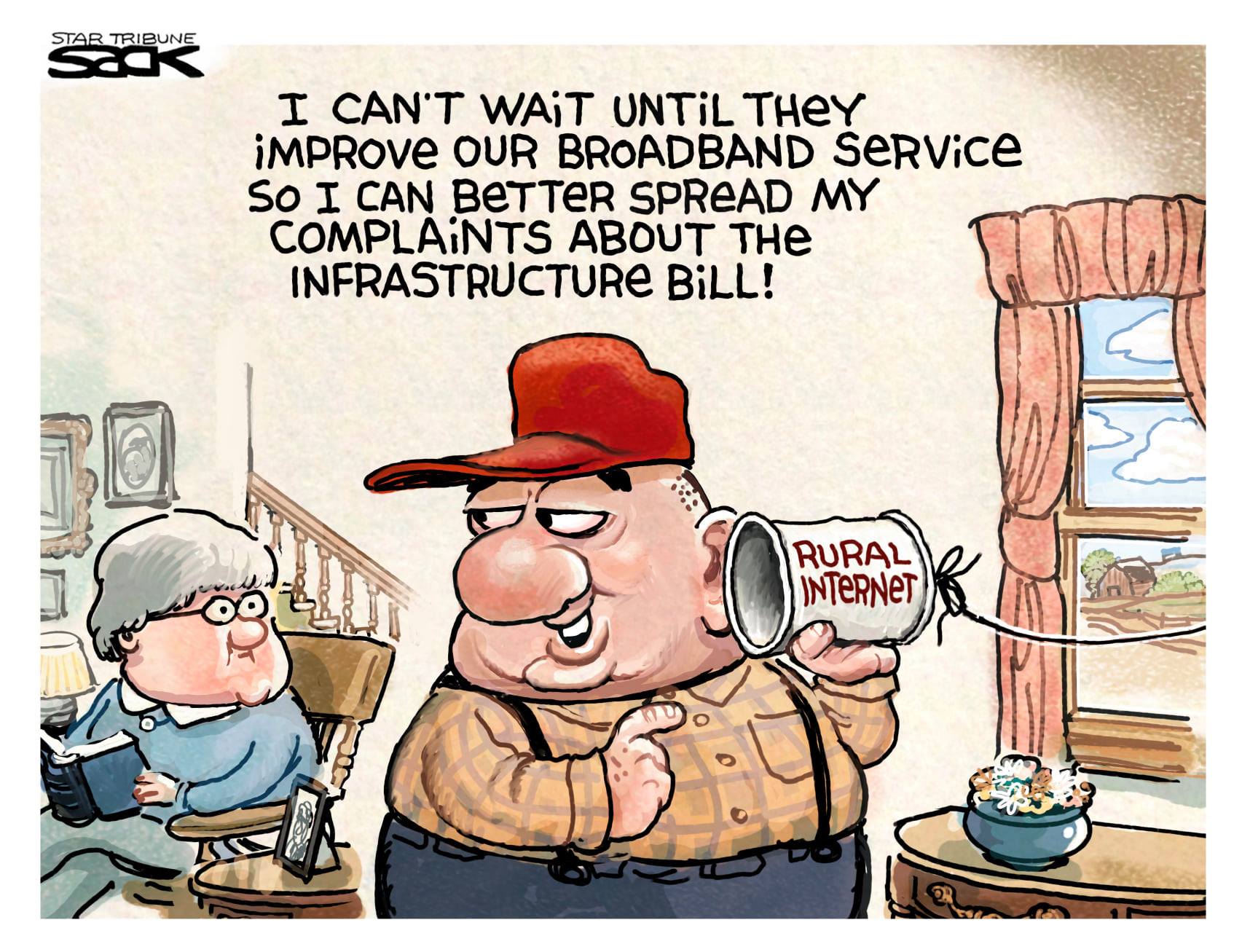 GOP is unfriending the infrastructure-positive Republicans: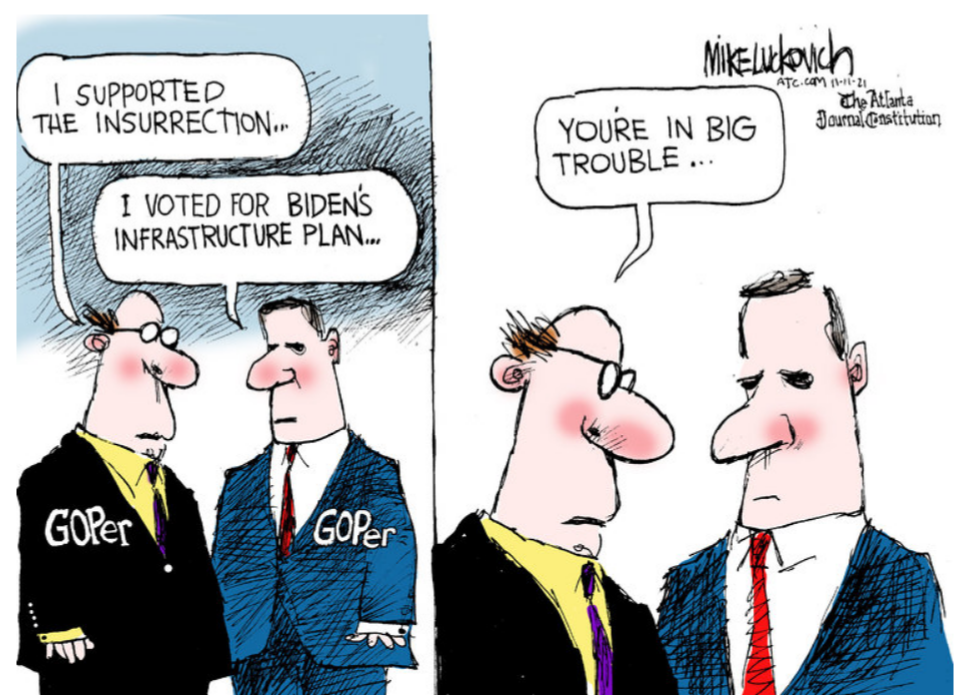 Ted Cruz is one of the smarmiest politicians ever, so it isn't a surprise that he tried to score political points by going after Sesame Street's Big Bird, who tweeted that he had gotten his COVID-19 vaccine. "My wing is feeling a little sore," he said, "but it'll give my body an extra protective boost that keeps me and others healthy." It was a nice thing to tell children now that they can get the vaccine. Cruz didn't see it as nice, nor did the Right-wing blowhards on Fox News and Newsmax. They were livid about Big Bird's message: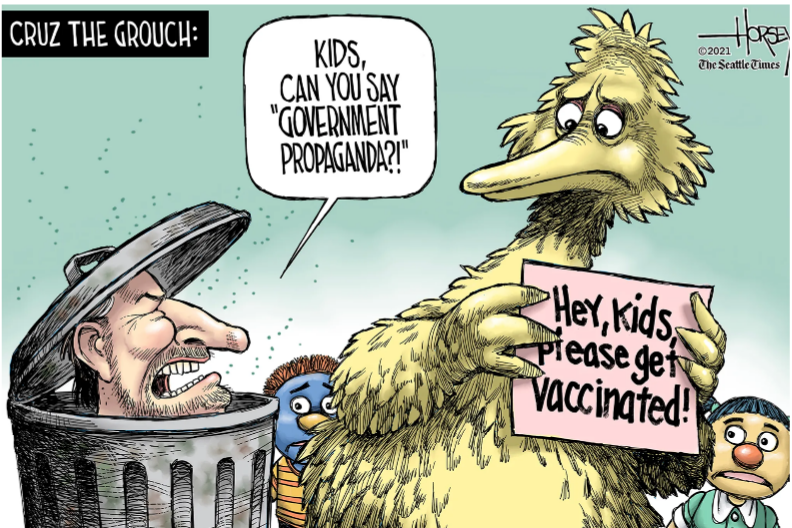 Republicans turn back the clock: