The Daily Escape: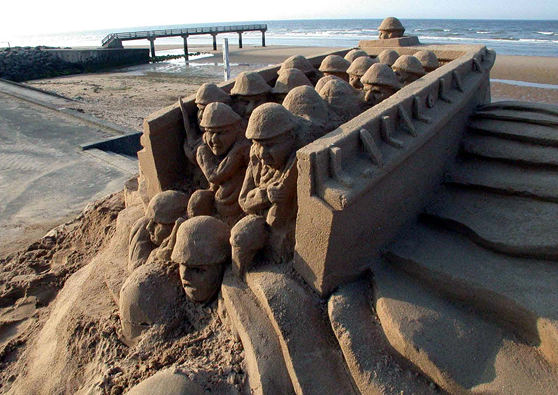 Sands of Remembrance" sand sculpture, Normandy, FR – made for D-Day, 2004 via
Wrongo's service occurred during the Vietnam War. His father was a WWII veteran. His grandfather, a WWI vet. Wrongo salutes all who have served!
Although we're out of Afghanistan, there are still too many remote places around the world where America's military are serving. While few Americans (less than 1%) have served, we all carry scars from our two decades-long mistaken adventure in the Middle East. For some, it is poorer roads, bridges, and airports. For others, it's a huge budget deficit that won't be paid off, even by our grandchildren's children.
On this day, Wrongo urges you to watch "American Veteran", a PBS series in four parts. It traces the veteran experience across our history. It also explores today's divide between civilian and veteran communities. From the viewpoint of this veteran, it rings true. It's a deeply moving story, one that draws civilian viewers into an unfamiliar culture. You can stream the first episode here.
We shouldn't forget that America is home to nearly 18 million military veterans, from the "Greatest Generation" to those who participated in our end game in Afghanistan. Despite Wrongo's antipathy towards our wars in the Middle East, he celebrates that America's military is part of our country's founding story. And military service is a transformative experience for all who have served.
One veteran, Max Cleland, lost both legs and an arm to a grenade outside of Khe Sanh during the Vietnam War. He went on to be a US Senator from Georgia. Cleland died on Tuesday at his home in Atlanta. Cleland was treated badly by Republicans when he ran for a second term in 2012. He was the target of an awful 30-second television spot that showed images of Osama bin Laden and Saddam Hussein while implying that Cleland was soft on terror.
Cleland's opponent, Saxby Chambliss, who was then a Republican House member, had avoided any military service. When Cleland lost the election to Chambliss, it helped the Republicans retake control of the Senate. The ad was perceived as having made a difference.
Max Cleland in 2009, in an interview with ABC News quoted a line from the poem, "The Young Dead Soldiers Do Not Speak," by Archibald MacLeish, in which the dead address the living:
"We leave you our deaths: give them their meaning."
Said Cleland, the former Secretary of Veterans Affairs:
"It is really up to us, the living…to provide that meaning for those who have given their all for this country."
And we still shirk these responsibilities today. It's always been the Democrats who have made the most effort to support the VA both in policy and funding. That doesn't mean that most veterans are Democrats. It is probable that the majority of enlisted and commissioned armed forces veterans remain Republicans.
It's a paradox: when the Republican Party is in control, it makes a poor effort to support veterans, but they're typically the ones sending our troops off to war.
Here's a moving song in honor of veterans everywhere, regardless of Party. Watch "Bring Him Home" from the play, Les Misérables. While not strictly about veterans, the song packs a wallop. Here, its performed to stunning effect by Alfie Boe and the Mormon Tabernacle Choir:
Sample Lyric:
He is young
He's afraid
Let him rest
Heaven blessed.
Bring him home
Bring him home
Bring him home