The Daily Escape: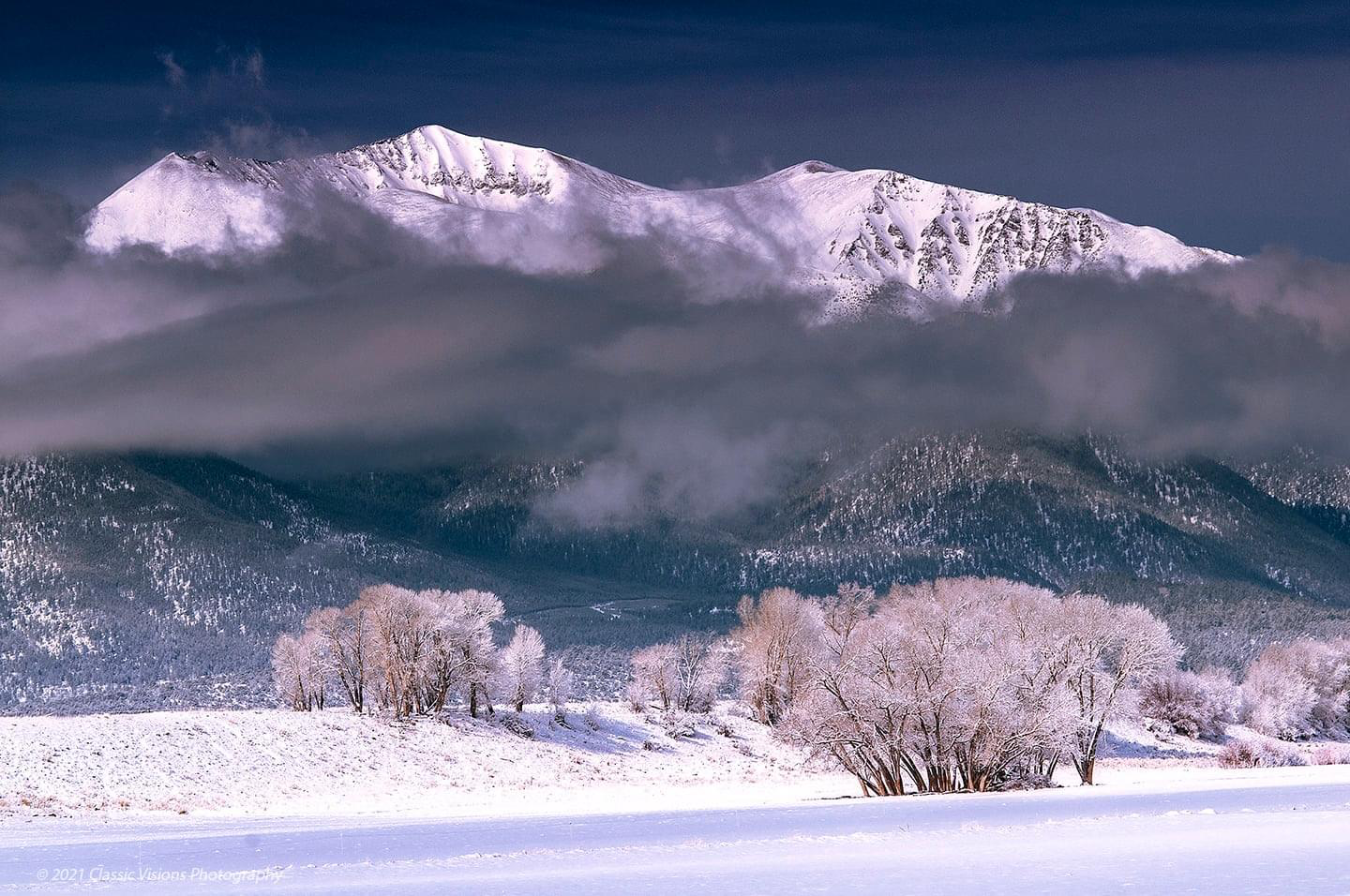 Nathrop , CO – December 2021 photo by Haji Mahmood
"And now we welcome the new year, full of things that have never been" – Rainer Maria Rilke
Wrongo hasn't published predictions since 2018, because while it became increasingly hard to imagine that things would get worse, every year they did. Every year. It's his fervent hope that despite evidence, things won't turn out to be even more terrible in 2022.
This year, maybe we should avoid saying "Happy New Year!" in favor of "Hopeful New Year." Let's simply resist saying "We're doomed!", because there's always reason for hope, even in the darkest times.
Pandemics do not go on forever. Even before vaccinations, eventually everyone who was susceptible was infected. Covid won't be any different. Ever so slowly, more people will get vaccinated, and better treatments will be found. We should remain hopeful that 2022 will see the pandemic fade.
Our economy is humming along. We have a normal President who displays empathy and common decency, and (rarely) zero common sense. But we're going to elect a new House in ten months, and most polls show the forecasted outcome to be Republicans in control.
If that happens, any progress made so far in the post-Trump era will end. If we are to avoid that, the Democratic Party will need more than a fresh coat of paint and a kitchen renovation, because the Party looks a lot like grandma's house just before it goes on the market.
That doesn't leave a lot of time for a makeover. The NYT said it best in its "Every Day Is Jan. 6 Now" editorial:
"Jan. 6 is not in the past; it is every day….It is regular citizens who threaten election officials and other public servants, who ask, "When can we use the guns?" and who vow to murder politicians who dare to vote their conscience. It is Republican lawmakers scrambling to make it harder for people to vote and easier to subvert their will if they do. It is Donald Trump who continues to stoke the flames of conflict with his rampant lies and limitless resentments and whose twisted version of reality still dominates one of the nation's two major political parties."
The violence every American witnessed at the Capitol one year ago demonstrated the will of Republicans to take over our democracy. And while the select committee in the House promises a detailed accounting and, presumably, some sort of referral for action to the DOJ, time is short.
Time is short for all of us.
In state after Republican-controlled state, efforts continue to put in place, under cover of law, mechanisms for Republicans to overturn elections results not to their liking.
So, the Capitol riot is continuing in a bloodless, legalized form that no police officer can arrest and that no prosecutor can try in court. The fact that half of Americans watched Jan 6 in real time and have concluded that it was a legitimate effort to prevent Biden's election and to restore Trump to office suggests that the decades-long project of the Right wing is nearly complete, unless we intervene. More from the NYT:
"Democrats aren't helpless, either. They hold unified power in Washington, for the last time in what may be a long time. Yet they have so far failed to confront the urgency of this moment — unwilling or unable to take action to protect elections from subversion and sabotage."
That means Democrats must shelve Build Back Better and throw everything they have at voting rights. The mealy mouth discussion by Sens. Manchin and Sinema about what might happen if the filibuster was suspended, is an artful dodge when the threat to democracy is so clear today.
Temporarily suspending the filibuster is not radical; standing on the sidelines and not doing anything to stop Republicans from ending our democracy is radical.
Time to wake up America! Democrats need to force the issue on their leaders. Wrongo's view is "no money until Voting Rights are passed". That means zero donations between here and the mid-terms unless Democrats act on voting rights. It means Wrongo replies to every tweet and email solicitation with that message.
To help the Democratic Party wake up, here's "Wake Up Everybody", originally by Harold Melvin and The Bluenotes, featuring Teddy Pendergrass. Teddy left the group for his solo career after this album.
Today we listen and watch John Legend's 2010 cover of the tune, backed by Questlove and the Roots Band along with Melanie Fiona, and Common. The song is as strong today as it was 47 years ago when it was released:
Sample Lyric:
The world won't get no better
If we just let it be
The world won't get no better
We gotta change it, yeah, just you and me