The Daily Escape: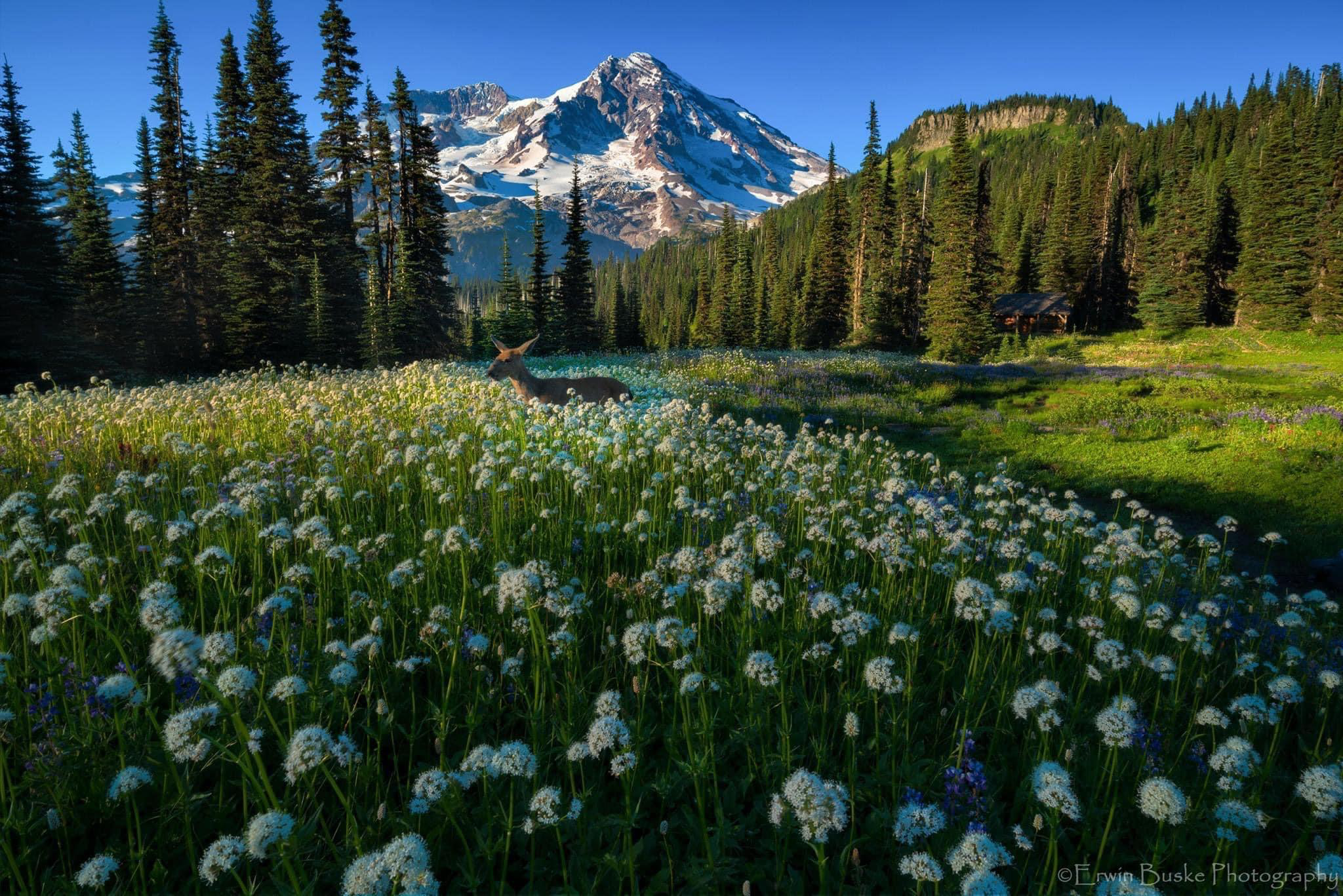 Field of Valerian at Indian Henry's Crossing with Mt. Rainier in background, WA – June 2022 photo by Edwin Buske Photography. Oh, and a deer.
For more than 100 years, there have been attempts to improve telephone, cable, and internet services in the rural areas of America. Most of them have failed because it isn't profitable for private firms to string wire to a small group of users who live at great distance from the nearest phone, or cable company.
This is a problem that requires government help, in particular, from the federal government. And there's an abundance of government grant and loan money available to help rural America build broadband connections in unserved areas.
Recently the bipartisan infrastructure bill created the Broadband Equity, Access and Deployment Program (BEAD) and the State Digital Equity Act to provide money to underserved areas through the National Telecommunications and Information Administration.
The $42.5 billion BEAD Program automatically gives each state $100 million to start, but to receive additional broadband funding, local governments must apply for grants that are due by July 18. The State Digital Equity Act has $1.5 billion to allocate, and state's letters of intent are due July 12. Not much time left.
The American Rescue Plan Act (ARPA) also has a pool of $10 billion to expand broadband through the Coronavirus Capital Projects Fund, supervised by the Treasury Department. States had until Dec. 2021 to apply for the fund program, and until Sept. 24, 2022, to submit a grant plan to the Treasury.
But as always, distributing government money efficiently is an issue. Early in June the Government Accountability Office (GAO) issued a report "National Strategy Needed to Guide Federal Efforts to Reduce Digital Divide," that found many flaws with these programs:
"Federal broadband efforts are fragmented and overlapping, with more than 100 programs administered by 15 agencies. Many programs have broadband as their main purpose, and several overlap…"
More:
"Despite numerous programs and federal investment of $44 billion from 2015 through 2020, millions of Americans still lack broadband, and communities with limited resources may be most affected…"
Here's the GAO's chart of the overlapping jurisdictions: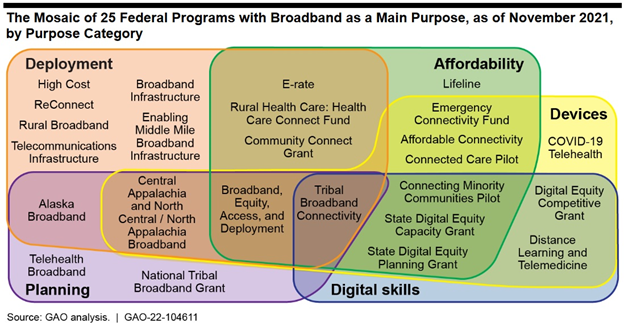 Looks impossible to navigate. The WSJ weighed in focusing on the FCC's role. They concluded:
"…many residents are still stuck with service that isn't fast enough to do video calls or stream movies—speeds that most take for granted. Many communities have been targeted for broadband upgrades at least twice already, but flaws in the programs' design have left residents wanting.
The WSJ found that areas with a combined population of 5.3 million people had previously been fully or partially covered by at least one federal broadband funding program. But the FCC's rules didn't require ISPs or Telecoms to serve all customers equally, as long as they served a minimum number of locations statewide.
That allowed internet providers to pick only the profitable customers to upgrade. This meant they could take public money while leaving pockets of homes and businesses without access.
Wrongo detests that public monies are lining the pockets of private firms who won't solve their own problems. He detests that our government can't get out of its own way, even after Congress rouses from its slumber and allocates funds that can help out rural Americans.
Republicans blame big government inefficiency, and they have a point. They also laud Elon Musk's Starlink low-earth orbit satellite internet service. They say it proves that private industry can solve this problem. Except that there's a 2+ year wait for Starlink services in much of rural America. And it's estimated that the Starlink ground antenna costs $2500 to build, but is sold for $600. Who's paying the difference?
And Starlink satellites have to connect to ground stations (NOCs) that connect to the web. Starlink's speeds have slowed recently because they haven't built NOCs fast enough.
It will never be profitable for private firms to connect the last mile to very rural homes. So there's a role for government, properly managed. We subsidize the farms, roads, postal service, telephones and now, the broadband needs of rural people. Apart from factory farms, these are among the least economically productive areas in our economy.
And the best part? They hate the people who foot the bill!
Time to wake up America! Our public-private "partnerships" that are trying to get internet services to the toughest to reach parts of the country aren't working. They need more red-tape cutting and more corporate CEO feet held to the fire if they are to work.
This can be done. America went to the moon before we put wheels on luggage.
To help you wake up, let's spend a few minutes with Paul McCartney, who turned 80 recently. Take this opportunity to cherish his presence. Here's McCartney doing "Jet" live at Glastonbury in 2004 when he was 62:
Don't worry, nobody knows what the song is about.