The Daily Escape: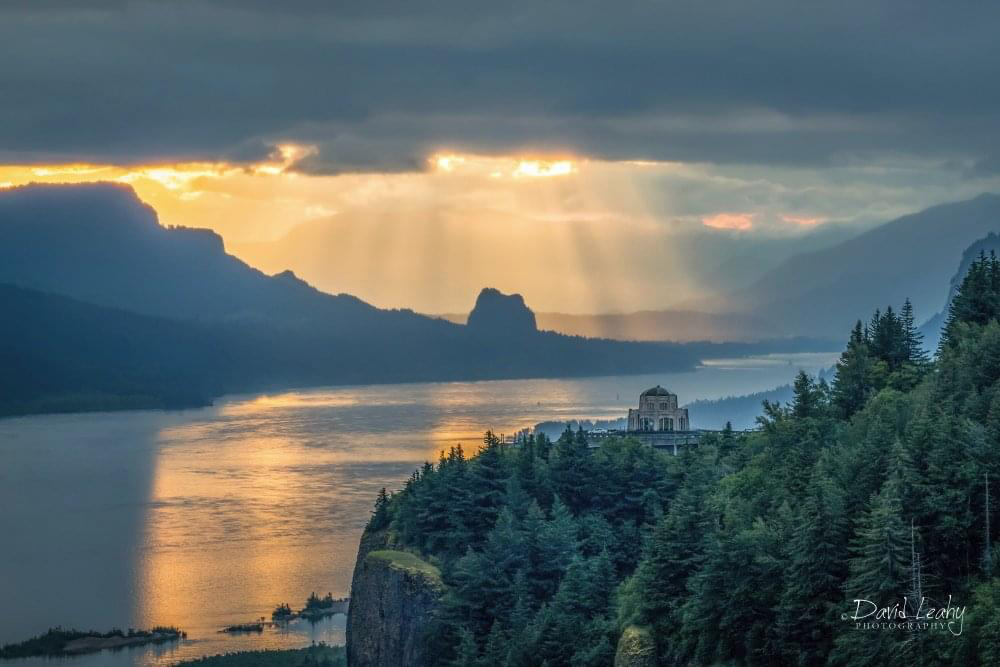 Rainy morning, with Vista House at Crown Point in right foreground, Columbia River Gorge, WA – June 2022 photo by David Leahy Photography
Wrongo has written before about the crushing burden of consumer debt in the US. Medical debt is an American disgrace, and Noam Levey, Kaiser Health News (KHN) Senior Correspondent has written an excellent piece about it. He says that 100 million people in America, some 41% of adults, owe some level of debt to healthcare providers.
But most studies don't reveal the actual extent of the debt because much of it appears as credit card balances, loans from family, or payment plans arranged with hospitals and other medical providers. To calculate the true extent and burden of this debt, KHN partnered with NPR, and the Kaiser Family Foundation (KFF) to conduct a nationwide poll designed to capture not just bills patients couldn't afford, but other forms of borrowing used to pay for health care.
The results are contained in the KFF Health Care Debt Survey. The KFF poll found that half of US adults don't have the cash to cover an unexpected $500 health care bill. As a result, many simply don't pay their medical bills. The flood of unpaid bills has made medical debt the most common form of consumer debt in America.
Over the past five years, more than half of US adults report they've gone into debt because of medical or dental bills. Moreover, a quarter of adults with health care debt owe more than $5,000, and about 20% with any amount of debt said they don't expect to ever pay it off.
Debt incurred for health care is forcing many families to cut spending on food and other essentials. The poll also found that millions are being driven from their homes or into bankruptcy:
So, if 100 million people were in debt and 17% declared bankruptcy or lost their home, that's 17 million people! The KFF poll found that the debt is also preventing Americans from saving for retirement, investing in their children's educations, or buying a home. And debt from health care is nearly twice as common for adults under 30 as for those 65 and older. And that age cohort is supposed to be much healthier than the elderly.
Perversely, about 1 in 7 people with medical debt said they've been denied access to a hospital, doctor, or other provider because of unpaid bills. An even greater share (two-thirds) have put off care that they, or a family member need because of the cost.
Hospitals are among the culprits. They are capitalizing on their patients' inability to pay. Hospitals and other medical providers are pushing millions of patients who can't afford to pay into credit cards and other loans. These are high interest rate loans, carrying rates that top 29%, according to research firm IBISWorld.
This collections business is fed by hospitals, including public university systems and nonprofits granted tax breaks to serve their communities, who sell the outstanding debt to collections companies.
Welcome to the best country on earth, (maybe) one that doesn't have the best health care system (and certainly one without  health insurance for all). We have a system which shackles 100 million people to medical debt while at the click of a computer mouse, we send $billions in armaments overseas before those same dollars are recycled into the coffers of our Military-Industrial complex.
That's all for this week. It's time for our Saturday Soother, when we take a break from the J6 public hearings and whether Ginni Thomas was another Trumpist plotter. Let's focus on calming ourselves for whatever insults are coming next week.
Here at the Mansion of Wrong, we're engaged in an air conditioning project, adding more central air to our home. Hey, we're aware of the crummy stock market, and the rampant inflation, but consume we must.
To help you clear your head on this warm weekend, grab a seat outdoors and brew up a cup of Supernatural coffee ($18.45/12 oz.) by Lee, MA's own Barrington Coffee Roasting Company. This espresso is said to have flavors of Concord grape, dark chocolate, plum and tangle berry pie!
Wrongo has no idea what tangle berries look like, much less what they taste like.
Now, put on your wireless headphones and listen to the "Adagio for Oboe, Cello, Organ and Strings", also known as "Elevazione" or "All'Elevazione" by Domenico Zipoli.
Zipoli was an Italian Jesuit priest who lived much of his life in what is now Argentina. He studied with Scarlatti, became a Jesuit, worked as a missionary, and died in 1726 in Argentina at age 38. If fate had granted Zipoli another 20 to 25 years, he might be regarded today as a major composer. Here it's performed in 2015 by the Collegia Musica Chiemgau conducted by Elke Burkert :