The Daily Escape: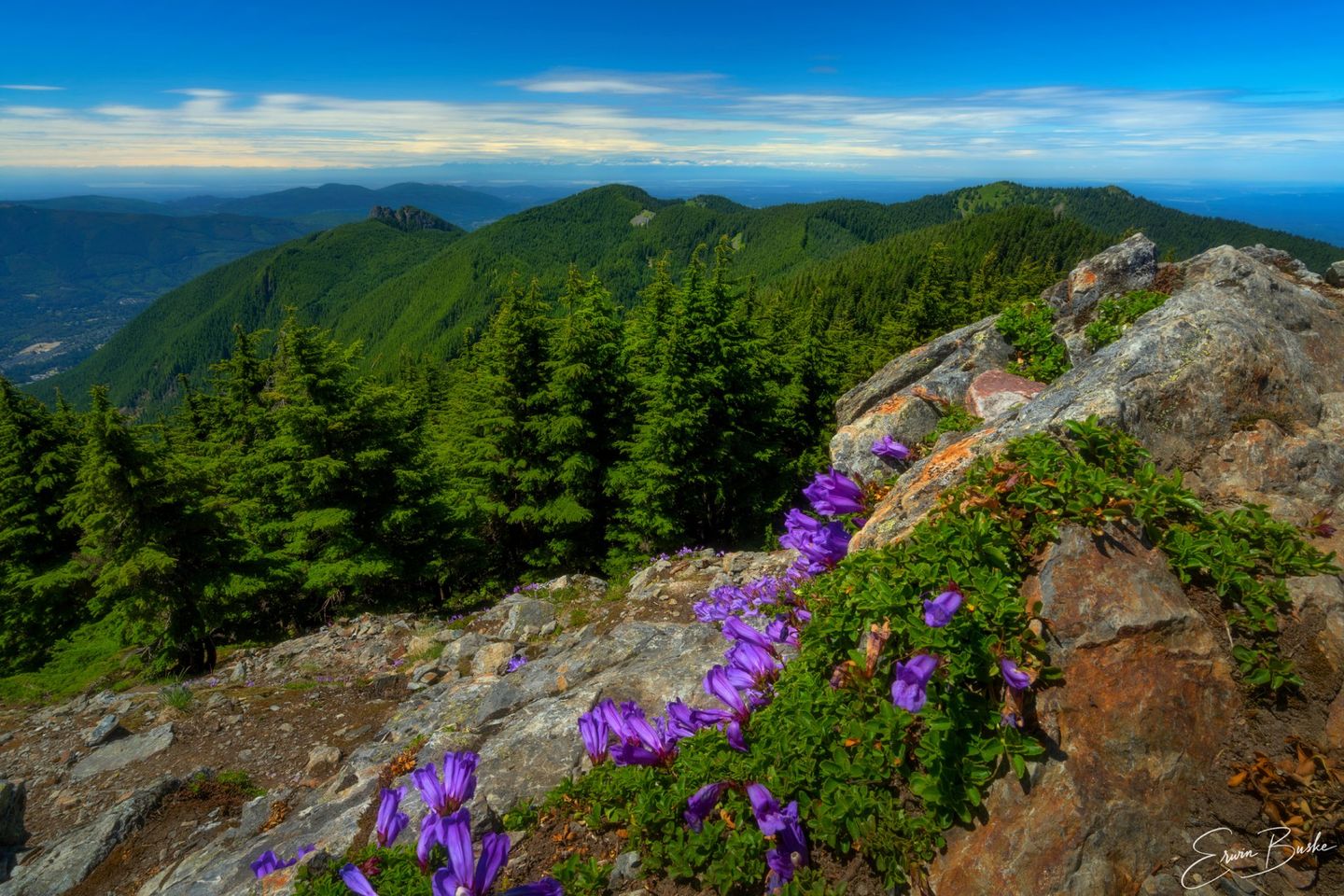 Mount Teneriffe, WA, with Penstemon flowers in foreground – July 2022 photo by Edwin Buske Photography
Wrongo and Ms. Right watched the House Select Committee hearing on Thursday night. It was supposed to be the final hearing, but it turned out to be only the "season finale". The Committee members made it clear that additional witnesses are giving up their reluctance to testify on the record, so there's more coming in September.
Thursday night laid out that Trump and his enablers had a plan to subvert our democracy even after their legal effort to change votes in swing states had failed. And it's frightening how close they came to pulling it off.
The 18-month focus of the media about how Trump did nothing while the rioters took over the Capitol was absolutely the wrong way to look at the White House's inaction. Charlie Sykes has it right: (emphasis by Wrongo)
"Trump didn't call off the mob because it was doing precisely what he wanted; and he was using the delay caused by the attack to lobby his allies to help execute his coup. Only when it was apparent that the assault on the Capitol had failed, did he bother to call off his Insurrection."
The Committee charged that Trump was derelict in performing his duties as president. He was aware in real time of the violence at the Capitol. He could have given orders to his followers to end the attack, or counter it with troops, but he did nothing.
Given every American president's Constitutional obligation to "take care that the laws be faithfully executed," Trump was derelict. Liz Cheney said it best:
"Can a president who was willing to make the choices Donald Trump made during the violence of Jan. 6 ever be trusted with any position of authority in our great nation again?"
You already know the answer.
And if you think that it might be acceptable for Trump to return to the office of president, check out what Axios reported on Friday: (brackets by Wrongo)
"Former President Trump's top allies are preparing to radically reshape the federal government if he is re-elected….Trump allies are working on plans that would potentially strip layers [of staff] at the Justice Department — including the FBI, and reaching into national security, intelligence, the State Department and the Pentagon, sources close to the former president say."
They're building the breeding grounds for a new wave of right-wing personnel to infiltrate and run the US government should Trump be elected president:
"The heart of the plan is derived from an executive order known as "Schedule F," developed and refined in secret over most of the second half of Trump's term and launched 13 days before the 2020 election."
That's when Trump started selectively placing his toadies in key positions in various agencies in case he needed to get shit done. More from Axios:
"Well-funded groups are already developing lists of candidates selected often for their animus against the system….The preparations are far more advanced and ambitious than previously reported…..These groups are…curating an alternative labor force of unprecedented scale and preparing for legal challenges and defenses that might go before Trump-friendly judges, all the way to a 6-3 Supreme Court."
Scary, or what?
Trump signed the executive order, "Creating Schedule F in the Excepted Service," in October 2020, which established a new employment category for federal employees. It was rescinded by Biden after he took office.
Axios says that an initial estimate by the Trump official who came up with Schedule F found it could apply to as many as 50,000 federal workers, enough to make a profound difference in shaping and interpreting US policy, or to help Trump succeed in establishing an autocracy.
Schedule F could make many civil service managers political hires, meaning nearly 100% turnover when a new Party takes the White House. That would take us back to how the civil service operated in 1883, prior to the Pendleton Act.
Both Parties are lining up. Democrats have attached an amendment to this year's defense bill to prevent a future president from resurrecting Schedule F. The House passed Connolly's amendment but Republicans plan to block it in the Senate.
If democracy survives only because America gets lucky, or because pro-democracy forces play an almost perfect game, then we're in big trouble.
This should give you the jitters. But it's Saturday, and time for us to chill out in a hot country. Here on the Fields of Wrong, the grass is brown and crunchy. There will be no fixing that until the heat wave breaks and the rains return.
To help you chill, grab a mug of iced coffee, and sit by a window with an air conditioner. Now, listen to the most melodic of the 37 concertos for solo bassoon composed by Vivaldi. Here's his "Concerto in E minor for Bassoon", played in 2015 by the Karol Szymanowski School of Music Orchestra in Warsaw, Poland with Klaudia Abramczuk, bassoon soloist. These are school kids:
Bach never wrote a bassoon concerto.