The Daily Escape: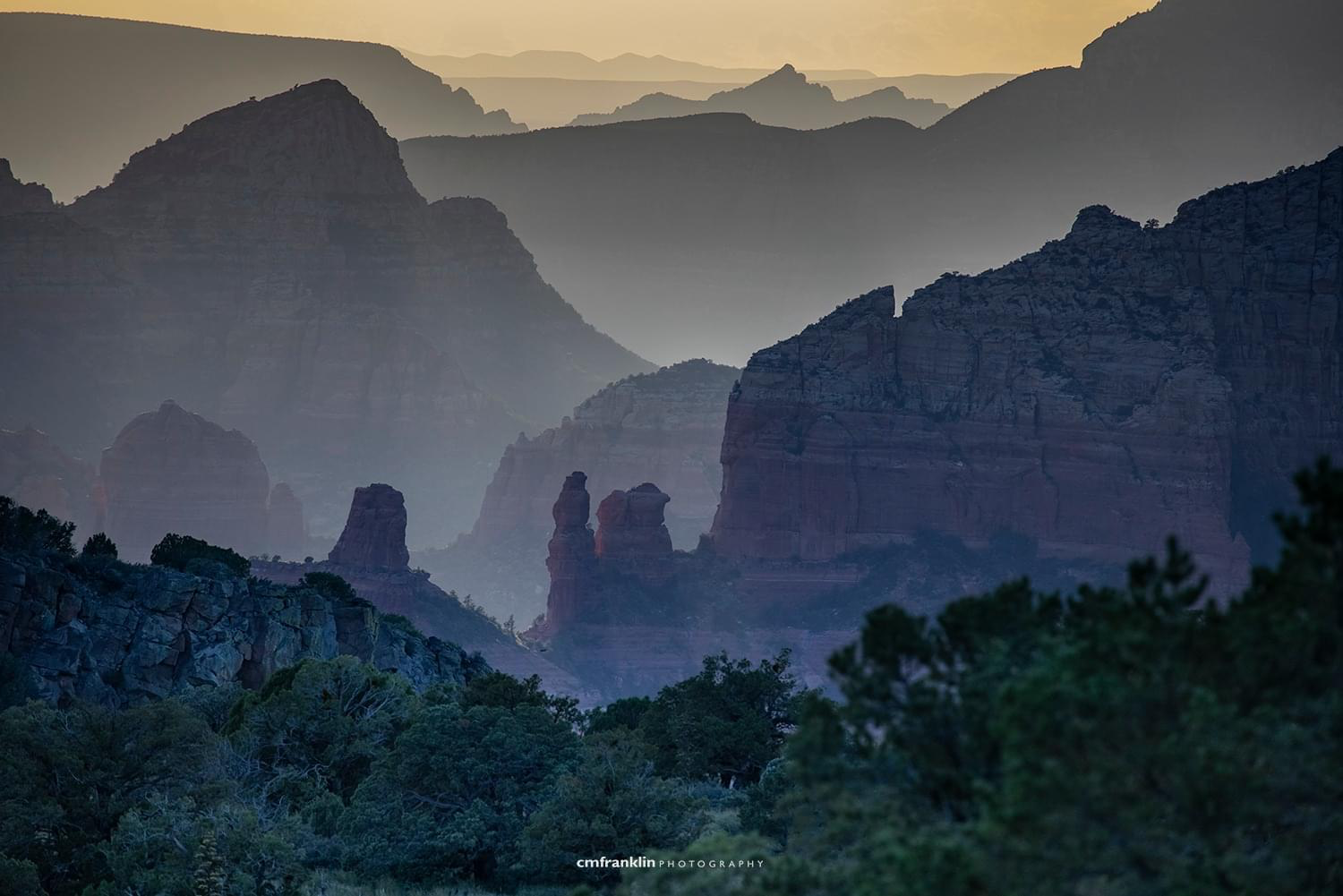 View from Schnebly Hill Road, Sedona, AZ – August 2022 photo by Cathy Franklin
As we discussed yesterday, DeSantis is one of many Republican politicians who are working overtime to convince MAGA-land that they are yuuge Christians. Here's DeSantis in February, talking to students at the very Christian Hillsdale College:
"Put on the full armor of God. Stand firm against the left's schemes. You will face flaming arrows, but if you have the shield of faith, you will overcome them, and in Florida we walk the line here. And I can tell you this, I have only begun to fight."
The Tampa Bay Times takes issue with their governor: (emphasis by Wrongo)
"The biblical reference DeSantis is using is from Ephesians 6, and calls on Christians to spiritually arm themselves against the "devil's schemes." In DeSantis' speeches, he has replaced the "devil" with "the left" as he tries to mobilize supporters ahead of his reelection in November and possibly a run for the White House in 2024."
It's dangerous that Republicans on the ballot in November are openly saying that the only true Americans are Christians. They're portraying the battle against their political opponents as between good and evil.
The Tampa Bay Times (TBT) says that it has some religious leaders worrying that such rhetoric could mobilize fringe groups who may be prone to violence. From the TBT: (emphasis by Wrongo)
"Christian nationalism for many Conservatives has become a political identity, and unlike Conservative politicians in the past who used their faith to inform their arguments, DeSantis is more aggressive, using war imagery to describe the political debates as a battle over who will be the better American."
The TBT quotes Philip Gorski, a comparative-history sociologist at Yale University who co-wrote the book "The Flag and the Cross: White Nationalism and the Threat to American Democracy":
"The full armor of God passage is a favorite amongst certain types of Pentecostals who really do see the world in terms of spiritual warfare,"
They also quote Allyson Shortle, a political science professor at the University of Oklahoma who has co-written the book "The Everyday Crusade: Christian Nationalism in American Politics":
"I think DeSantis has really stood out as someone who has effectively used this type of God talk and used these types of Christian nationalist talking points to curry favor…"
For Republicans, talking about the importance of faith is nothing new, and debates about how visible Christianity should be in our society — whether it be prayer in schools or religious symbols outside American courthouses — have been ongoing for decades.
But there is something different emerging: A strain of Conservative thought that sees the country's politics as an open battle between good and evil. TBT quotes Marilyn Mayo, senior research fellow at the Anti-Defamation League's Center on Extremism:
"There's always been candidates who espouse Christian values, but what I think is very different is you have many people on the right and the far right seeing the current situation in the US as a battle, an absolute battle, between good and evil….And the good are the mostly white, Christian conservatives. And on the other side are the liberals, progressives, left-wingers, and certainly the LGBTQ community…. They really see this as a battle and paint the other side as…an evil force that needs to be defeated."
Shortle says that Christian nationalism is the belief that a "true" American should be Christian. Some Christian national extremists say that the US is no longer a Christian nation, that it's been taken over by secular forces.
Over the summer, Florida social studies teachers were alarmed that a civics training session led by DeSantis' administration had a "Christian nationalism philosophy that was baked into everything" that was taught.
The initiative emphasized that the Founding Fathers did not desire a strict separation of state and church. State trainers also told teachers that the 1962 US Supreme Court case that found school-sponsored prayer violated the establishment clause of the First Amendment was unjustly decided.
In July, DeSantis was endorsed by Moms for Liberty, a group that focuses on adding Christian nationals to school boards across America. It has more than 200 chapters and 95,000 members in 38 states. At the group's first national summit, DeSantis said that he intended to "leave Florida to God and to our children better than I found it."
And what is "better" is in the eye of the beholder.
On to our Saturday Soother. We had our first sub 50° night on Thursday. Soon the indoor plants will return to the sunroom.
Take a few moments of your Saturday and listen and watch "Bachianas Brasileiras No. 5" by Heitor Villa-Lobos. He wrote a series of nine suites between 1930 and 1945. Here the 5th is played by Hauser on cello and Petrit Çeku on guitar in 2017 at the Lisinski Concert Hall in Zagreb: