The Daily Escape: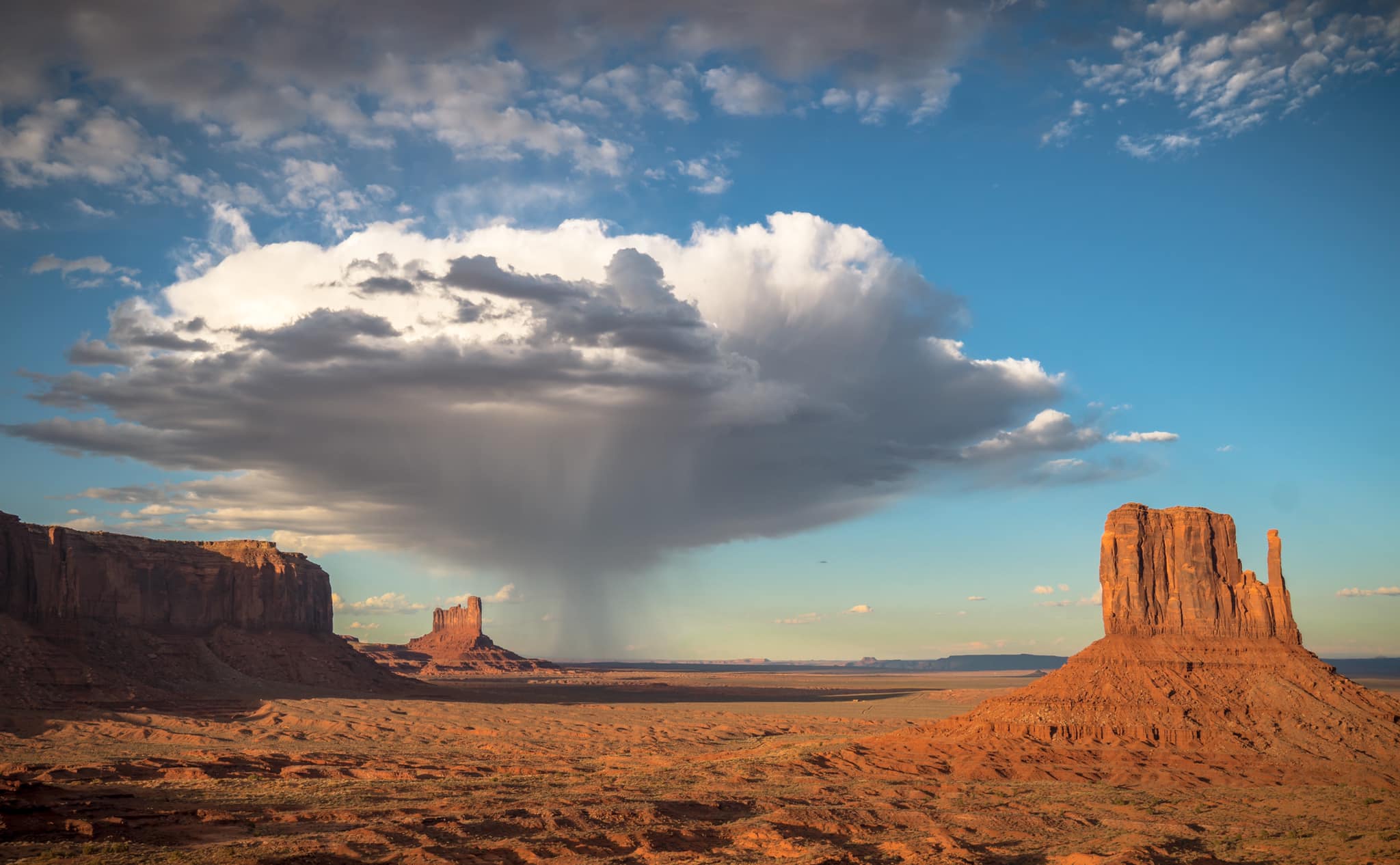 Monument Valley rainstorm – October, 2022 photo by Martine Hubscher
Wrongo and Ms. Right are heading home to the land of disputed elections after a very fine week in London. We hadn't been to England since 2019, and it was at least a little sad to learn that some of the local places near our hotel had succumbed to the pandemic. On the bright side, our favorite Indian place was open and thriving.
We can't start Monday without acknowledging the death of Jerry Lee Lewis. He was the last one standing of the founding generation of rock 'n rollers. Wrongo knows all of you are saying "But, what about Elvis"?
Early Elvis changed the world, but he died young and was already long past his peak when he did. Bill Haley, Chuck Berry, Little Richard, and Buddy Holly all exited before the Killer. None had his longevity. And that along with his talent is why he's a greater artist than almost anyone of that generation of the major early rock stars. Some might quibble and say what about Sam Cooke? Or Dion?
As for Jerry Lee's personal life, you know the story and it wasn't good. He may be the ultimate example of differentiating between the art and the artist.
One wonderful and overlooked part of the Killer's early career was an impromptu jam session involving Elvis Presley, Jerry Lee Lewis, Carl Perkins, and Johnny Cash made on December 4, 1956, at the Sun Record Studios in Memphis, Tennessee. An article about the session was published in the Memphis Press-Scimitar under the title "Million Dollar Quartet".
A recording of the session was released in Europe in 1981 as The Million Dollar Quartet with 17 tracks. Subsequently, it inspired a musical called the "Million Dollar Quartet" that played on Broadway and in the West End. Both are closed now, but it does occasionally travel in the US. Wrongo loved it when he saw it. See it if you can.
Regarding the hammering attack on Paul Pelosi by a Right Wing MAGA fellow traveler, it should be seen as an assassination attempt on the highest ranking Democrat in Congress and the woman who is second in line of succession to the presidency.
CNN is reporting that the man who attacked Pelosi had with him a bag that contained multiple zip ties.
This is all part of a pattern. First there was the assassination plot against the Governor of Michigan. Then there was a violent insurrection on Jan. 6, the attempted coup. These were followed by assassination threats/plots against multiple Democratic members of Congress and the members of the Jan. 6 Committee.
Now, on the verge of a very important midterm election, the Speaker of the House's husband is beaten. From Brian Kass an Atlantic contributor and an associate professor at University College London:
"This week, 3 men were convicted of trying to kidnap Gov. Whitmer, a man pleaded guilty to threatening Rep. Eric Swalwell, a right wing conspiracy theorist tried to murder Speaker Pelosi, shortly after Bannon, who called to behead Fauci, was sentenced to prison. This isn't random."
More:
"There are dangerous people of all stripes. But Republicans, unlike Democrats, are actively encouraging violence, posing with guns in incendiary ads that speak of "hunting" opponents, or depict shooting actors who play Biden and Pelosi. Plus, there's QAnon and the election lies."
Still more: (emphasis by Wrongo)
"When a Supreme Court justice was threatened, Democrats didn't just condemn it, they passed a law which Biden signed to give them more protection and security. This isn't remotely a both sides thing. Which Biden adviser called to behead a public health official? Get real."
Finally:
"Regardless, I fear that a) there will be assassinations; and b) political violence will be a routine feature of US political life, particularly around elections, for the foreseeable future. It's a really dark place for our politics and it's being caused, mostly, by Republicans."
A Trump supporter attempted to assassinate a Congressional leader. That should be seismic political news. And yet, it's just another news story. The growing awareness that we are no longer willing to settle policy disagreements with elections will dismantle the American experiment.
Time to wake up America! You only have a few days left to vote. You only have a few days to turn the tide on the MAGA movement. To help you wake up, listen to Jerry Lee do something you've probably haven't heard.
Here's "Me and Bobby McGee" a tune written by Kris Kristofferson and Fred Foster. It was originally performed by Roger Miller, but we all remember Janis Joplin's cover of the song, recorded a few days before her death in October 1970.
In 1971, Jerry Lee took Kristofferson's song and turned it into something only Jerry Lee could do: