The Daily Escape: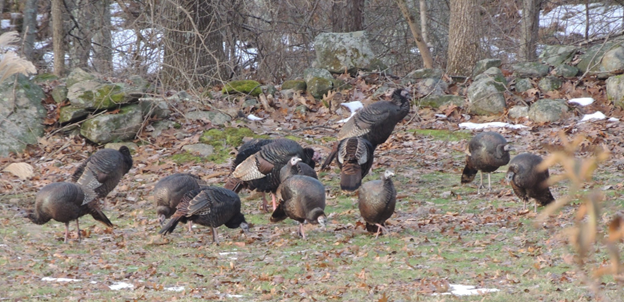 Turkeys on the fields of Wrong – November 2018 photo by Wrongo
(This is the last column before Thanksgiving. Words from Wrongo will resume on 11/28.)
Thanksgiving is Wrongo's favorite holiday. As a secular holiday, you're not required to do anything. The celebration is subdued, and around here, we focus on gratitude. Wrongo always thinks about how grateful we should be to live in this wonderful country of ours, and how grateful we are for all of America's gifts.
We're lucky to live in a land of plenty: Most of us have employment, most have access to quality healthcare. Most of us have a warm place to sleep at night, most have hope for their kids' future.
There are many of us who do not have those things, and it is our collective responsibility to help them get to a place where they are physically and mentally secure. They need our help. And we know what to do, and we know how  to do it.
This is our 2498th column. Wrongo wants to thank all who have stuck around since the beginning in 2010. He thanks all of you who read it now, and that includes readers in more than 60 countries. Special thanks to long haulers Monty B, Fred VK, David P, Pat M, and Terry McK, among others. Wrongo is very grateful to all of you!
Wrongo's wish is that you allow yourself to feel gratitude today and share it with those around you. The secret of life is to affect others in a positive way.
We're truly grateful for those who came before us, and to our family members and friends who we can't be with today. We're thankful to those who are on the front lines in military service, or at home in our hospitals, schools, firehouses, and police stations. Happy Thanksgiving!
The NYT has an article about how online gambling companies have gotten their noses under the tents at colleges and universities:
"In order to reap millions of dollars in fees, universities are partnering with betting companies to introduce their students and sports fans to online gambling."
The Times says that Michigan State University's athletic department inked a deal with Caesars Sportsbook in 2021. Caesars proposed a deal worth $8.4 million over five years. Michigan signed on the line. Other schools have also struck deals to bring betting to campus. More from the NYT:
"After Louisiana State University signed a similar deal in 2021 with Caesars, the university sent an email encouraging recipients — including some students who were under 21 and couldn't legally gamble — to "place your first bet (and earn your first bonus)."
Since the Supreme Court's decision in 2018 to let states legalize online betting, gambling companies have been working to convert traditional casino customers, fantasy sports aficionados and players of online games into a new generation of digital gamblers.
And universities, with their captive audience of easy-to-reach students, have emerged as an especially enticing target. So far, at least eight universities have become partners with online sports-betting companies.
And a dozen other universities' athletic departments and booster clubs have also signed agreements with brick-and-mortar casinos. For example, Turning Stone Resort and Casino is the official resort of Syracuse University's 'Cuse Athletics Fund. These gambling partnerships bring in funds that schools can use to sign marquee coaches and build their sports teams.
Wrongo rarely gambles, but he has a mostly lassiez faire attitude about it. He's skeptical about prohibiting it. But the idea by universities of "let's introduce our students to online gambling for our profit" sounds, well, wrong. The hypocrisy here is that the sports betting companies are offering "a piece of the action" to schools that not long ago swore that gambling would ruin college sports.
It isn't exactly the same, but do you recall that back in the 80s, banks introduced credit cards and credit card debt to students? And how did that work out? You can almost imagine hearing: "Want to go double or nothing on those student loans, kid?" The most relevant quote from the NYT is:
"College athletics have become profit maximizing opportunities for athletic directors and coaches."
Wrongo thinks this has nothing to do with the educational mission of colleges and universities. OTOH, the ol' ball coach is saying: "Wanna bet"?
Let's cruise into the holiday by listening  to a tune that is new to Wrongo, Josh Groban's "Thankful" performed live from his "Noel" album. It's on point with Wrongo's thinking about Thanksgiving:
Lyrics:
Somedays we forget
To look around us
Somedays we can't see
The joy that surrounds us
So caught up inside ourselves
We take when we should give.
So for tonight we pray for
What we know can be.
And on this day we hope for
What we still can't see.
It's up to us to be the change
And even though we all can still do more
There's so much to be thankful for.
Look beyond ourselves
There's so much sorrow
It's way too late to say
I'll cry tomorrow
Each of us must find our truth
It's so long overdue
So for tonight we pray for
What we know can be
And every day we hope for
What we still can't see
It's up to us to be the change
And even though this world needs so much more
There's so much to be thankful for