The Daily Escape: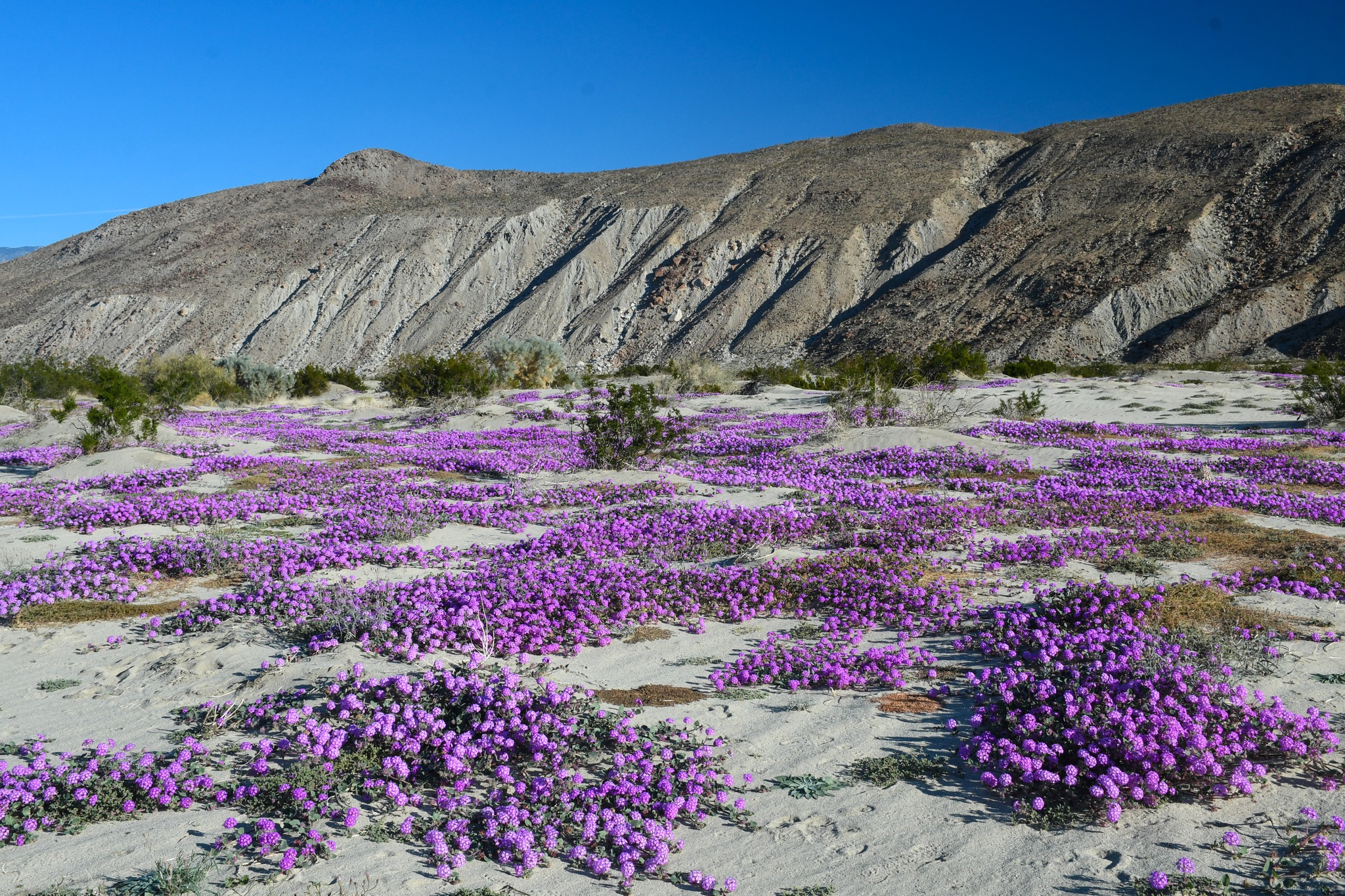 Verbena in bloom, Anza-Borrego Desert, CA – November 2022 photo by Frank Sengpiel
The midterms are over and some interesting analysis is now available. Kyle Kondik at Sabato's Crystal Ball has an analysis of how Republicans took the majority in the House by winning more districts that Biden carried than Democrats won districts carried by Trump. From Kondik:
"There are currently slated to be 18 Republicans in Biden seats and just 5 Democrats in Trump seats."
Kondik reports that the overall number of "crossover" districts — seats that vote for one party for House but the other party for president — has been generally on a downward trajectory. Back in 2008, Democrats held nearly 50 districts that Republican presidential nominee John McCain carried. But many of those districts went red in 2010 and, aside from 2018, Democrats have won relatively few districts won by the other side's presidential candidate.
And Republicans have now won more of these seats in 6 of the last 7 elections, as the overall number of crossover districts has generally declined. Kondik says:
"Overall, Republicans won 5 double-digit Biden districts…while Democrats won just 1 double-digit Trump district. If those districts had voted in line with their presidential partisanship, the Republican House edge would be just 218-217."
Immediately post-election, many Dems focused on New York where six House seats flipped to the GOP in districts that Biden had won in 2020. Democrats may think that a weak campaign by Democratic Gov. Kathy Hochul (D-NY) hurt them. But the Albany Times Union recently reported that Republican turnout in New York far outpaced Democratic turnout, with GOP turnout reaching 2020 presidential levels on Long Island:
"Republican turnout was substantially higher than for Democrats, 63 to 47 percent, according to an analysis of unofficial election results obtained by the Times Union from the state Board of Elections."
This was a problem for Democrats all across the US. Tom Bonier, CEO of TargetSmart, an industry leader in using political data, tweeted about another way to look at the poor turnout by Democrats: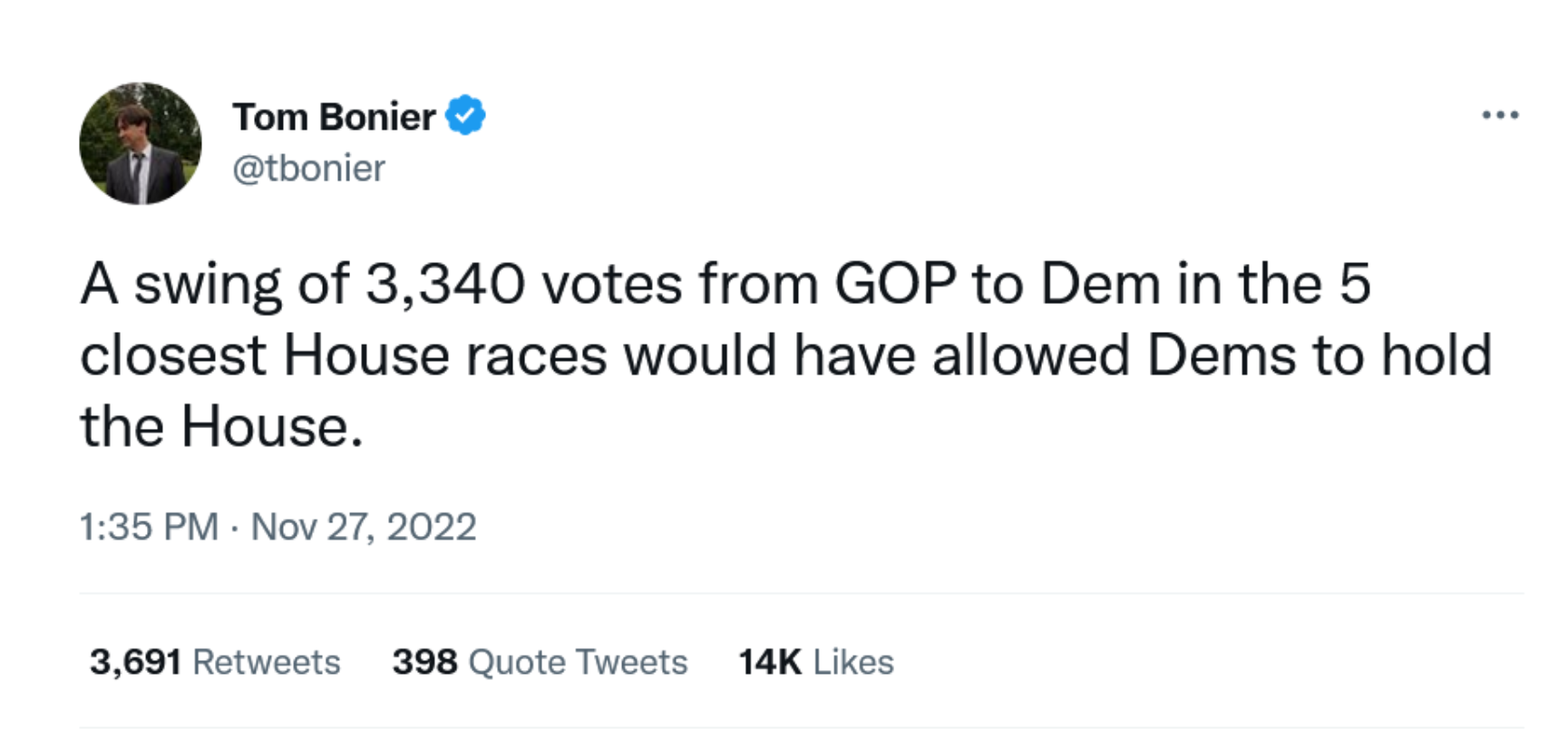 The possibly flippable districts Bonier is talking about are: IA3, NY17, MI10, CA13, CO3. Add to those the other five NY districts won by Biden that flipped, and you could have had a decent Democratic majority in the House.
But instead, we'll be listening to the presumed House Speaker Kevin McCarthy say things like he did on Wednesday. He sent a letter to the January 6th Committee demanding that it preserve "all documents and transcripts" gathered by the Committee.
You should know that his demand is pointless. The Committee had already announced it will publish all documents and transcripts to ensure that Republicans do not destroy evidence when they take over the Committee.
As you may have already concluded about this election cycle, Pew Research says that in-person voting increased compared with 2020. A clear majority of Americans who voted in this year's Congressional elections say they cast their ballots in person. Nearly two-thirds of voters (65%) submitted ballots in person, including 44% who say they voted on Election Day and 21% who voted in person before Election Day.
In the 2020 presidential election that took place during the Coronavirus, a smaller majority (54%) submitted ballots in person, including just 27% who cast ballots on Election Day.
Absentee and mail-in voting declined from 46% of voters in 2020 to 35% this year. Republicans (52%) are more likely to say they voted in person on Election Day than Democrats (35%), but the share of Democrats voting on Election Day 2022 doubled compared with 2020 (17%).
There were large differences in how voters cast ballots by age and racial or ethnic groups. Nearly two-thirds of voters ages 65 and older say they either voted in person before Election Day or voted by mail or absentee.
That compares with narrower majorities of voters in younger age groups, who were more likely to vote in person on Election Day. In addition, White voters were more likely to report voting in person on Election Day (46%) than Black (40%), Hispanic (32%) or Asian voters (21%).
Overall, the big takeaway for Democrats, both for the Warnock vote on December 6 and for the 2024 Presidential and Congressional elections, is that TURNOUT wins close elections.
And we must expect that all future Congressional and Presidential elections will be decided by razor-thin numbers in many places.
Give your money to groups that are committed to growing turnout.